Financial literacy education at orientation would help alleviate future stress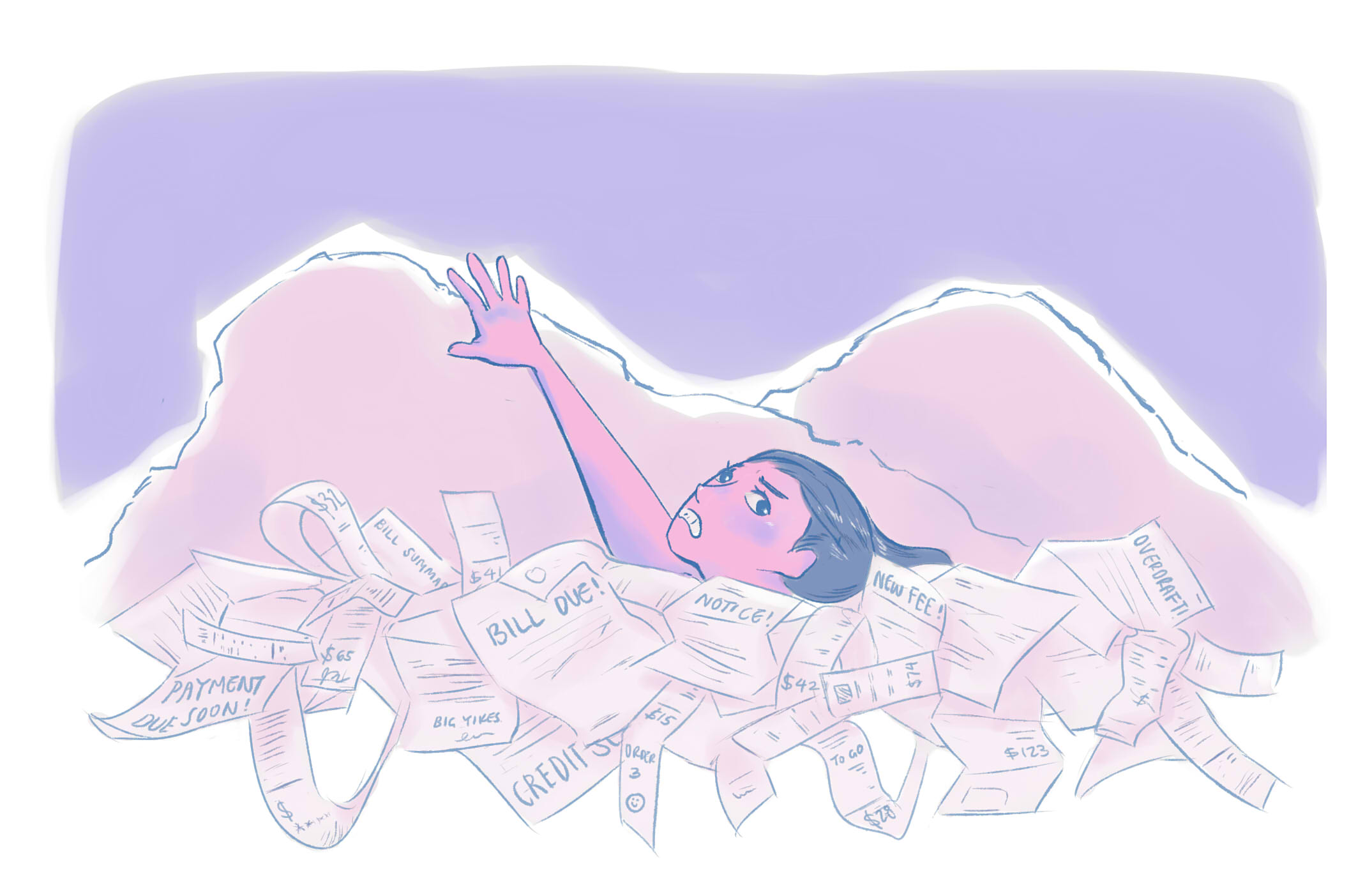 (Jessica Lam/Daily Bruin)
"Broke college students" is our self-proclaimed name – and we own it.
But why can't we be Bruins on a budget?
First-year students may be excited to take on the world as they join UCLA, but the reality of how expensive their Uber rides or restaurant meals are hits hard and quickly.
The first year of college is when students are best poised to learn how to manage and budget their money. Despite that, the university does little to help them along.
Incoming students' first exposure to college finances may come from orientation, which includes workshops on financial aid. These, however, don't cover broader aspects of financial literacy like budgeting.
UCLA also requires students to take a financial wellness online module over the summer before classes start in the fall, but a click-through program isn't enough to spark a student's awareness in any given topic, let alone financial literacy.
While there have been efforts to make financial literacy education opportunities available on campus, they haven't been enough. The Undergraduate Students Association Council's Financial Supports Commission, for example, developed a workshop along with the Financial Wellness Program and Samahang Pilipino Education and Retention that offered students information regarding financial literacy and budgeting. It also touched on topics ranging from transportation to financial aid.
The fact that these kinds of programs are not widely known is indicative of how financial literacy needs to be stressed from the very beginning of students' time at UCLA and how financial literacy workshops need to be made more common.
Jay Manzano, the USAC Financial Supports commissioner, said many students expressed to FWP peers that they didn't know how to make sure their money would last through the quarter.
Past workshops have been an efficient way of getting students involved in learning about finance. Even touching on topics as simple as transportation can be beneficial to students with obligations off campus. Having these workshops earlier during their college careers can open students to seemingly inaccessible opportunities that can add to their resumes.
Ensuring students know how to budget their money, whether that be their reimbursements, loans or paychecks, can also shape the trajectory of their undergraduate years.
"Many students, when they're starting off, don't know how to manage their budget at all," said Rosa Tosqui, a third-year biology student. "Sometimes, they can find themselves in economic hardships throughout the year and that can distract them from their studies."
Financial literacy presentations can be especially beneficial to those who have previously lacked the resources or knowledge. All students, no matter their previous resources, should be able to gain the knowledge needed to make wise financial decisions.
Even UCLA graduate students have room to learn about financial literacy despite having years of undergraduate experience.
Minna Ho, a graduate student in civil engineering who received her bachelor's degree from UCLA, said it's likely students might overspend on unneeded items while not getting enough of the essentials during their first grocery shopping trips. She added that, even after completing her undergraduate years at UCLA, she is unaware of how transportation, other than by car, works around the Westwood and UCLA area.
This is where the New Student Orientation can drastically shape students' financial livelihoods. The program could add a presentation during summer orientation providing information not just about the complicated process of financial aid forms, but also how students can manage their finances and take advantage of the multiple discounts available in Westwood, specifically those for UCLA students.
These presentations could also educate students about topics such as the various housing options on and off campus and the rents for each option. First-year students can learn about meal plans and groceries as well as any applications that might be needed to make use of programs, such as CalFresh.
Of course, the entirety of financial literacy can't be crammed into a single PowerPoint presentation.

"It is also difficult to address every single financial topic in one workshop and get the information to stick during orientation," said Sara Potter, FWP director. "Financial literacy is a lifelong journey."
There's no better time to start this lifelong journey than at the start of one's undergraduate years. Students' undergraduate education is, oftentimes, the start of their adulthood, which calls for many more responsibilities than they are accustomed to.
While Potter added that FWP is offered as a resource at every orientation through the Dean of Students office presentations, students are bombarded with pamphlets and slides full of resources on campus, many of which they aren't likely to even skim through. An introductory, perhaps lighthearted presentation would prevent the cramming of information often featured in these presentations, while still acquainting students to the various financial literacy resources they can use during the school year.
Potter said that in the fall quarter alone, FWP had 52 workshops and served only about 1,500 students. Making the workshops readily available for students during orientation can help them find these resources sooner if they are interested and would like to know more.
Adding one more skit to orientation about how taking a Bird scooter to class instead of an Uber if you're running late wouldn't be completely uncalled for. After all, the road to financial literacy has to start somewhere.
Sandra Wenceslao is an Opinion columnist.
Sandra Wenceslao is an Opinion columnist.