Campus Queries: What is the psychological basis for the UCLA-USC rivalry?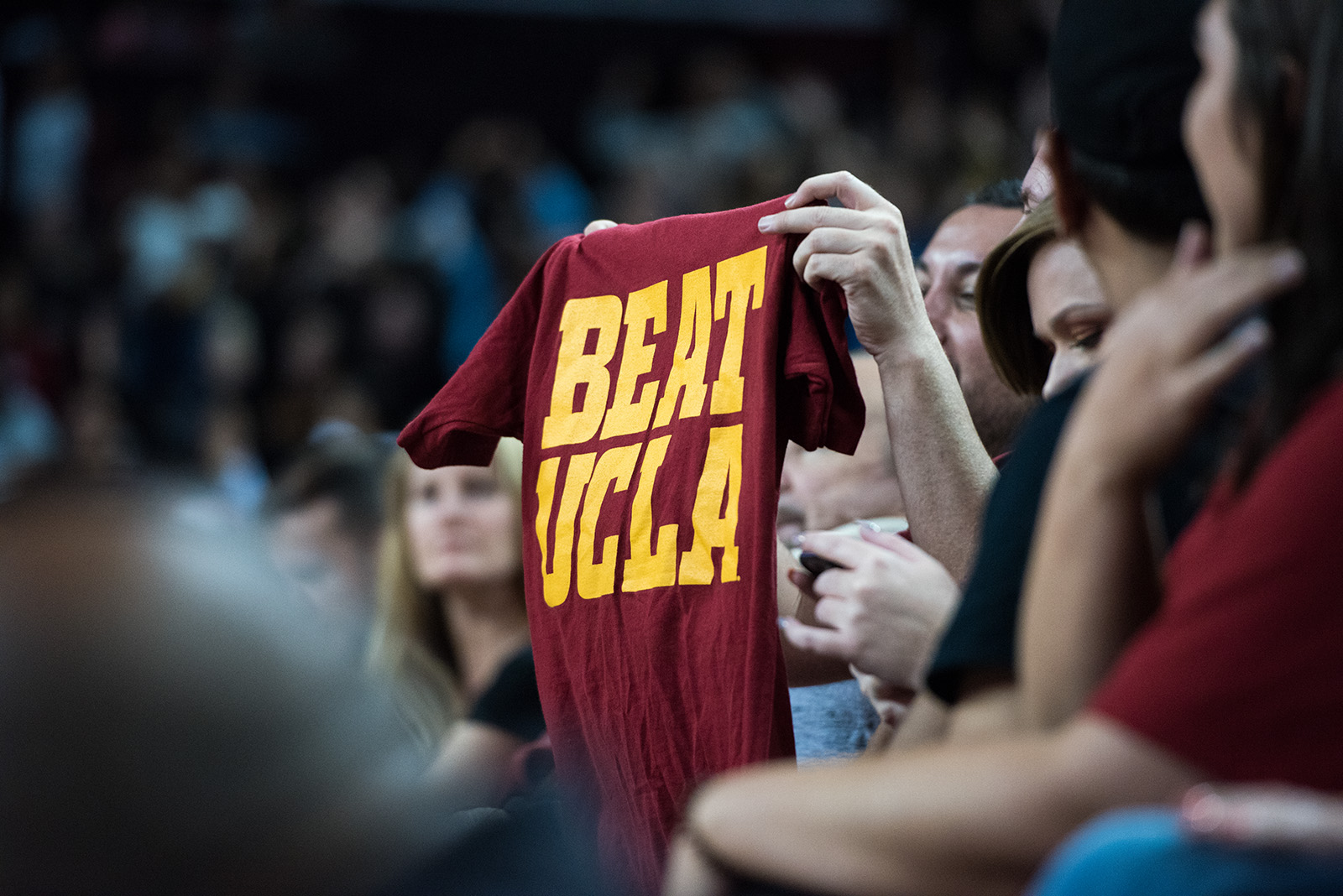 Intergroup rivalries, like that between USC and UCLA, may be a result of humans evolving to live in tribes in which outsiders could be considered dangerous. (Liz Ketcham/Assistant Photo editor)
Campus Queries is a series in which Daily Bruin readers and staff present science-related questions for UCLA professors and experts to answer.
Q: What makes the UCLA-USC rivalry appealing?
A: Evolution makes humans prone to rivalries, but the brain does not always encourage it.
Humans evolved to live in tribes, for which the presence of outsiders could be dangerous, said Daniel L. Ames, a UCLA postdoctoral researcher in psychology. In this context, he said, it makes sense that people tend to fall into intergroup rivalries, such as that between UCLA and USC.
Humans' competitive nature is so innate, it is visible in scans of brain activity. A 2011 study at Princeton University looked at the brain activity of ardent baseball fans watching the rivals of their favored teams play. When they saw the rival teams lose, the brain area associated with receiving rewards, the ventral striatum, became active.
The reward circuitry that some researchers think only reacts to things that directly benefit ourselves may also respond to misfortunes happening to the enemy, Ames said.
The study also found subjects who had the most activity in their ventral striata when seeing their rival team lose were the most likely to say they would commit violence against a fan of the rival team.
Rivalries can be harmless and fun, Ames said, but they can also get more serious and be needlessly divisive, such as when fights break out among fans.
The UCLA-USC rivalry has had material consequences, such as the recent vandalism of the Bruin Bear with red and yellow paint. Though there were no injuries, cleaning up after a similar incident in 2009 cost over $20,000.
"There's an argument to be made that by fetishizing this intergroup rivalry stuff, we set ourselves up for the kind of political structures that we see now," Ames said. "Team red vs. team blue, where we're more concerned about scoring points against the other team than we are about solving pragmatic problems."
Humans are not inevitably inclined to single-mindedly pursue competition, though. Some of the brain's functions might work to counteract rivalry.
Another area of the brain, located in the medial prefrontal cortex, is believed to be involved in thinking about ourselves and the people we are affiliated with, Ames said. He added some research, however, has shown that it also becomes active when individuals think from differing points of view.
"It certainly seems plausible that taking another person's perspective can cause you to think about them in the kinds of ways that you would usually only think about yourself or close others," he said.
Social connections could also mitigate feelings of competition.
"Our brain just loves to make associations," Ames said.
The brain can learn to connect random, otherwise meaningless symbols with unconscious feelings, he added. Having a good friend at USC could therefore make the affection for the friend bleed across to influence feelings about USC, simply from the two being associated, for example.
Rivalries are not always clear-cut. Ames said the varied importances of different identities can also come into play.
For example, the internal UCLA rivalry between North Campus and South Campus gets pushed aside when UCLA plays against USC, he said. Similarly, if Northern and Southern California began to fight, the UCLA-USC rivalry would be unimportant by comparison.
"We know from research that (rivalry) is deep within us, but it is remarkably inconsistent between what we do and don't identify with," he said.