'10 Questions' offers multidimensional perspectives on work across disciplines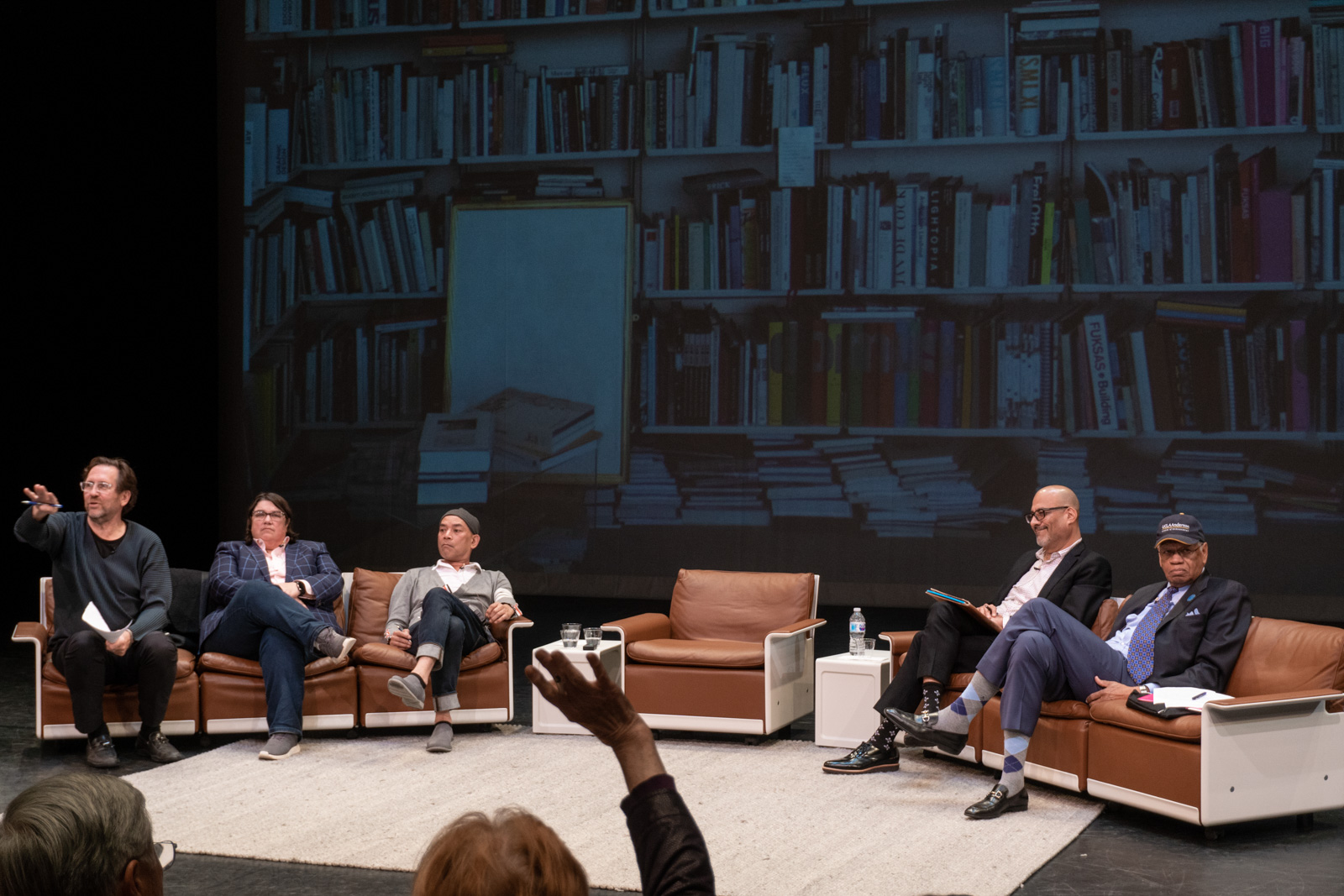 UCLA faculty from arts, public affairs and business explored the question "What is work?" through personal anecdotes, industry knowledge and ongoing research Tuesday. (Courtesy of Israel Cedillo/UCLA Arts)
The "10 Questions" lecture series, which will address a different question each week, doubles as a course for students and a panel open to the public. The series will explore open-ended questions such as "What is beauty?", "What is failure?" and "What is knowledge?"
Each week's panel will feature two faculty members from the School of the Arts and Architecture and two faculty members from other departments who will approach the question of the week from the perspective of their academic disciplines.
UCLA faculty from public affairs, management and the arts explored the question "What is work?" through personal anecdotes, industry knowledge and ongoing research Tuesday.
Abel Valenzuela, director of UCLA's Institute for Research on Labor and Employment, said he associated notions of work with physical exertion and hard labor, which are represented with the body. One way work manifested itself in Valenzuela's own life was through his childhood memories of following his father to his upholstery business and watching him restore old furniture.
Valenzuela said he views equity, social justice and livelihood as key themes of the national discussion on labor and finds it alarming that effort does not translate into a having a secure livelihood.
"What I find so stunning is that, here, you have workers working full-time, year-round, they take their job so seriously, and yet they find themselves nowhere near being able to achieve the American Dream," Valenzuela said.
Valenzuela added ongoing discourse on work and wellness is changing. He said in addition to established areas of study like occupational hazards, researchers are looking into other types of stressors including long hours in a competitive economy and the increasing difficulty of finding employment.
Willem Henri Lucas, a design media arts professor, shared stories of his childhood in the Netherlands, particularly his parents' expectations for his future career, to suggest how career goals are often influenced by external factors. Lucas said his parents wanted him to pursue what they considered an honorable profession, like becoming a teacher.
Lucas said he found a middle ground as a professor teaching design. He added he is currently researching the future of print in the digital era and experimenting with specific inks and source materials, among other factors, to develop new tactile and visual experiences for book readers.
"I think designers cannot let the tree die twice," Lucas said. "Instead, we need to turn it into paper products that people want to keep and cherish."
Catherine Opie, a photography professor, noted work could become opportunities for self-exploration and meditation through exposure to new environments and modes of thought.
"I think that it's really important to understand that when you're making work, you go into all these types, different kind of personas or places in relationship to what you're trying to make and convey," Opie said. "I've always said that the reason why I make photographs is not only to kind of add to history and that relationship of what I have with (my inspirations) … but that it is also about creating a history and answering one's own questions."
Opie said artistic work also has the power to effect change that could positively affect surrounding communities.
She highlighted a permanent piece she created for the Cleveland Clinic in her hometown in Ohio that captured seasonal change at Lake Erie. Opie said this piece was significant to her because she thinks it helped heal people affected by tragedy.
"It's really amazing to think that art can also begin to heal people in hard times," Opie said. "That maybe a chapel isn't going to work at this moment, but a hallway of lake images begin to do something else for you, to transport."
Alfred Osborne, Jr., interim dean of the Anderson School of Management, emphasized the importance of finding a niche skill or quality that could be appreciated by others.
"If you don't have some other kinds of skills that come from being able to innovate, think entrepreneurial, think critically, develop certain leadership and organizational skills, you will not have a J-O-B," Osborne said.
Osborne added many jobs will be displaced in the next couple of decades due to automation, further reinforcing the urgency for individuals to find ways to market themselves to others.
"That's a lot of hard work," Osborne said. "Being able to develop the right way to communicate with the various audiences: students, alumni, the people you're asking for financial support."
Jordan Goheen, a second-year world arts and cultures and philosophy student, said he appreciated the diversity of the panelists and their career fields.
"What I thought was really effective about this session was the fact that they had speakers from the very classical sense of work, in business, and then you also had an artist and a designer talking about what it means to work in the creative field as well," he said.
Yoonsang Moon, a third-year mathematics/economics student, said the panelists did not fully address the essence of work and instead focused on their backgrounds.
"I wanted to get the full picture of how different people have different perspectives on work," Moon said. "What I've learned was what work was for them, not necessarily what work was."