Student media and student government dispute over recording of USAC meeting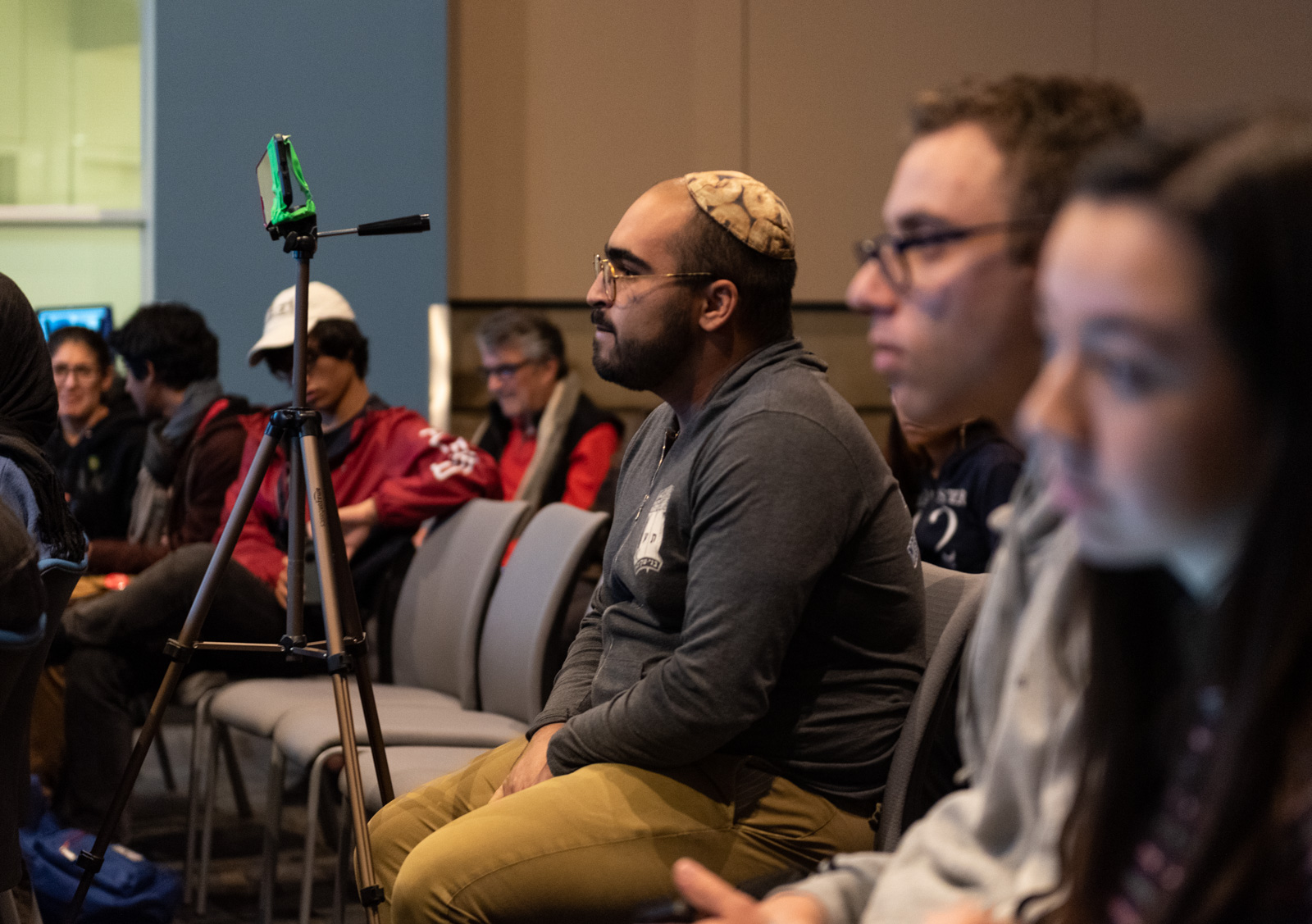 Yosef Nemanpour, the editor-in-chief of Ha'am newsmagazine, was urged by Undergraduate Students Association Council members to turn off his livestream of the council's discussion about a free speech resolution Nov. 13. (Isra Ameen/Daily Bruin)
This post was updated Nov. 21 at 3:51 p.m.
Student media and student government disputed student journalists' right to record a council meeting Tuesday and Nov. 13.
Ha'am newsmagazine Editor-in-Chief Yosef Nemanpour was urged by Undergraduate Students Association Council members to turn off his livestream of the council's discussion about a free speech resolution Nov. 13. Nemanpour continued recording throughout the duration of the meeting, except for one section of public comment and an executive session of the council, when the public was asked to leave the room.
Nemanpour said he felt obligated to livestream the council meeting because the Los Angeles Jewish community had a direct interest in the resolution, which offered support for National Students for Justice in Palestine at UCLA leading up to their conference Friday through Sunday.
"That community doesn't know what USAC is, they don't know how to reach their livestream," Nemanpour said.
He added he found it ironic that the council told him to stop recording the resolution while also discussing a resolution to affirm the council's support for equal access to UCLA for noncommercial speech.
"There I was, recording from a noncommercial organization trying to exercise my free speech, and four or five times they strongly urged me to turn off my recording," he said.
Debra Geller, an administrative representative to USAC, said USAC livestream policies call for a no-audio, no-video section of public comment to protect the identities of students who may face safety issues including stalking. She added these guidelines are intended to provide a safe space for UCLA undergraduates to address their student government representatives.
The policy does not include guidelines for student media livestreaming, however.
Members of UCLA Student Media also criticized the council for going into executive session to cast a vote on the resolution, which they said was an attempt to force members of the public, including the press, out of the room.
Brandon Broukhim, the vice chair of the ASUCLA Communications Board, which governs student media organizations, including the Daily Bruin, said he believes the council improperly used executive session at Tuesday's meeting to prevent Ha'am from livestreaming the meeting.
"Well as of Tuesday, they exploited (executive session), so now it's an issue," Broukhim said. "This incident opened up a major wormhole of how USAC operates in terms of transparency policies."
Executive sessions, like the one held Nov. 13, can be held for matters of personnel, for litigation and for consideration of other matters deemed appropriate by a majority vote, according to Article 1 of Undergraduate Students Association bylaws.
Robert Watson, the USAC internal vice president, said while there is no external check on the council's ability to call executive sessions by majority vote, he believes the council has demonstrated it will not overuse executive sessions.
"History has taught us council has only used executive session when it's been deemed necessary," Watson said.
He added he believes the council should be able to use executive sessions when necessary to protect the privacy and safety of council members.
"We can't operate council with people screaming at us," Watson said.
Ayesha Haleem, USAC general representative 1, said she believes council members from vulnerable communities cannot always express their views freely because they do not feel safe doing so.
"I think that just because some of us happen to be from more vulnerable communities doesn't mean we need to be stripped of our right to vote," Haleem said. "At a certain point with executive session, people need to put trust in people they voted for."
Broukhim said he thinks while council members' safety should be considered, they should be publicly accountable while at the council table.
"When you're at the council table at a council meeting, that is a place where your words and your actions should be judged in wide view," Broukhim said. "You are literally in your capacity."
He added council members are paid from student fees, and therefore should be transparent with students. Each council member receives a roughly $10,000 yearly stipend from student fees.
Nemanpour also said while he believes safe spaces are important, he is unsure a public council meeting is an appropriate safe space. If members of USAC do not feel comfortable standing by their opinions in public, he said, they should not vote on them.
"If you don't hold by what you say, abstain," Nemanpour said. "And that should solve all of your problems in terms of the recording."
The council discussed its relationships with various student media organizations and considered undergoing a review of audio-video recording policies at Tuesday's meeting.
Broukhim said he thinks the Communications Board will address the press' rights to record student government meetings during its monthly meeting Dec. 3.
Morris is the 2020-2021 Editor in chief. She was previously the 2019-2020 assistant Enterprise editor as well as the 2018-2019 assistant News editor for the campus politics beat. She is also a fourth-year global studies student at UCLA.
Morris is the 2020-2021 Editor in chief. She was previously the 2019-2020 assistant Enterprise editor as well as the 2018-2019 assistant News editor for the campus politics beat. She is also a fourth-year global studies student at UCLA.