Residence hall fire alarms cry wolf, spark contempt and community among students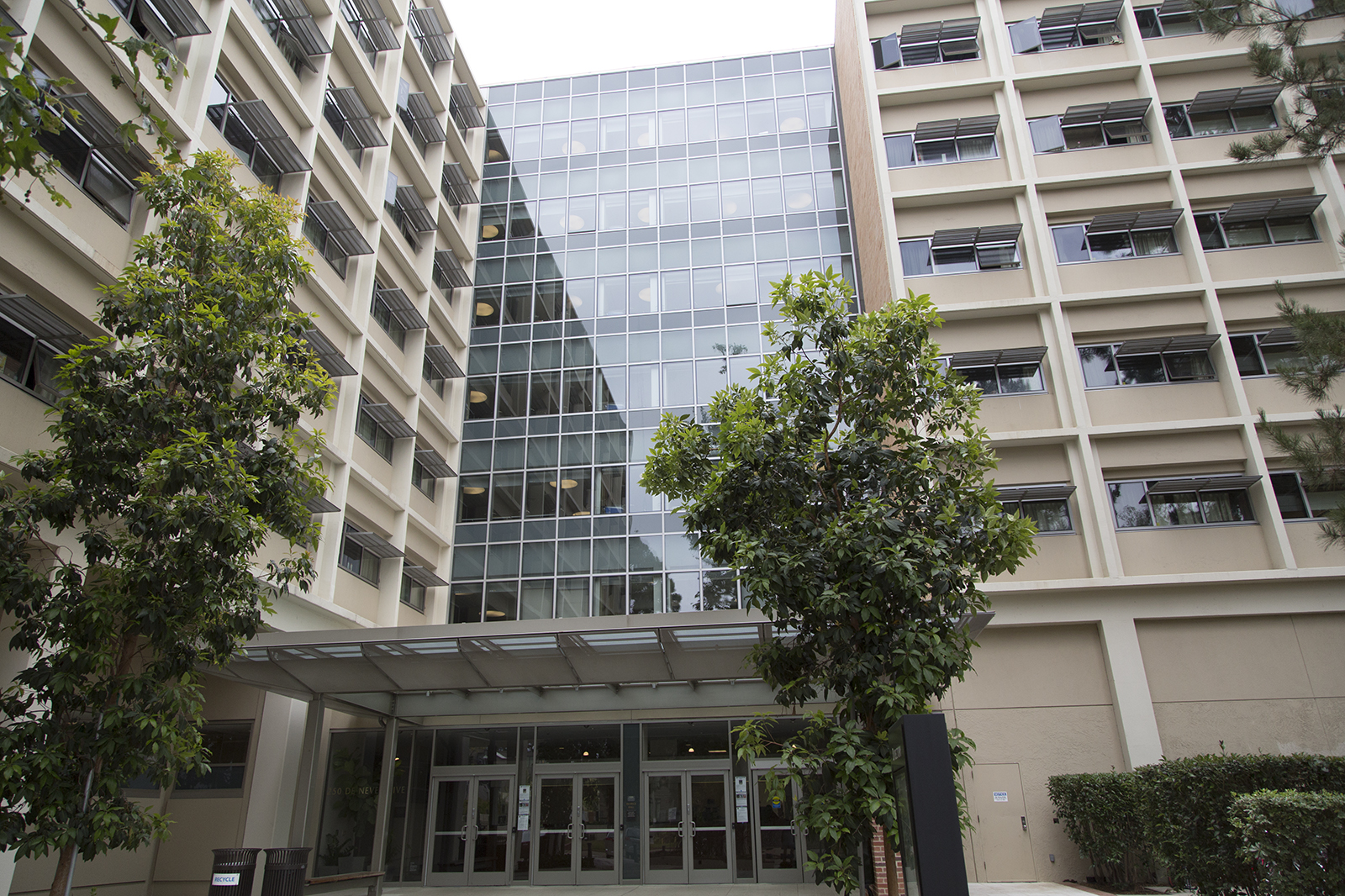 Hedrick Hall was dubbed the Fire Alarm Villa by its residents after faulty hall fire alarms went off 12 times this quarter. (Daily Bruin file photo)
Hedrick Hall residents have dubbed their building the Fire Alarm Villa after an unprecedented 12 fire alarms went off this quarter due to faulty detectors.
A few isolated fire alarm incidents began between July 3 and Sept. 20, said Jared Meyer, a senior director of UCLA Housing Maintenance. Eight of the 12 alarms occurred in the early morning, before 9 a.m.
The alarms occurred more frequently once the quarter began, with residents enduring three alarms in a single night on two separate occasions. The nature and frequency of the alarms were unprecedented on the Hill, Meyer said.
The fire alarm system in Hedrick Hall, which was replaced in 2011 as a part of a major renovation, passed its annual testing before students returned from summer break this year, Meyer said. Detectors that were suspected to be damaged were replaced at that time as a precautionary measure.
Meyer said they could not determine what set off the alarms, but were able to isolate the two specific alarms that were faulty. One of the defective alarms was located in a basement mechanical room and the other in a lobby level group study room, he added.
Campus fire marshals put the building on Fire Watch from Oct. 28 until Oct. 30 while a licensed and certified third-party inspector was brought out for extensive troubleshooting and corrections, Meyer added.
Amanda Finzi-Smith, Hedrick Hall resident director, released a statement to Hedrick Hall residents Oct. 28, after the first series of alarms, stating that UCLA maintenance had disabled the smoke devices and put the building on Fire Watch patrol while maintenance workers and fire technicians investigated the system. Critical components like pull stations remained active at that time in case of emergency.
Although they were unable to identify the specific cause for the alarm, the inspector adjusted the system through engineering controls and replaced the detectors to ensure no future false alarms would sound.
"The new engineered adjustments were tested and accepted by the UCLA Building Official and Fire Marshal," Meyer said.
Hedrick Hall residents were treated to a popsicle and pizza night and free coffee and doughnuts as thanks for their cooperation, Meyer said. Residents said the alarms brought them closer together.
Nicolo Villasis, a first-year bioengineering student, said that although the false alarms disrupted his sleep, he has felt a sense of community among his floor because of the situation. Hedrick 6 South even created a Fire Alarm Committee, with student members responsible solely for keeping track of the alarms and ranking them based on the time of day, he said.
"We have a union against a common grievance. I have a lot of early-morning classes, so it's important for me to maintain my sleep and routine," Villasis said. "People complain the more fire alarms there are, some people even try to avoid evacuation."
Gabby Ignacio, a first-year financial actuarial mathematics student, said her tactic for evacuating is to wait for someone to knock on her door to leave so that she can stay close to the building and be the first one back in.
"Some people hide in their closets and the bathroom," Ignacio added.
She also said that other students took longer to evacuate because they knew the alarms were faulty.
Since the corrective work Oct. 30, no additional alarms have been triggered. Both UCLA Housing and Emergency Services believe they have resolved the faulty alarms and do not anticipate further problems, Meyer said.