International students get involved in the American traditions of Thanksgiving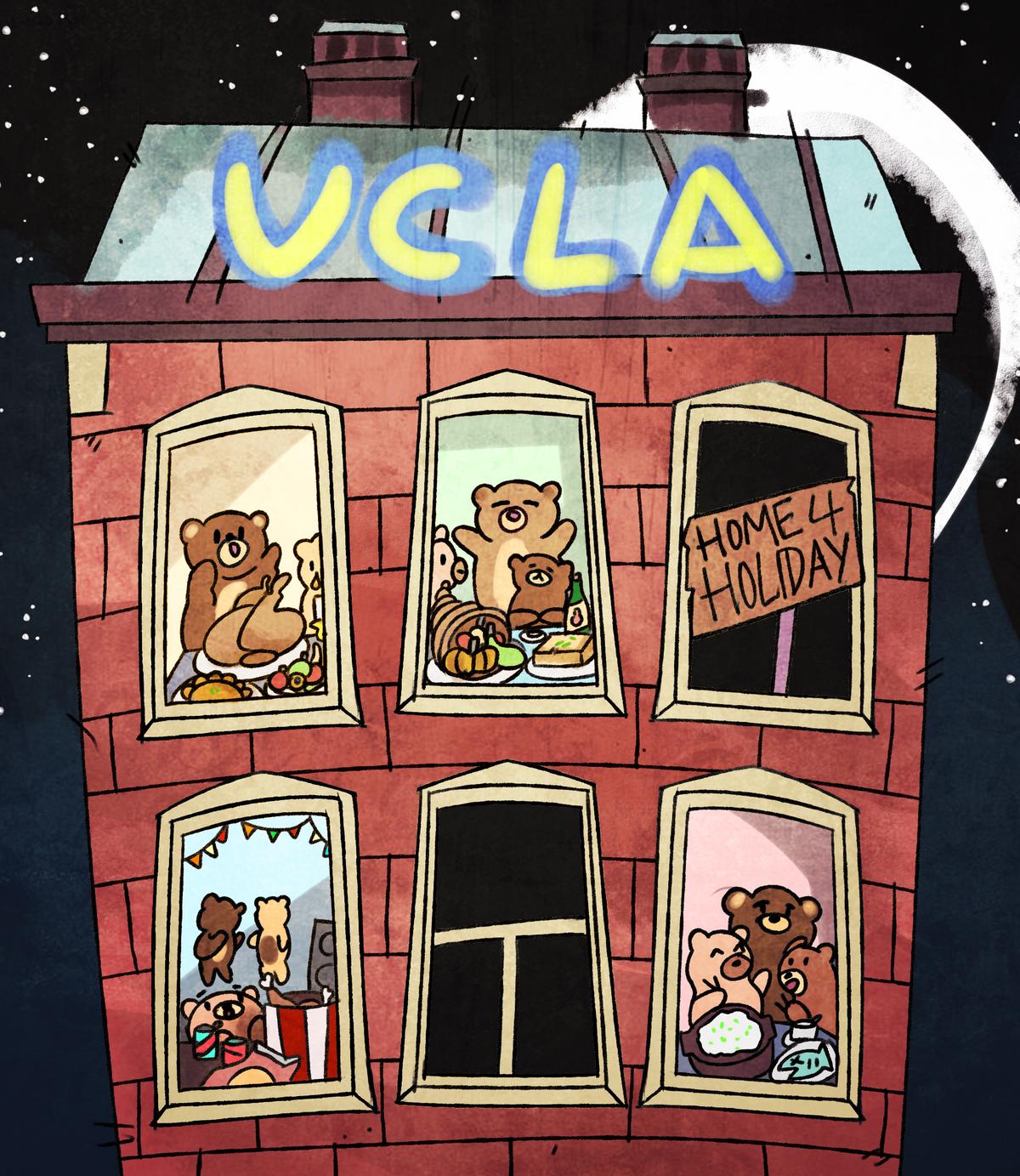 (Jennie Wang/Daily Bruin)
November 21, 2018 1:11 am
Thanksgiving break can be an opportunity for American students to travel home and visit family and friends, but for international students, it is a chance to explore Los Angeles, embrace aspects of the American holiday or create new traditions with other international students.
Masahiro Yabe, the president of the Japanese Student Association and fourth-year microbiology, immunology and molecular genetics student, said that international students have limited opportunities to celebrate Thanksgiving.
"For people living in dorms there is no kitchen," he said. "Even if they're living in apartments they're usually living with international students so they don't know how to participate in Thanksgiving."
Yabe said that international students struggle to connect with American traditions. He said he thinks they are often isolated within the comfort zone of their own international community.
"(International students) usually clump together with their own international students: Japanese students stick with Japanese students, Chinese students stick with Chinese students," he said. "It's usually difficult for them to get out of that sphere."
Yabe said he thinks the best way for international students to learn about Thanksgiving is through host families who try to introduce these traditions.
"I was invited to one of these Thanksgiving lunches. … We baked the turkey together, and to the Japanese students it was a really eye-opening experience because they usually don't eat turkey in Japan," he said. "So it was their first time trying that and it was also their first time trying pumpkin pie."
Elaine Pham, a first-year human biology and society student, and Sarah Bui, a first-year molecular, cell, and developmental biology student, travel home to Orange County for Thanksgiving and spend the holiday in the same way as most of their noninternational peers.
Bui and Pham said many people they know enjoy celebrating Thanksgiving by traveling home, seeing family and shopping on Black Friday.
Natsuki Hishinuma, a second-year pre-business economics student and external vice president of JSA, said that instead of the traditional celebration, she likes to spend Thanksgiving day exploring LA with her international friends.
"I have a lot of international friends here and they all want to get together on Thursday to go to Six Flags because a lot of people are going to be staying home so it's not gonna be too crowded," she said. "We're probably going to go out to Korean barbecue in Koreatown for dinner after."
Hishinuma stayed with a host family for four years while completing high school in Torrance, California, and said that prior to living in America, she had never heard of Thanksgiving.
"A lot of people in Asia don't even eat turkey," she said. "Even when I came here, my Japanese-American host family and I would have Thanksgiving with other Japanese people and we wouldn't even eat turkey, we'd make chicken instead."
Hishinuma said she thinks many Japanese students are unfamiliar with American Thanksgiving traditions because not many holidays in Japan share the same emphasis on family.
"I think it's a very American holiday. I don't think there's any holiday like that in Japan where families get together," she said. "A lot of Asian holidays are focused on couples rather than family, which I think is kind of sad – even Christmas has become a thing to celebrate with significant others, not family."
Yabe suggested that UCLA should foster cultural exchange activities during Thanksgiving to make international students feel more included in American traditions.
"It would be nice for UCLA to coordinate with local families to open their kitchen up and see what a Thanksgiving get-together is like in the U.S. and that would not only facilitate cultural exchange but is a nice way to get together with new people," he said.