Women's basketball acclimates to having mostly underclassmen on lineup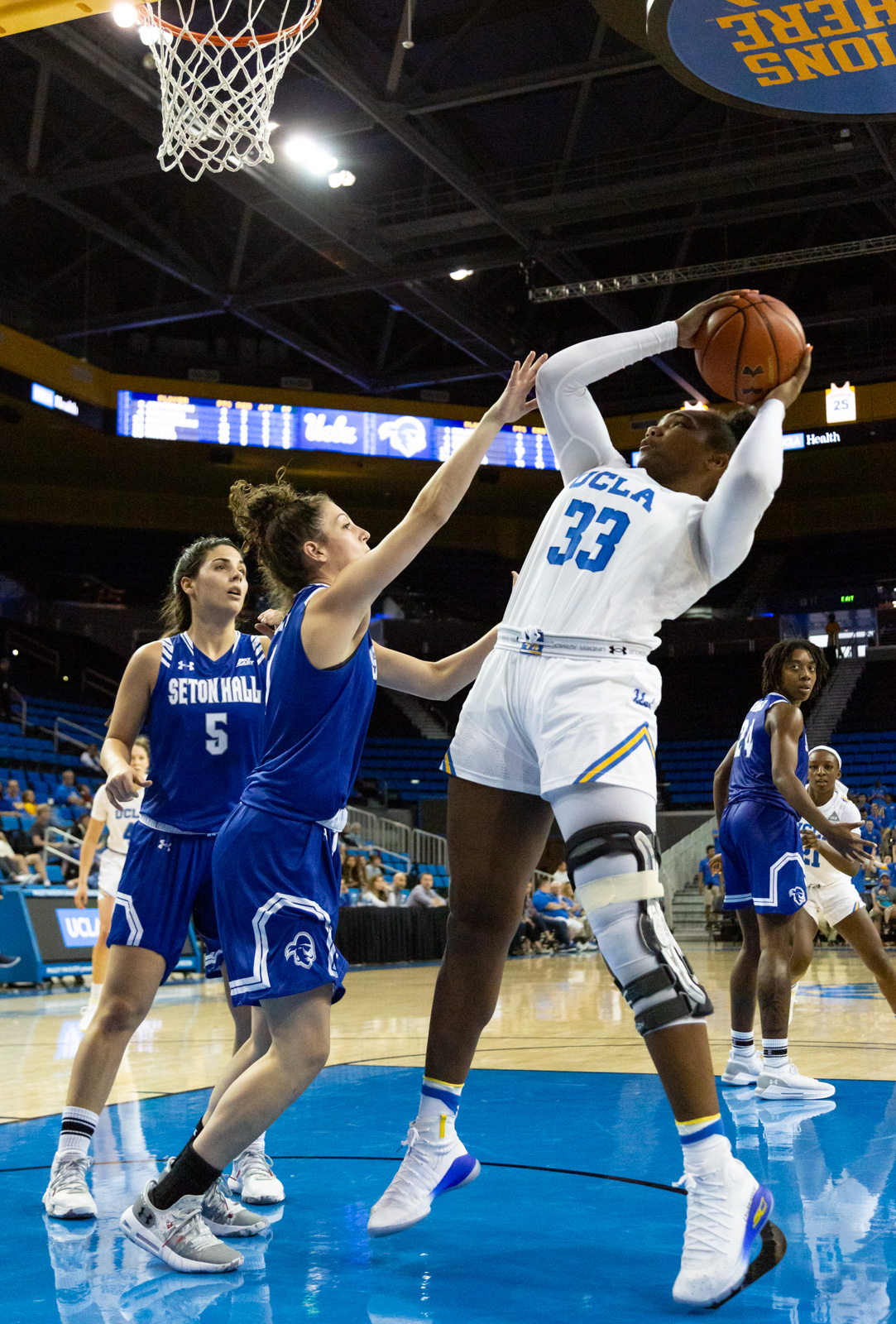 Sophomore foraward Lauryn Miller is averaging 19.3 minutes as a starter this season after averaging just 6.4 minutes during the 2017-2018 season for UCLA women's basketball. (Daanish Bhatti/Daily Bruin)
Almost two-thirds of the Bruins' roster this season are underclassmen.
"This year, a lot of new people are stepping into (new) roles," said redshirt freshman guard Lindsey Corsaro. "You don't have any bad things from last year carrying over, you just have people coming in who are just ready to go after it, ready to get better and ready to learn."
UCLA women's basketball (3-1) entered the 2018-2019 season unranked for the first time in three years with six freshman and three sophomores making up the Bruins' 15-person roster.
Corsaro averaged 14 minutes in two games last year before an injury took her out for the remainder of the season. The guard is now averaging 36 minutes per game – the most out of any Bruin – and has the second-most assists and 3s on the team.
Senior guard Japreece Dean averaged 23 minutes per game last season and averaged one turnover. The guard is playing 36 minutes this year, averaging 3.5 turnovers.
Dean gave up 14 turnovers this season – the most of any Bruin – and tallied five against Seton Hall.
"Credits to them for forcing those turnovers," Dean said. "I think we just look at the film and go back and refocus and just have a better intentionality of taking care of the ball."
Sophomore forward Michaela Onyenwere – who logged an average of 17 minutes per game her freshman year – nearly doubled her average playing time this year. Onyenwere is averaging 13 points per game, which is the second highest of the team and six points more than last season.
After a whole season of a predominantly upperclassmen lineup last year, UCLA only has two in its starting lineup so far after its first three games. Three of UCLA's five most played players this season are underclassmen, compared to four seniors and one junior logging the most playing time in 2017.
Coach Cori Close said that despite the loss of two vital components of the Bruins' defense – current WNBA players Jordin Canada and Monique Billings – UCLA's young team will mature.
"Allowing an experience of teaching each time we go out together, we have an opportunity to learn and grow," Close said. "Even if it didn't go our way, we're allowing it to do that."
The Bruins lost 69-63 to LMU in their season opener. UCLA hit over 30 percent less than last season's free throw average of 72 percent and nearly 14 percent less than their previous average of 34 percent from behind the 3-point line.
"LMU taught us you have to prepare the same way for every game," Close said. "Especially for the team that's playing new roles, it's really important that they pause and look at 'What did I learn?' and 'How do I respond?'"
In UCLA's contest against then-No. 14 Georgia, the Bruins pulled an upset with a comeback victory 80-69.
"(Playing Georgia) taught us how powerful we can be together," Close said. "If that was a game of one-on-one, Georgia might have won. Collectively when we come together, we play defense and offense as a collective unit that is more than the individual parts."
Glendening joined the Bruin as a freshman in 2018 and contributed until 2019. She spent time on the women's basketball beat.
Glendening joined the Bruin as a freshman in 2018 and contributed until 2019. She spent time on the women's basketball beat.