Student-run Conversation Cafe delivers representation for international scholars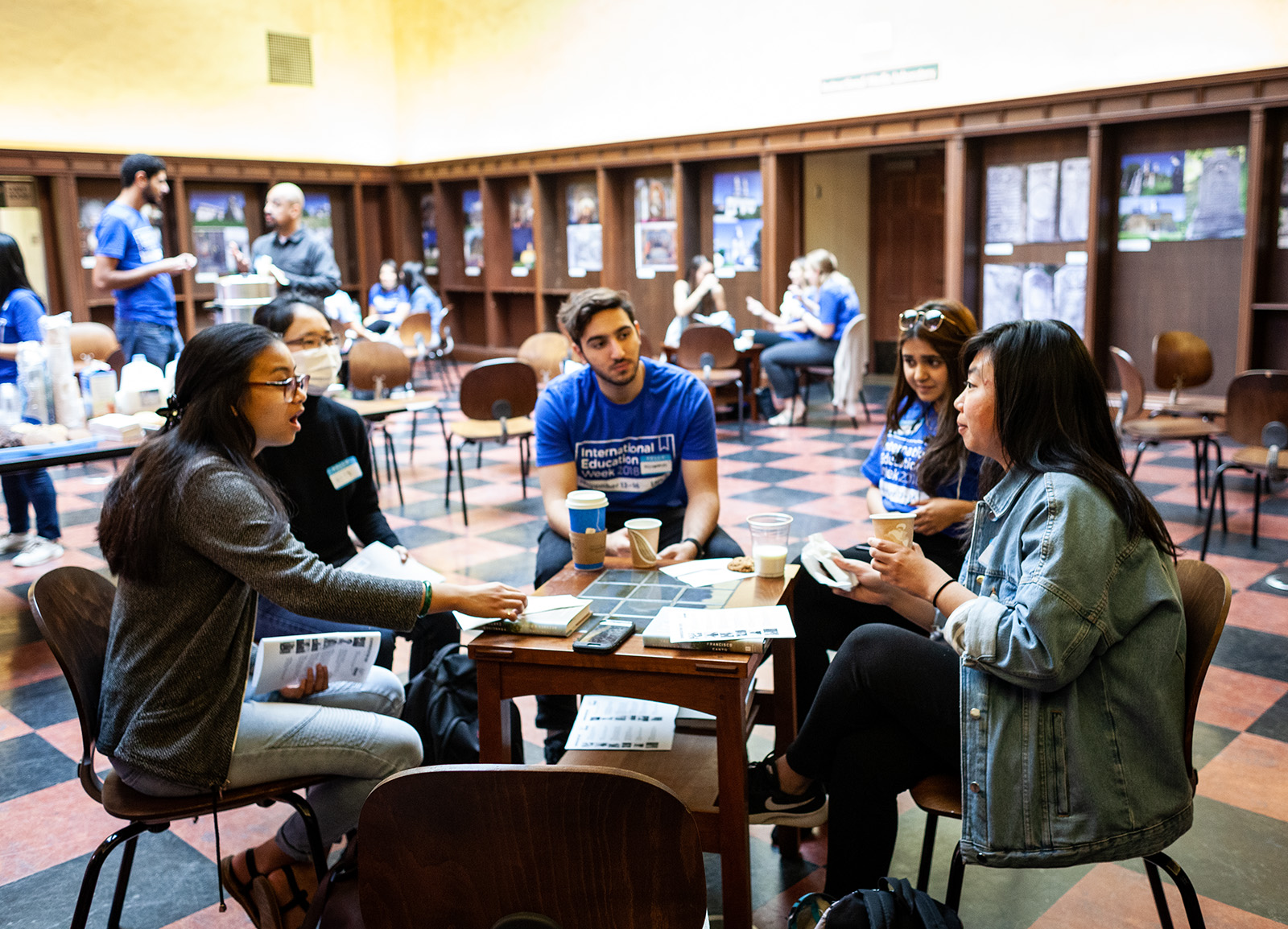 Organizers of the program said International Education Week focused on promoting study abroad programs before shifting to introduce programming that aimed to meet the needs of international students. (Mia Kayser/Daily Bruin staff)
November 19, 2018 12:11 am
This year's Conversation Cafe was run entirely by students for the first time, which reflected International Education Week's increasing focus on the international student community as opposed to study abroad programs.
Conversation Cafe, which took place Friday, is an annual dialogue-based event that aims to provide students from diverse backgrounds with an informal space to discuss their international experiences, said Grace Pieris, the International Student Taskforce director and third-year international development studies student.
"I think it's important to give a voice to people, not just to the people who are volunteering at the event but also for people who just attend it," Pieris said. "They have a chance to tell of their experiences in a safe space, and that's important so that we hear everyone's voices."
It was run by students from the general representative 1 office for the first time since its inception last year as part of International Education Week, which is led by the International Institute.
Several campus organizations co-hosted events for the week. A record number of 30 campus entities also co-sponsored the events.
Organizers of the program said International Education Week focused on promoting study abroad programs until its focus shifted two years ago. The establishment of new international student organizations, as well as the appointment of an international student to the Undergraduate Students Association Council, helped to introduce programming that aimed to meet the needs of international students on campus.
Ayesha Haleem, general representative 1 and fourth-year political science and international development studies student, said she believes her election to USAC allows her to lobby for her international student community and helps to ensure that international students have more of a presence on campus.
Peggy McInerny, director of communications at the UCLA International Institute, said she thinks the Conversation Cafe and World Cafe, which allows participants to try coffee from different countries, allow international students to take on a more active role in International Education Week.
"International student experiences and the wealth of cultural knowledge that they have to offer their U.S. peers on campus is an important part of International Education Week at UCLA," McInerny said.
Haleem said the general representative 1 office aimed to make the World Cafe event more accessible to students by hosting it in Kerckhoff Grand Salon this year as opposed to the Dashew Center.
"I think what that promotes is that someone doesn't have to go out of their way to experience international culture and be a part of these events – it's literally in the middle of campus," Haleem said.
Andrea Ng, fourth-year psychology student and International Student Ambassador for Malaysia, said she hoped the Friday afternoon discussion would help to erase stereotypes that international students sometimes face. She said many of her friends have told her they have never met an international student.
"Sometimes people just assume (someone is) international because of their accent. It's very hard to find conversations with that, especially for people with refugee status," Ng said. "We're such a small population of UCLA that we're not really heard of."
Haleem said the general representative 1 office aimed to include more intersectionality within the international perspective by inviting undocumented, first-generation and transfer student speakers.
Skyler Meador, a fourth-year English student and student ambassador with the International Education Office, said she returned from her summer abroad in London with a different perspective and decided to volunteer to speak at the event in order to encourage more transfer and first-generation students to apply to study abroad.
"I'm doing it to share the message that transfer students can study abroad, but also that first-generation students can study abroad, even though it might seem difficult to navigate," Meador said. "I want to shed more light onto all of the opportunities and resources that we have on campus that a lot of people don't even realize."
Rashi Malu, an international law student from India, attended the event to network after hearing about it through the Dashew Center.
"I think it's very important for students to come out to such events from the international community because most of them are shy (and) face culture shock in their first year in the United States. I think given that the atmosphere is so approachable and friendly, people need to come out, make new friends, network and get to know people," Malu said.
Ng said she hoped the event would help students become more aware of the resources and community available to international students.
"I hope that international students know that there is a support system for them because it is so hard to come here and not know anyone," Ng said.