Hunger Project panel advocates for alleviation of homelessness, spreads awareness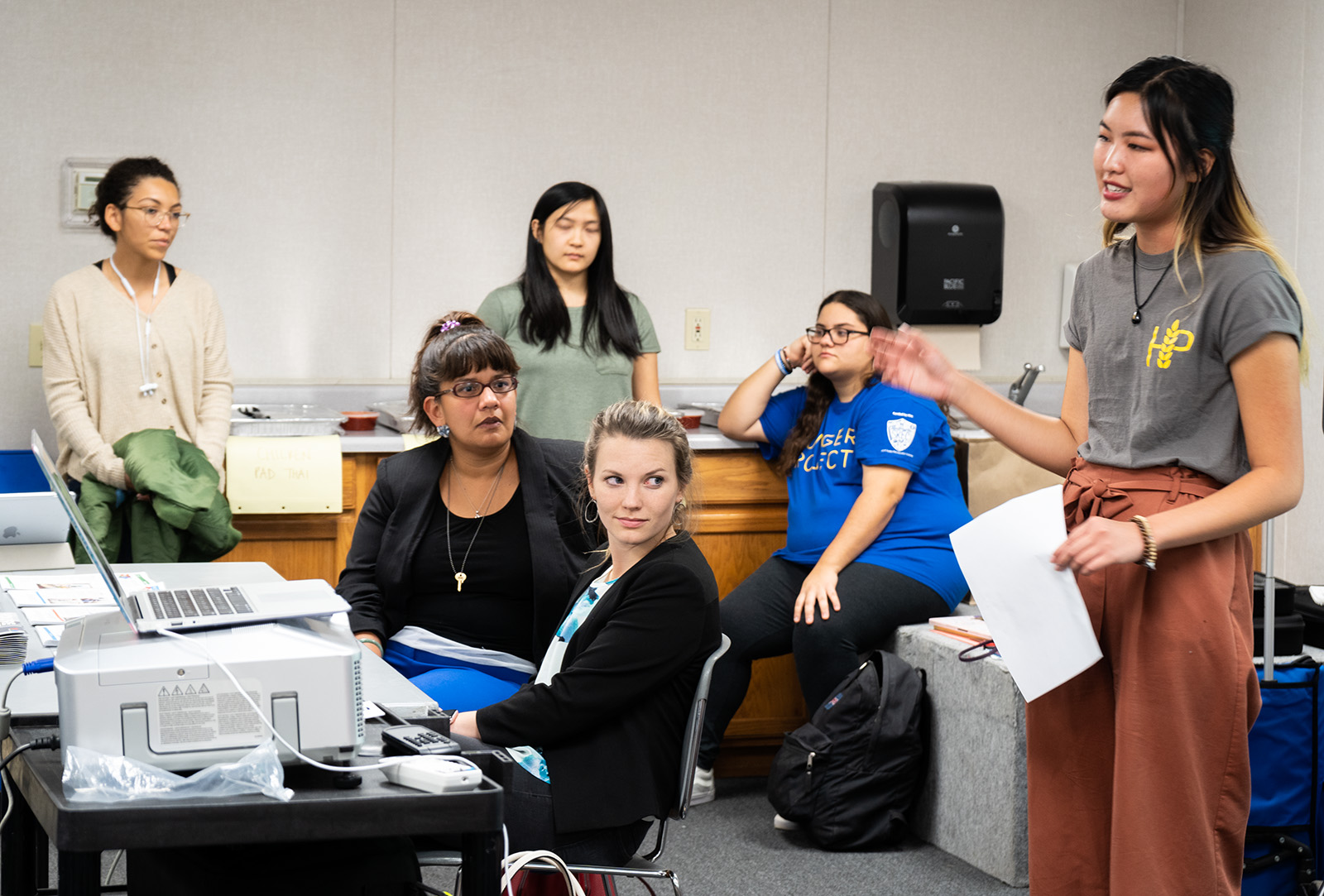 Roughly 40 students attended the panel, which was held by Hunger Project at UCLA at the Sunset Recreation Center. Hunger Project is a student-run organization on campus that works with other nonprofit organizations to raise money and spread awareness of homelessness. (Xuxin Zhang/Daily Bruin)
Students and members of nonprofit organizations called for students to be more involved in helping alleviate homelessness by actively spreading awareness and volunteering for organizations that aim to combat homelessness at an event Thursday.
Roughly 40 students attended the panel, which was held by Hunger Project at UCLA at the Sunset Recreation Center. Hunger Project is a student-run organization on campus that works with other nonprofit organizations to raise money and spread awareness about homelessness. The panel aimed to spread awareness of homelessness, particularly in Los Angeles county, said Kienna Qin.
Qin, a second-year statistics student and the publicity director for the Hunger Project at UCLA, coordinated the homelessness panel. Qin added the panel was held as a part of National Hunger and Homelessness Awareness Week, strategically placed before Thanksgiving week in light of the holidays and the idea of giving thanks.
"Education is the No. 1 issue that pushes people to help the homeless community," Qin said. "It's inspiring just to learn about other people's stories, and it can spur us to help more."
The panel consisted of four speakers, all of whom had a personal and public interest in addressing homelessness.
Robert Young, one of the speakers at the panel and a fourth-year English student at UCLA, was homeless in the past. After serving in the military, Young said he became addicted to heroin and other drugs, causing his life to spiral out of control and culminating in his living in a riverbed in a strung tent.
Young said he was able to turn his life around because a judge sent him to a rehabilitation program that helped him get his life on track. He began working at the Veteran Resource Center when he first came to UCLA because he was motivated by his own struggles as a homeless veteran. He hopes that UCLA can be more influential with homeless veterans in specific.
"I would really like to expand our community outreach in UCLA," Young said. "We can make a larger network that's more encompassing of all homeless people, including homeless veterans."
Lisa Marie Nava, another panelist at the event and the operations supervisor for The Shower of Hope, discussed the role of The Shower of Hope, a nonprofit organization that gives showers to homeless people who don't have access to showers or general hygiene.
She also said students in the community play a vital role in helping the homeless due to their ability to raise awareness in their circles and volunteer in local organizations.
"Students are doing an amazing job volunteering, to getting the word out, to talking about it," Nava said. "Just being in this room is a first step in solving the problem."
Brigid Kelly, the associate director at People Assisting the Homeless and a panelist at the event, emphasized the importance of permanent housing. PATH is a nonprofit organization that provides short-term and long-term housing for homeless people.
"We focus on building supportive and affordable housing," Kelly said. "We hope to continue PATH's outreach in the community."
Sandra Trutt, a member of the Homeless Action Committee of the League of Women Voters, said her biggest concern was the criminalization of homelessness.
"Homeless people are arrested for littering, jaywalking and so many other crimes," she said. "This forms a cycle, because they can't pay the fines, and so there's a cycle of criminalization."
Chris Dimapasok, a third-year molecular, cellular and developmental biology student, said he felt motivated to volunteer and take a more active role in the community after attending the event, especially after hearing Young talk.
"A lot of times, it's just general talk," Dimapasok said. "To actually hear it from someone who experienced it firsthand is just really inspirational."
Bethlehem Tesfaye, a fourth-year physiological sciences student, said she thought it was important to be more empathetic toward those who face homelessness.
"Normally, you just don't recognize their existence," Tesfaye said. "Something as simple as carrying a conversation or going out of your way to say 'hi' means a lot."
Bianca Martin, a third-year psychology student, said she hoped to spread awareness of homelessness among her own peers.
"I'm glad I took the time out of my day to see this," Martin said. "I'm hoping to inform other people, and I hope events like these keep happening."
Raguraman is an Opinion columnist and News contributor.
Raguraman is an Opinion columnist and News contributor.