You See LA Abroad: Study abroad stress could be mitigated by advice from returning students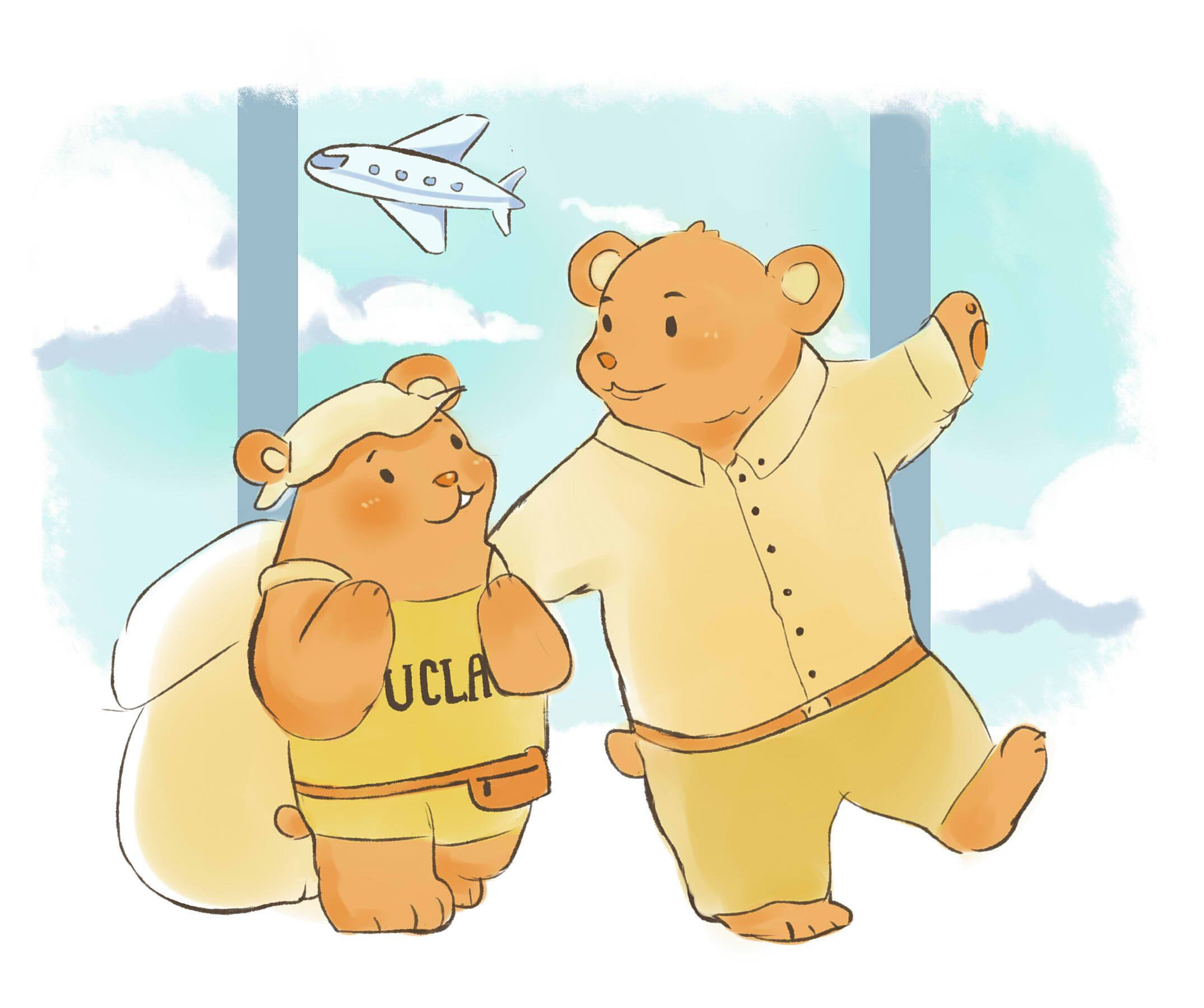 (Jessica Lam/Daily Bruin)
Mariah Furtek is a staff columnist studying abroad in London until winter quarter. In this column series, she analyzes UCLA's study abroad program and examines from afar how Bruins live in their beloved Los Angeles.
Imagine it's "Freaky Friday" and you've just been told you're swapping places with a student at a school you've never heard of before.
You might start by wondering whether your Los Angeles wardrobe will fit this new climate, where you'll find a good chai latte or even if this place has good Wi-Fi.
And there's likely only one kind of person you would ask about things like coffee, clothes and cell coverage: a fellow student.
The problem is, contact between outgoing and returning study abroad students is actually quite limited. Furthermore, there are some questions students just don't feel comfortable reaching out to the University of California Education Abroad Program staff about.
When I arrived in England, for example, I had no idea which grocery store to shop at. In Westwood, I am comfortable weighing the relative pros and cons of Ralphs, Whole Foods Market and Target. But in a country devoid of American supermarkets, I found myself completely confused – standing in the middle of a cobblestone street, staring up at the buildings towering over me, trying to figure out the difference between Sainsbury's, Tesco and Waitrose & Partners.
I was as lost as the Queen without her corgis.
Students could avoid these existential crises, and much more, by having a medium to communicate with students who previously studied abroad. Online peer-to-peer interaction would be a much less stressful alternative to the current setup, in which students must reach out directly to study abroad advisors or UCEAP staff. These resources are usually only available via email or phone and largely focus on urgent concerns like deadlines and costs.
Providing UCEAP-facilitated forums specific to country and program would allow a space for outgoing study abroad students to ask nonurgent questions about the study abroad experience. They would also give returning study abroad students a chance to share valuable recommendations staff wouldn't necessarily have.
UCEAP and campus study abroad staff can help guide students toward the right program and counsel them through the application process. However, once the plane wheels touch down on foreign tarmac, experiential knowledge of the specific program is far more useful than professional knowledge.
Georgia Batchelor, program officer for the UCEAP London Study Centre, said an online forum could help students pick up useful tidbits to make the most of their study abroad experiences.
"Having that student viewpoint is something really valuable," Batchelor said. "There is a lot of useful advice I sometimes worry (students) are missing out on by not communicating as much with other study abroad students."
Access to this experiential knowledge would help reduce the confusion that comes with signing up for classes at foreign universities, finding housing abroad or applying for visas.
For example, Avanti Thakur, a student at UC Santa Barbara who is studying abroad at University College London, said more communication between outgoing and returning study abroad students would have reduced the issues she faced this fall with visas and coursework.
Thakur enrolled in an introductory course in architectural design at UCL, hoping to take a more artistic class for a change. When she arrived, however, she found the class was far from entry-level, full of students who had specialized in architectural design since high school. She also found she was expected to buy her own materials, ranging from cement to sketchbooks.
"I felt unprepared," she said. "This class is a lot more stressful and expensive than I had anticipated."
Students like Thakur don't have much access to students returning from study abroad. Mauricio Cobian, associate director of the UCLA International Education Office, said the office keeps contact information for returning study abroad students, but does not share it with outgoing students unless they specifically request it due to privacy concerns. Cobian acknowledged, though, that many students don't even know to ask for this list.
And that's really a shame because new study abroad students can easily run into miscommunication issues with study abroad staff. For instance, Thakur's plan to attend both summer and fall study abroad programs in England led UC study abroad advisors to incorrectly counsel her to apply for a Tier 4 visa, which is only necessary for visits exceeding six months. Thakur, however, was pursuing summer and fall programs lasting only five and a half months total. Once she arrived in England and realized she didn't need a visa, she had to spend more than $500 canceling her flight back to the US between programs that UCEAP advisors had urged her to book.
"If I had been able to talk to a student who had been in this situation before, it would have helped me and saved me the cost of canceling the flights," Thakur said. "A forum would have allowed me to ask that question."
I cried my fair share of Tier-4 tears, too, after receiving the same incorrect advice and spending significant time, money and stress on international phone calls to the United Kingdom Visas and Immigration office.
Of course, as Cobian noted, relying too heavily on student-run forums for critical, case-specific information on subjects like immigration could also lead students astray. But, an online forum would be a good solution as long as issues of sustainability, misinformation and resources were addressed. Cobian acknowledged the value of student experience and expressed a commitment to encouraging communication between outgoing and returning study abroad students.
And he's right. Returning study abroad students have valuable, lived experiences that can be coupled with UCEAP staff expertise to provide students more comprehensive information.
Otherwise, students will be too busy stressing abroad to study abroad.
Furtek is a staff columnist for the Opinion section.
Furtek is a staff columnist for the Opinion section.