UCPD officers volunteer as first responders in areas affected by Woolsey fire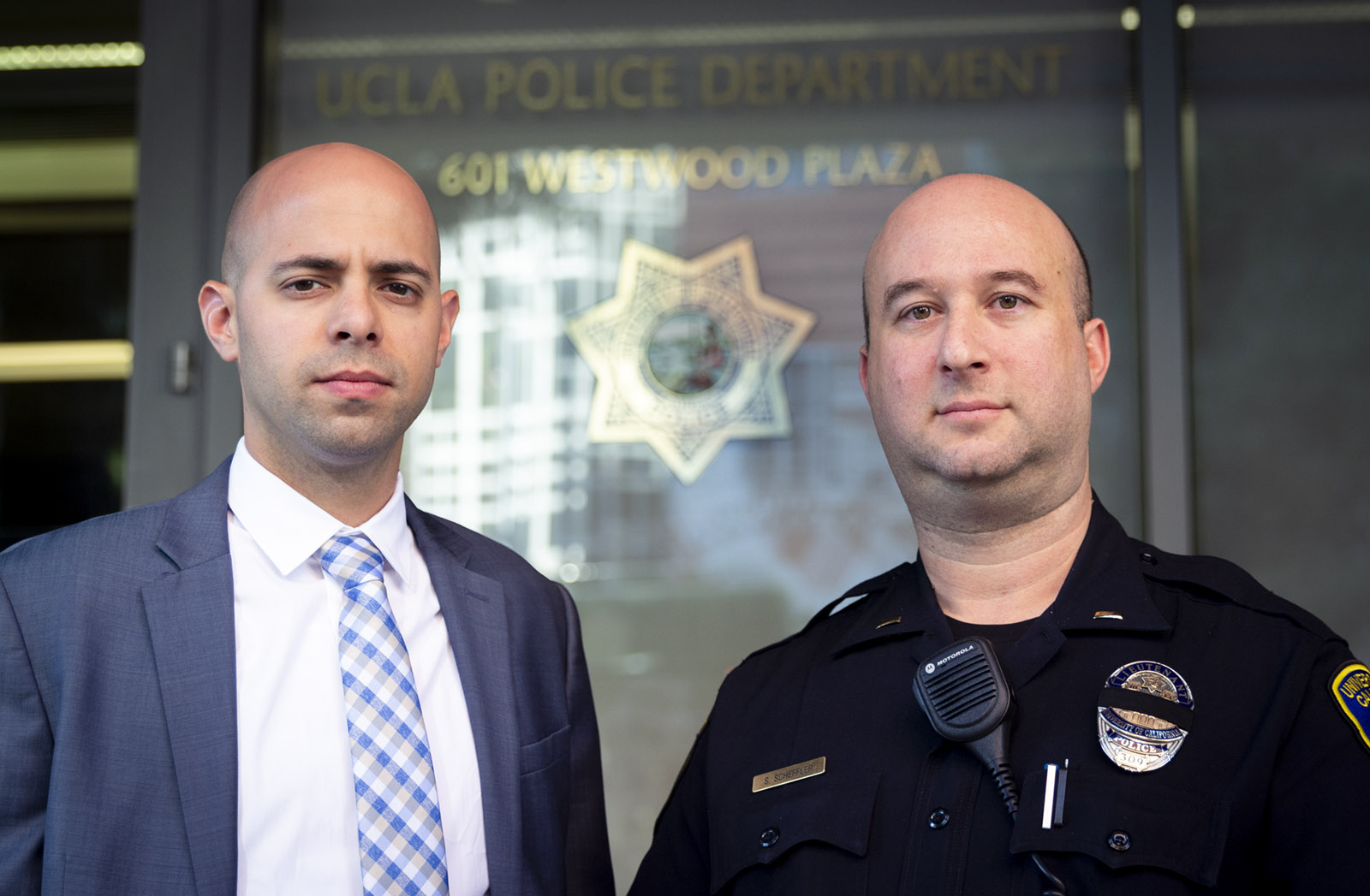 UCPD Detective John Berkeland (left) and Lt. Scott Scheffler (right) volunteered to help with the Woolsey fire, which has affected 98,362 acres across Ventura and Los Angeles counties as of Wednesday. (Jenna Nicole Smith/Daily Bruin)
The garage door of an elderly couple's home would not open, leaving them trapped in their home in Malibu during the Woolsey fire. No one had heard from the couple, and eventually university police received a call asking for their whereabouts.
One of the responding officers, UCPD Lt. Scott Scheffler, said the fire was within a quarter mile of the couple's home when Scheffler arrived, along with UCPD Detective John Berkeland.
"They were thankful and a little scared," Scheffler said.
Berkeland and Scheffler arrived early Saturday morning and were able to help the elderly couple reach safety. This police welfare check assignment was just the beginning of their 20-hour shift.
Their day began at 3:30 a.m. when they woke up and began planning what to pack for the day ahead of them, Berkeland said. They arrived at the UCPD station at 4:30 a.m. and soon left to go to a staging area for the Woolsey fire in Calabasas, where first responders convened and waited for assignments.
UCPD officers, like Berkeland and Scheffler, volunteered to assist other first responders in the fire. The Woolsey Fire began Nov. 8, quickly spreading from Ventura into Los Angeles County, according to Cal Fire incident reports. The blaze has destroyed an estimated 504 structures and threatened 57,000 structures, and has affected 98,362 acres as of Wednesday. Poor air quality caused by the fire led UCLA to cancel all outdoor activities Sunday until 4.pm.
The California Governor's Office of Emergency Services called UCPD to help as part of a statewide mutual aid system, which is composed of every law enforcement agency in the state, Scheffler said. When an emergency service agency is dealing with an incident and determines it needs additional resources, it sends out a request to the state for mutual aid. UCPD responded to such a request and asked officers to volunteer for shifts.
UCPD was called to aid the Ventura County Fire Department and other emergency service agencies shortly after the fire broke out and spread into Los Angeles County, Scheffler said. Alongside Scheffler and Berkeland were officers from West LA and South Bay first-responder agencies, UCPD Lt. Kevin Kilgore added.
Kilgore said six to eight UCPD officers volunteered to help with the fire, each committing to a 12-hour shift or longer. UCPD assisted from Friday night until 1:30 a.m. on Monday, though the fire was not a significant threat to the area surrounding UCLA.
Berkeland said he had assisted with other disaster scenes before, but nothing as destructive as the Woolsey fire. Scheffler said he had not dealt with a fire before at all. Berkeland described the scene as eerie and desolate as they drove over fallen power lines to get to the elderly couple.
"It was just destruction, fire and destruction everywhere. You drive by and there's power poles burning right next to you," Berkeland said. "People's houses are completely burnt down and next to them there'll be houses that are perfectly fine, so it was random how the fire goes where it wants to go."
After returning to the staging area, they awaited their next assignment, which was to monitor a road closure intersection in Agoura Hills for six hours, Scheffler said. They stopped people from entering evacuation areas and redirected them. Afterward, they extinguished small ember-caused fires.
While at the road intersection, Scheffler and Berkeland received water, snacks and appreciation from members of the community. Scheffler said he was humbled by the community's appreciative mindset even though their houses were at risk or already destroyed.
"I think the support and resiliency of the community is impressive," Berkeland said. "It's a testament to the human spirit."
Both Scheffler and Berkeland said they volunteered to work with the fire because they knew they could make a difference.
"This is why many of us become officers," Scheffler said. "I knew it would be a long day with bad conditions, but even with those hardships it was rewarding to know we were able to help."
Normal UCPD operations were not disrupted during their assignment and Kilgore said he was grateful for the work the officers did for the community.
"It's not an experience we want to be a part of but we are proud to be a part of (it)," he said. "Our officers are not only dedicated to our community, but dedicated to the safety of the greater Southern California area."
Berkeland and Scheffler said working side by side in the blaze reminded them why they went into law enforcement.
"Each individual police officer can make a difference," Scheffler said. "A major emergency can happen at any moment, and I can serve a small part in helping the community recover from such a major incident."