UCLA faces controversy for trademark claim against NSJP conference logo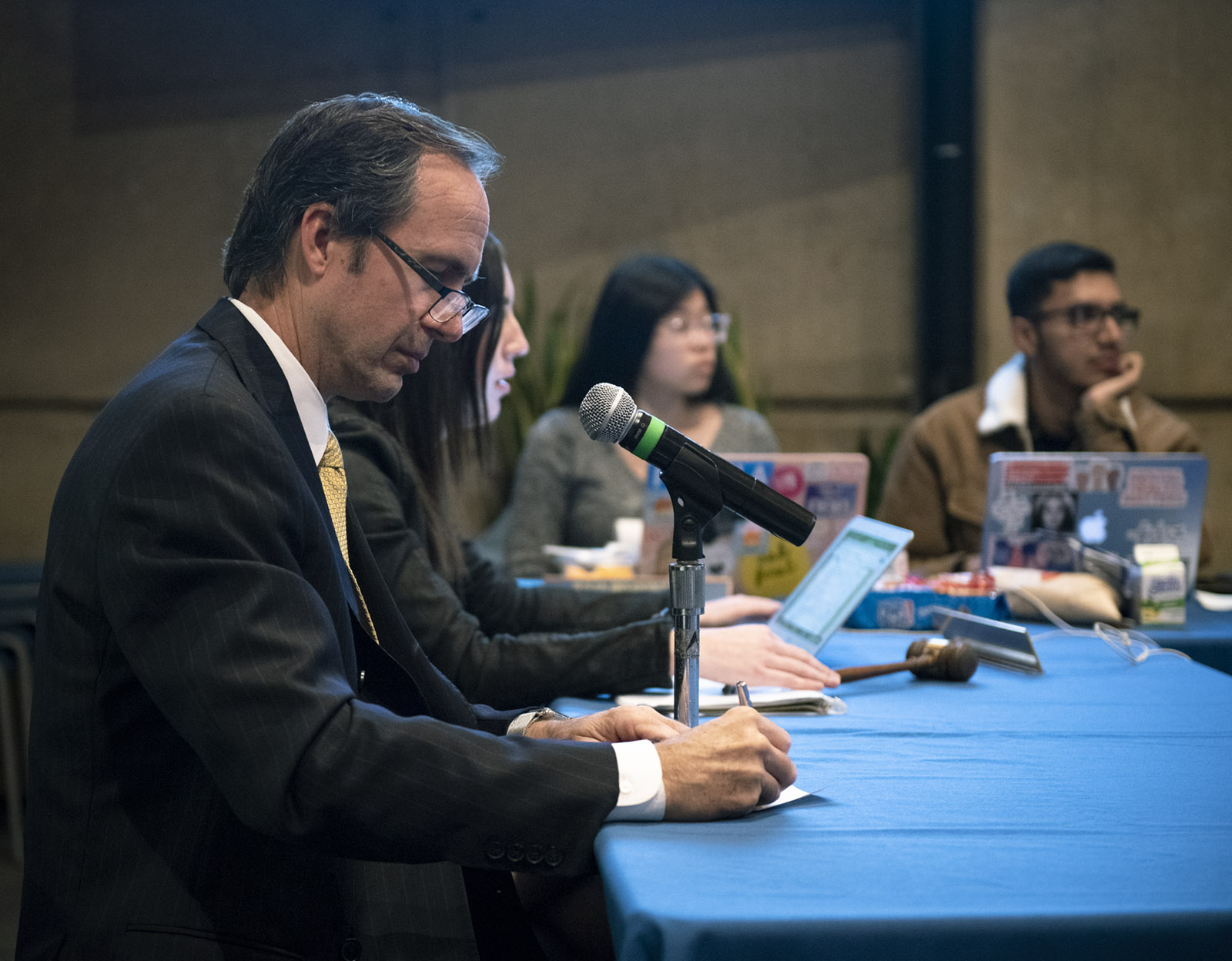 Undergraduate Students Associated Council passed a resolution condemning a perceived administrative overstep in UCLA's cease-and-desist to National Students for Justice in Palestine regarding their conference logo. (Isra Ameen/Daily Bruin)
Students offered both support and condemnation of a recent administrative action against a Palestinian-rights group for using UCLA trademarks in their conference logo.
UCLA administrators sent National Students for Justice in Palestine a cease-and-desist letter Oct. 31 regarding the use of a logo to promote the group's upcoming national conference, which willre be held at UCLA from Friday through Sunday. The logo featured the name "UCLA," a bear and a kite. Administrative Vice Chancellor Michael Beck said the university reserved its right to cancel the event if the situation was not remedied.
Undergraduate Students Association Council members passed a resolution at midnight Tuesday condemning what it deemed an administrative overstep in the enforcement of UCLA Policy 110 against NSJP and SJP at UCLA. SJP allies told the council they had used UCLA colors and the Bruin Bear in previous advertising material, but had not been cited. Policy 110 governs the use of the university's logos, trademarks and official and unofficial seals.
Gurutam Thockchom, board member for SJP at UCLA and third-year mathematics student, said they think administrators' cease-and-desist letter to SJP contrasts with its failure to act against other groups that have violated Policy 110.
"We found it to be completely inconsistent with the way other students organizations had been treated," Thockchom said.
A representative of MEChA de UCLA said at a USAC meeting two weeks ago that the group had used the Bruin Bear for an event in the past, but were not challenged by administrators.
Student Labor Advocacy Project representatives said they supported SJP. SLAP representatives added they held events with "UCLA" in their advertising graphics, but also had not received a cease-and-desist letter from administrators.
UCLA spokesperson Ricardo Vazquez said the UCLA brand defines UCLA as an organization.
"We must be consistent in the way we enforce the use of our logo and other marks," Vazquez said. "If we are not consistent with our enforcement, we lose the ability to enforce unauthorized uses."
Beck said his office addresses all cases of unauthorized use they are notified of.
"I do not believe there were personal politics in the cease-and-desist letter," Beck said.
UCLA Policy 110, which was updated Nov. 9, prescribes when UCLA marks can be used and outlines a process to have use of the marks approved. Vazquez said the timing of the conference and the policy update are purely coincidental.
"Policy 110 is 30 years old, and the latest version has been in the works for two years," Vazquez said.
Vazquez added UCLA considers the situation remedied after NSJP removed "UCLA" from its logo.
USAC Cultural Affairs Commissioner Sarena Khasawneh, who is also a member of SJP at UCLA, said she thinks Policy 110 is being enforced against NSJP and SJP unfairly without clear communication with the groups beforehand.
"Bigger paychecks and fancy titles doesn't mean they are allowed to bypass and drown out the voice of students," Khasawneh said.
Beck said Tuesday he would take the council's suggestion of contacting associated student groups before issuing cease-and-desist letters to third-party organizations under consideration.
Justin Feldman, a third-year Middle Eastern studies and political science student, said SJP's concern over the cease-and-desist letter is valid, but added the kite on the logo connotes violence, as it bears resemblance to a kite-bomb.
"(To) say that the message they're portraying is a message of hope and peace with UCLA's logo is completely deceitful and false," Feldman said. "For me, as a Bruin, as an Israeli-American, as a Jew, the logo meant delegitimization of my identity, of my people's resilience and struggle in terms of enduring violence."
Feldman added he did not think the changes made to the logo following the cease-and-desist letter were sufficient.
"Just the removal of 'UCLA' I think was a cop out, and it only gave SJP a reinforcement of their sense of entitlement with regards to putting any message they want out there for the campus community," Feldman said. "I would like to have seen, in general, the removal of a bear, be it a Bruin Bear or a California bear."
USAC President Claire Fieldman urged council members at Tuesday's council meeting to pass the resolution, despite stating the content of the conference would be in direct opposition to her identities as a Jewish-American and Zionist.
"Do I support UCLA SJP's right to host this conference? Yes," Fieldman said in an email statement. "Do I endorse its content and its implications for fellow members of the Jewish and pro-Israel communities on campus and off? No."
Following the USAC resolution and SJP's changing of the logo, the three-day NSJP conference will take place at UCLA starting Friday. Whether the administration agrees with the political content of the conference, it has deemed that SJP retains the right to organize and express its beliefs.
Thockchom said SJP has received support from several organizations, including the American Civil Liberties Union, Jewish Voice for Peace, SLAP and Palestine Legal.
"When we're facing these attacks, we're not alone," Thockchom said.