Sikh Student Association aims to promote tolerance during awareness month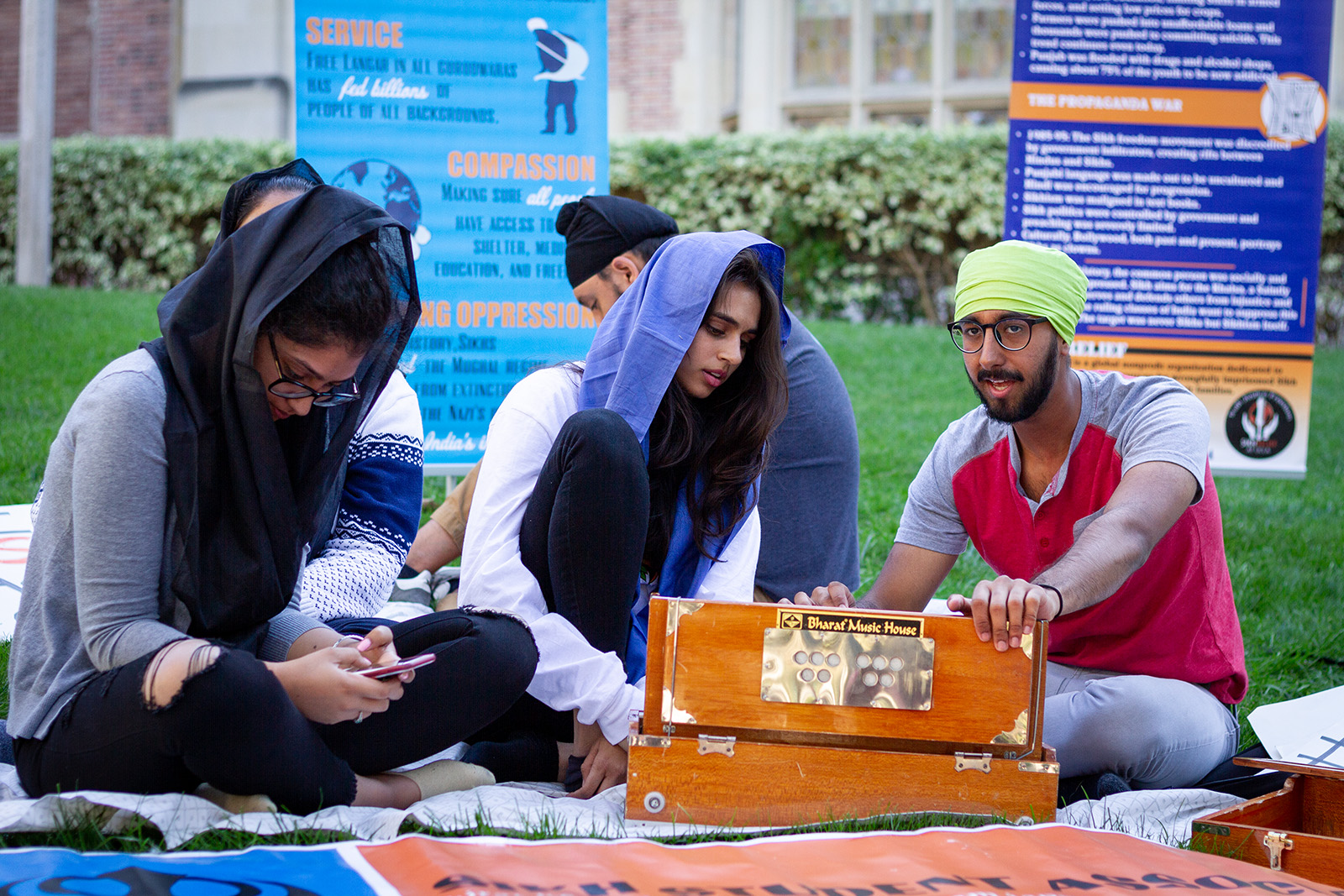 The Sikh Student Association at UCLA hosted a Turban Tying and Kirtan event in Meyerhoff Park on Wednesday as part of Sikh Awareness Month. (Tanmay Shankar/Daily Bruin)
From a young age, Sonia Wraich said she has been bullied because of her religion.
Wraich, a third-year biology student, is a Sikh and community service director of the Sikh Student Association at UCLA. She said she and other members of the Sikh community often face judgment, which makes her hesitant at times to display her religion.
"I was bullied throughout elementary school," Wraich said. "Nothing really saves you from the discrimination that you're going to face."
To educate UCLA students about the Sikh religion, SSA hosted Turban Tying and Kirtan on Wednesday as part of Sikh Awareness and Appreciation Month in November. The event allowed students passing by to experience tying a turban on their heads and learn more about the Sikh religion and its history. Participants also sang Sikh hymns called kirtans.
Manpreet Grewal, fourth-year psychobiology student and Daily Bruin staffer, is the president of SSA. She was at the event, teaching students about the turban's significance.
"Our goal is to teach (students) the importance of the turban and what it means to us as Sikhs," Grewal said. "It's not something that we wear just for fashion, or something that we wear and just take off whenever we want."
Cade Luongo, a second-year mechanical engineering student, stopped by to chat with members and said he learned more about Sikh traditions.
"I learned that Sikhs keep their hair long, and the turban is worn by both men and women to keep their hair clean," Luongo said.
Wraich said she believes it's crucial for students to learn about and respect the religion.
"We are the fifth-largest religion on campus, but so many people here don't know who we are," said Wraich. "The goal of the event is to just spread awareness."
Besides tying turbans and singing kirtans, members of SSA also spoke about the Sikh Massacre in 1984, which the club discusses during their weekly meetings.
According to a report by BBC, nearly 3,000 Sikhs were killed during anti-Sikh protests in India in November 1984. Wraich said that the incident caused the Sikh community to distrust the Indian government.
The club believes spreading word about the events that occurred in 1984 is important, especially because some don't recognize it as a genocide, Wraich said.
"UCLA recognized (1984's events) as a genocide and not a riot," Wraich said. "People still don't know what 1984 is and how it's affected the community and especially the diaspora here."
Grewal said she thinks India fails to recognize its genocide against its own people, and the country claims that it was caused by Sikh extremism. She hopes to raise awareness of the attack and how it is wrong to ignore the historical event.
"The hashtag #neverforget1984, used to spread the word on social media, has been removed," Grewal said. "This is a whole community that Twitter just erased."
Karan Singh, a second-year biology student, said he thinks awareness is important to ensure another tragedy doesn't happen.
By informing people about their religion and history, members of SSA said they hope that they can break the continual judgment they said they feel is still an issue at UCLA.
"When someone sees a turban, they automatically relate it back to 9/11. And from there they have a negative connotation, and it's a cycle that doesn't stop," Grewal said. "Our goal is to end that cycle, educate everyone about the turban, about our community."
Last weekend, she said two men called about noise complaints at the hotel where a group of SSA members was staying even though they were not making any noise. She said she thinks the men filed the complaints because of their religion.
"Nothing stops that. Unless people are aware of the diversity that's all around them, that's the result," Wraich said. "Because they're not aware of it, because they've never been normalized to it, that's just how they are going to act."
The organization aims to continue to spread awareness OF Sikhism and bring the community together through events such as this one. They aim to host activities that reflect the pillars of Sikhism: academics, social community, religion and volunteer service.