New USAC workshops promote financial literacy among underserved communities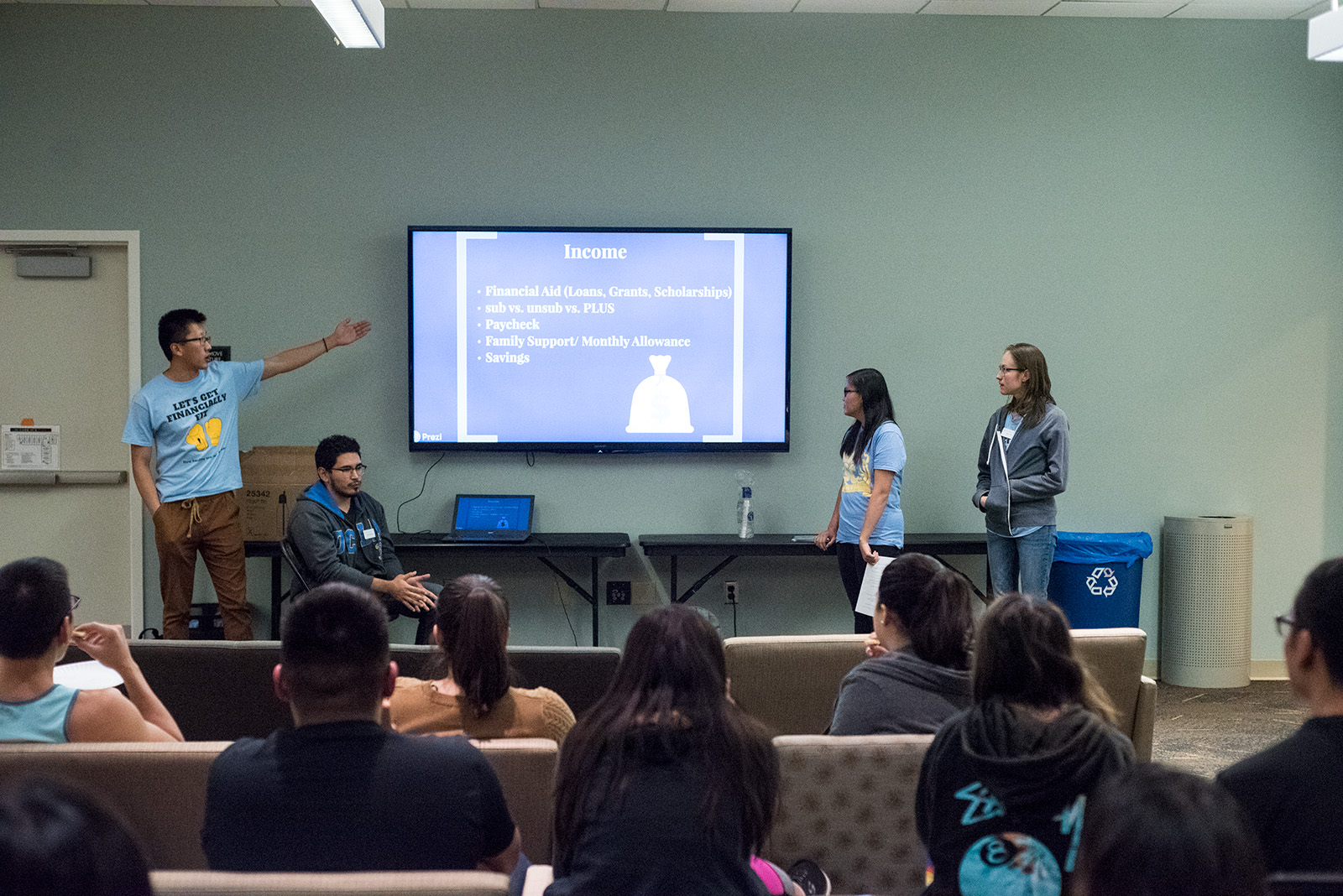 The Undergraduate Students Association Council's Financial Supports Commission co-hosted the workshop to discuss how to budget wisely as a student living in an increasingly costly Los Angeles.(Anirudh Keni/Daily Bruin)
November 14, 2018 1:40 am
Student government and community groups shared financial literacy tips, like how to finesse free Pizookies or how to find the cheapest bus stops, at a workshop Tuesday.
The Undergraduate Students Association Council's Financial Supports Commission co-hosted the workshop to discuss how to budget wisely as a student living in an increasingly costly Los Angeles. This is the first FSC event following a recent bylaw change to include social justice in the office's bylaws.
FSC partnered with Samahang Pilipino Education and Retention and the Financial Wellness Program to create the workshop Bruins on a Budget. Jay Manzano, Financial Supports commissioner, said he geared this workshop toward both freshmen on the Hill, who may be learning about affordability for the first time, and upperclassmen budgeting for apartment living.
Manzano helped to organize the event alongside SPEAR and the Financial Wellness Program in an effort to establish ties with communities that have not always traditionally worked with USAC.
Peer mentors from the program talked about how to save on transportation and housing, build one's credit and approach student financial aid. Mentors taught participants about mobile applications that budget their monthly spending, how to apply for CalFresh and where to look for a one-on-one mentoring appointment to ask questions about finance.
Manzano said the budgeting workshop was planned before FSC's recent bylaw change, which expanded their platform's perspective to emphasize community programming and an advocacy-based approach. The council approved a bylaw change to encourage future Financial Supports commissioners to focus not only on financial wellness, but also on matters of financial insecurity.
Manzano said he wants the FSC office to advocate for students who are facing food insecurity, are unable to pay for daily necessities and struggle with affording a college education.
"We are not going to shy away from difficult conversations about students who have to skip meals or who are low income because that would be a disservice to them," Manzano said.
Josephine Flores, a second-year psychology student, said she thinks financial literacy is not always common knowledge in minority communities.
She added that students may find it more difficult to learn financial literacy if their parents did not go to college.
By reaching out to groups not affiliated with USAC, Manzano said FSC aimed to provide financial advice to fit everyone's individual situations, instead of applying a general solution to the experiences of different communities.
Siena Villegas, a second-year business economics student from SPEAR, said she hopes to relay the information she learned from the workshop to the Filipino community as a part of the peer advising and outreach SPEAR does. She added she also plans to incorporate the workshop's budgeting tips into her own life.
"It's helpful to hear about it from peers your own age who know what you're going through," Villegas said.
Andrew Wei, a fourth-year economics student and speaker at the workshop, said he encourages all students to achieve financial literacy.
"Financial literacy is essential since we all need to get this bread – let's do it in a smart way," Wei said.
Nguyen is an Assistant Opinion editor of the Daily Bruin. She regularly covers campus politics, homelessness and policing.
Nguyen is an Assistant Opinion editor of the Daily Bruin. She regularly covers campus politics, homelessness and policing.