International Education Week kicks off at UCLA and across the globe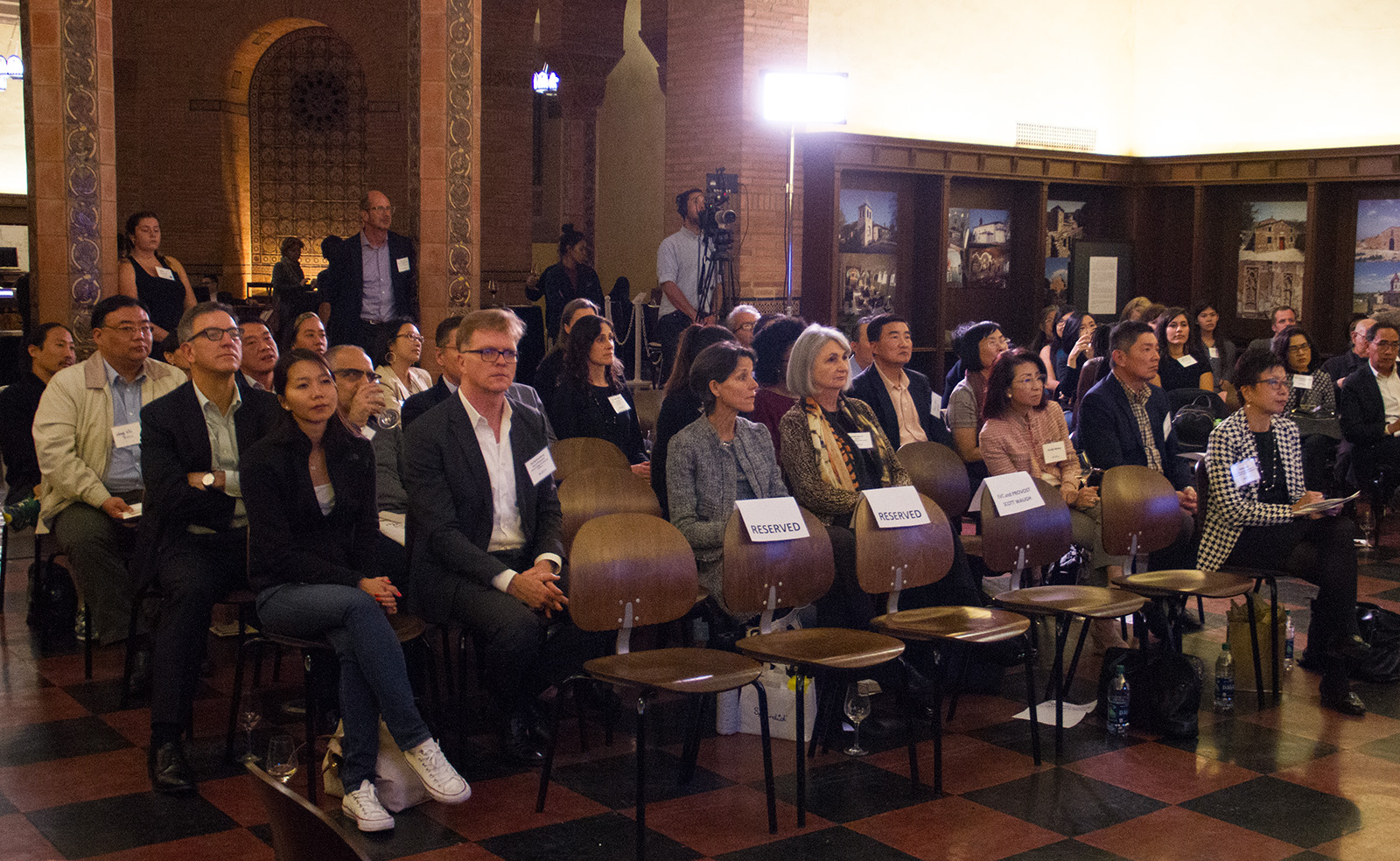 Dean Marcelo Suárez-Orozco spoke at an event as part of UCLA's International Education Week on campus Tuesday. The event was attended by a number of deans as well as representatives from Afghanistan and Thailand and members of the diplomatic corps. (Tanmay Shankar/Daily Bruin)
November 14, 2018 1:36 am
Correction: The original version of this article incorrectly stated Cindy Fan is the vice provost for international studies and global management. In fact, she is the vice provost for international studies and global engagement.
This post was updated Nov. 15 at 6:50 p.m.
The dean of the UCLA School of Education and Information Studies said promoting education is the key to disrupting inequality in a rapidly globalizing world.
Dean Marcelo Suárez-Orozco spoke at an event as part of UCLA's International Education Week on campus Tuesday. The event was attended by a number of deans as well as representatives from Afghanistan and Thailand and members of the diplomatic corps. Suárez-Orozco described globalization as a moving force that occurs when people, ideas and goods accelerate. He emphasized the necessity of education and its new role in an era of interconnected economies and societies.
"Literacy saves lives, literally," Suárez-Orozco said.
Suárez-Orozco is a regular contributor to The Wall Street Journal, The New York Times and the Washington Post. In 2013, Suárez-Orozco was honored by Pope Francis.
Cindy Fan, vice provost for international studies and global engagement, introduced Suárez-Orozco and said the university strives to promote programs that prepare students to be members not just of the international community that is heavily present on campus, but also of the world at large.
She added that global education requires students to cross geographical, ethnic, cultural or political borders.
Suárez-Orozco said that education can be used to achieve equality in a world that is increasingly xenophobic and anti-immigrant. He added education must work to focus not only on local problems, but also global ones that influence other cultures.
Suárez-Orozco also said that it goes against American principles and values to disregard cultural differences.
"We are a people tied by a sheer understanding and sheer embracement of a common and shared fate. … We are a society of consent, not one of descent," Suárez-Orozco said.
Jade Elyssa Alviar Rivera, a fourth-year dance student, said she was impressed with Suárez-Orozco's educational journey and his ability to explain complex topics.
"I think that as a minority at this university, especially as a transfer student, knowing that he was a product of the California community colleges is very reassuring for me," she said. "To see someone who looks like me and has had similar experiences as me and is able to do work that I've never even dreamed of myself doing is amazing."
Suárez-Orozco said he thinks there is a significant correlation between globalization and immigration. He added that globalization normalizes the cultural differences that immigrants bring as they integrate themselves into cities like Los Angeles.
"Immigration is the human face of globalization," Suárez-Orozco said. "The global and the local are fusing."
Suárez-Orozco said scholars have an obligation to elucidate complex topics such as globalization and diversity to a layman audience.
"We shouldn't be approaching diversity as something to overcome but as something to embrace and understand," he said.