Editorial: University's handling of upcoming SJP conference threatens First Amendment rights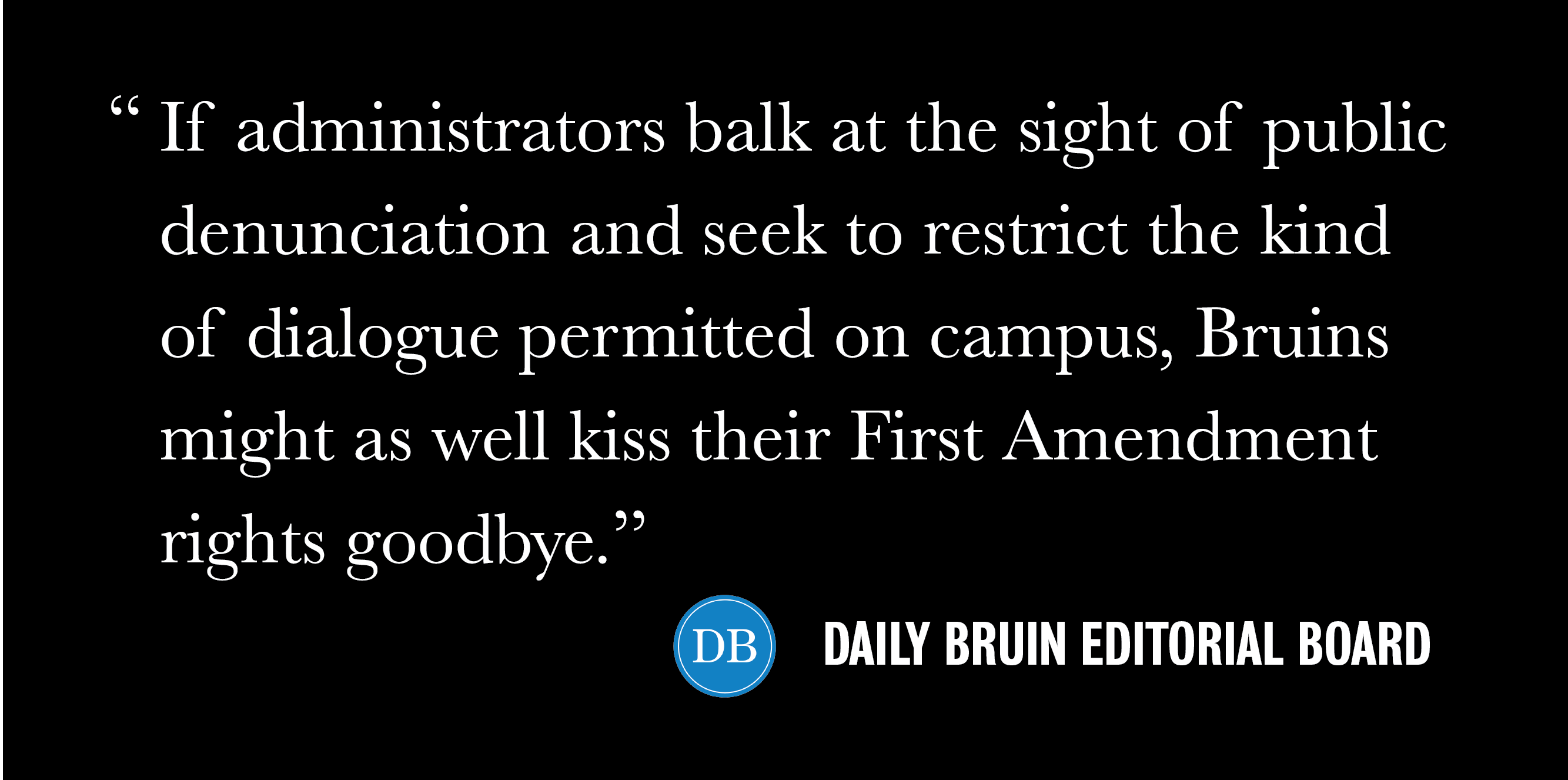 This post was updated Nov. 13 at 2:32 a.m.
UCLA is no stranger to ideologically charged campus events.
Be it a talk in Ackerman Union by Ben Shapiro, a conservative commentator, or a lecture in Royce Hall by Rahm Emanuel, Chicago mayor and former poster child of the Democratic Party, administrators have always had the same justification for allowing politically divisive events on campus: Joe Bruin always sides with free speech.
Until last month, that is, when UCLA made it clear that free speech wasn't worth allowing Joe Bruin to be affiliated with National Students for Justice in Palestine.
SJP at UCLA, a student group advocating for Palestinian human rights, is hosting the annual NSJP conference from Nov. 16 to Nov. 18. The conference's stated aims are to recognize West Coast SJP chapters, discuss actionable local campaigns and offer workshops for students to learn about coalition building, responsible media engagement and fundraising.
As with most things ideologically divisive, UCLA has faced heat from some community members. But instead of affirming students' First Amendment rights to host the event, as it has done many times before, the university sought to, quite literally, remove Joe Bruin from the picture. The university sent a cease-and-desist letter to SJP at UCLA about disseminating its event logo, which depicted a bear playing with a kite adorned with the Palestinian flag and included the subheading "UCLA 2018." The letter argued the logo could be seen by some as an intention to endorse violence against Israel, and stated that SJP had to remove the bear and "UCLA" from its event logo, else risk its event being canceled.
Perhaps it's easy to forget, but this is the same university that allowed a group of students in 2016 to bring in Milo Yiannopoulos – a pedophilia-condoning, Islamophobic troll – but levied no legal threats.
And that's what's most troubling: The university's legal challenges to the NSJP conference appeared as veiled attacks on the First Amendment. But the right to free speech – especially at a public university – hasn't expired in the past two years. The university has shown time and again that it's fine having its campus affiliated with politically charged events. That shouldn't change now, despite how much criticism it may receive.
Besides, it's worth noting the kind of blowback UCLA has been receiving. A congressman representing eastern San Fernando Valley and Eastern Simi Hills – neither of which UCLA is a part of – sent a letter to the university implying the event had to be open to the public, despite organizers not using student fees. The Los Angeles City Council passed a unanimous resolution arguing the SJP at UCLA event would promote anti-Semitism, despite the conference's speaker list being unknown to the public. Some members of the campus community have contended that SJP at UCLA's affiliation with its national chapter taints the conference's ability to be a place for productive debate on Palestinian human rights, despite NSJP not publicizing a list of who is attending the conference.
This is all flak that, while hardly endearing, did not merit administrators' threats to shut down the NSJP conference. UCLA seems to have found out as much, considering its cease-and-desist letter was challenged by the American Civil Liberties Union of Southern California and that administrators dropped their efforts after SJP removed "UCLA" from the logo but kept the bear. Chancellor Gene Block even ended up writing an op-ed in the Los Angeles Times stating that the conference would go on.
The university's duty is to offer an environment where – no matter the disparagement it receives – the campus community can exercise its free speech rights. If administrators balk at the sight of public denunciation and seek to restrict the kind of dialogue permitted on campus, Bruins might as well kiss their First Amendment rights goodbye.
That's not denying that anti-Semitism rages strongly in this nation. The timing of the NSJP's conference – mere weeks after the horrid Pittsburgh synagogue shooting – can seem distasteful. But the consequences of holding such a conference at such a time, if any, rest solely on NSJP members, not on UCLA.
Politically charged events can appear a zero-sum game to administrators – there's almost always a community that is upset. But if Joe Bruin is to represent all Bruins, the university needs to be welcoming of all ideas, not just those it deems politically anodyne.