Women's basketball to fortify defense before weekend home game against Rice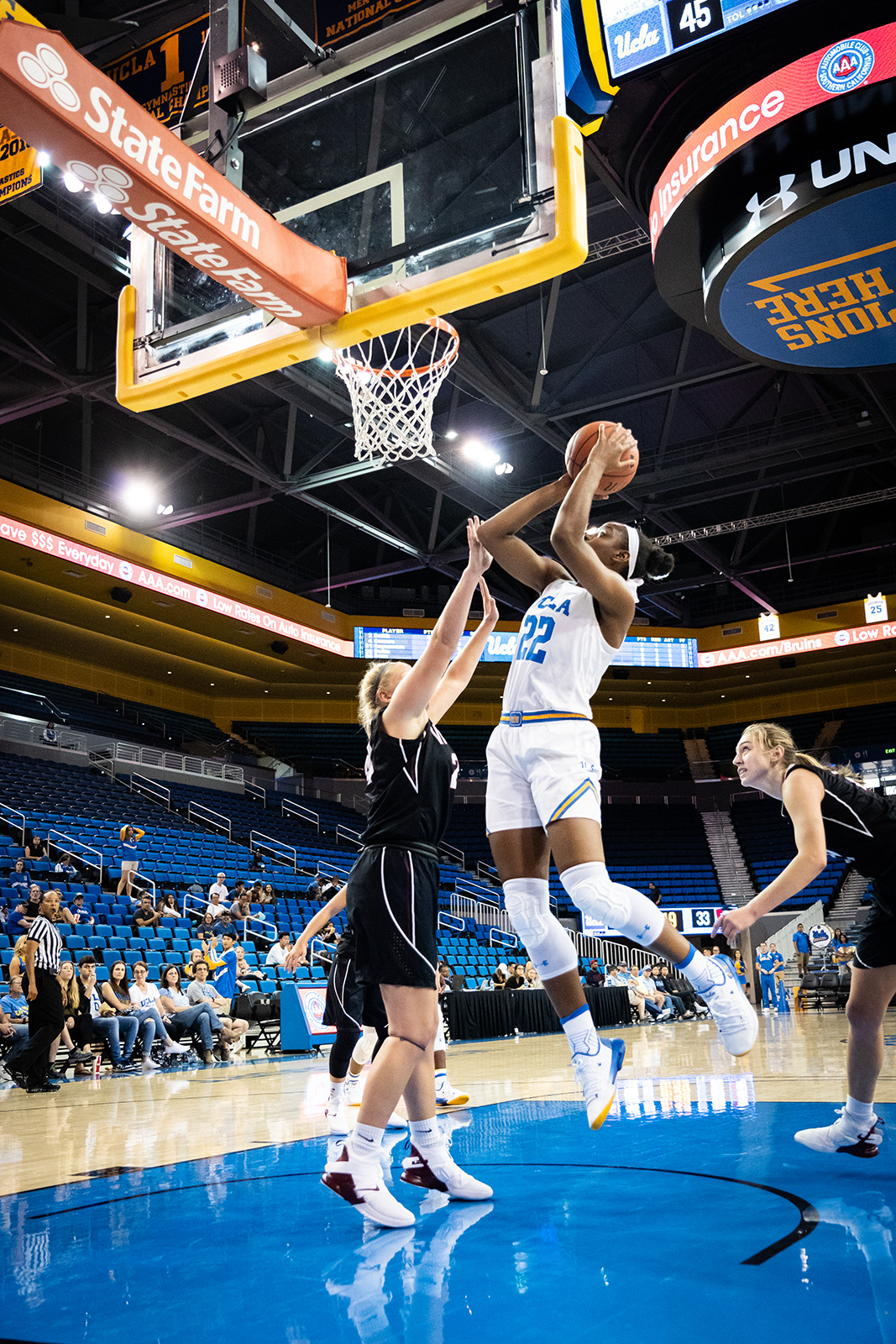 Senior guard Kennedy Burke scored 13 points in the first game of the season against LMU. Burke played in 35 games last season posting an average 10.6 points per game. (Elise Tsai/Daily Bruin)
Women's basketball
---
Rice
Friday, 2:00 p.m.
Pauley Pavilion
UCLA Live Stream
Cori Close said that the Bruins' season-opening loss revealed the team's weaknesses.
"We got exposed," the coach said. "We have to own where we are not responding the way we need to, and we have to be more willing to compete with a sense of urgency with each other and for each other."
UCLA women's basketball (0-1) will return to Pauley Pavilion for its first home game against Rice (0-1) on Sunday. This is only the third time UCLA has faced Rice in school history, but Close said she is not concerned.
"We have a real advantage because Tasha Brown, our assistant coach, was at Rice last year," Close said. "So that is not going to be an issue."
The last time the two teams saw each other was in December 2008. The Bruins took home the victory on the road in a 82-64 decision over the Owls.
Rice went 23-10 in the regular season last year, with an 8-8 record away from home. Owls' guard Erica Ogwumike – the younger sister of WNBA All-Stars Nneka and Chiney Ogwumike – averaged 17.9 points last season and is the top returning scorer for Rice.
Rice played its first game this season Wednesday against No. 20 Texas A&M (1-0) and Ogwumike racked up 12 points on the night.
The Owls shot 38.6 percent from the field, logging 18 total turnovers. They trailed for the entirety of the contest, falling to the Aggies 65-54.
In UCLA's season opener against Loyola Marymount, the team shot 35.4 percent from the field and only 20 percent from behind the arc. The Lions cashed in 17 points off of the Bruins' 18 turnovers in the Bruins' loss Tuesday night.
"Honestly, it starts with me," said senior guard Kennedy Burke. "And knowing that I have to fight more, because even coming from film, it exposed a lot in us."
As the Bruins turn their attention away from Tuesday's loss, Close said they aim to enter the upcoming contest with a new mindset.
"All I am really concerned about is how we respond," Close said. "You need to have the courage to own it and respond according to what the reality or outcome showed you."
Both Burke and senior guard Japreece Dean said the team needs to improve defensively for Sunday.
Burke logged three fouls against the Lions, while Dean registered five of her own. Four of their combined eight fouls were in the fourth quarter, in which UCLA's 8-0 run fell short of the comeback.
"I think when I hit fatigue, I get really tired and lazy on defense," Burke said. "I just have to be more consistent on defense because I know that my team needs that from me."
Dean said playing as a team will be the Bruins' main focus going forward.
"I think it's about finding ways to lead this team so we can move on and be better for our next opponent," Dean said. "The most important thing I am thinking of right now is finding ways to lead and make my teammates better."
Conte joined the Bruin as a freshman in 2018 and contributed until 2019. She spent time on the women's basketball beat.
Conte joined the Bruin as a freshman in 2018 and contributed until 2019. She spent time on the women's basketball beat.