Women's basketball guard Japreece Dean transferred to UCLA in search of victory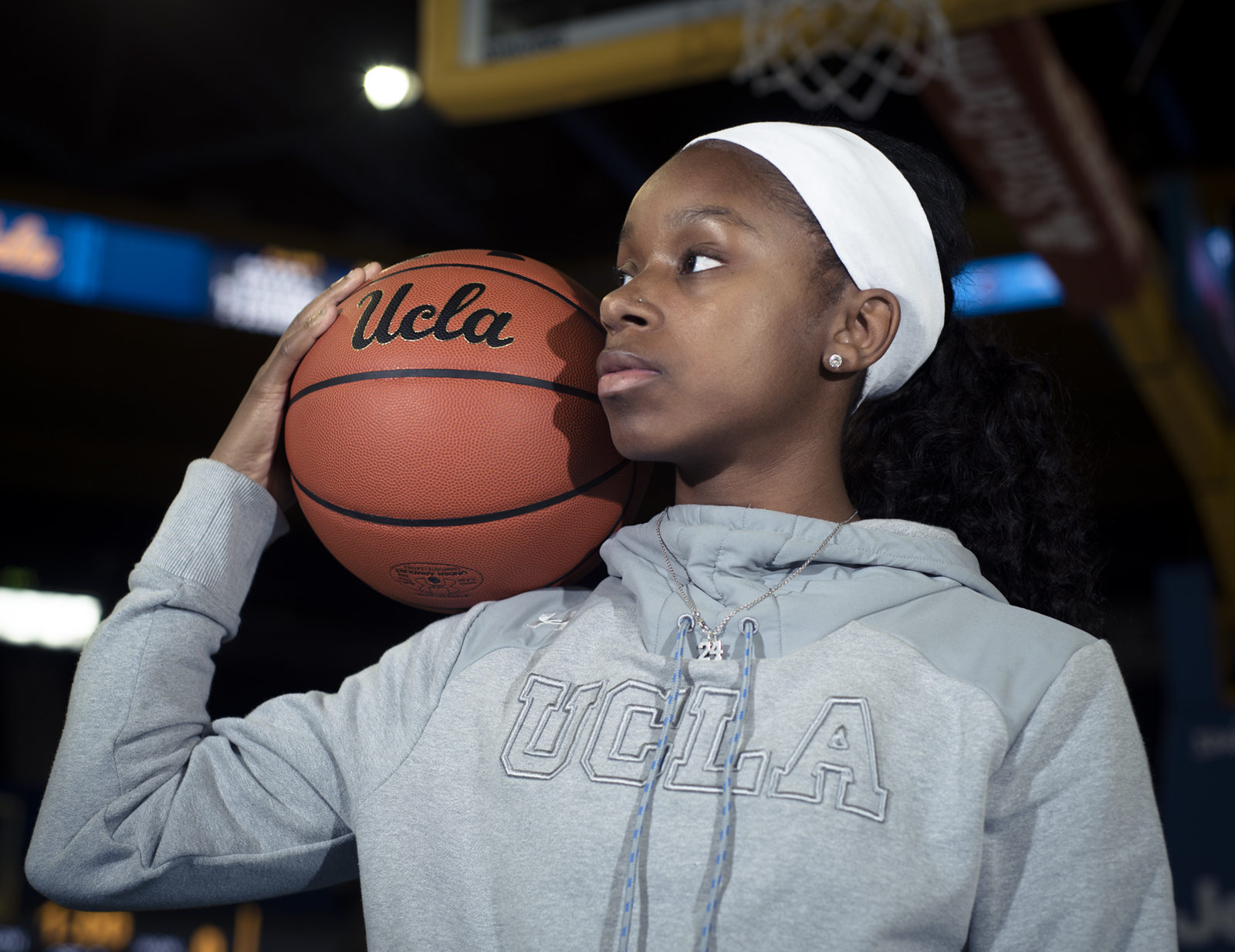 Current UCLA women's basketball senior guard Japreece Dean transferred from Texas Tech in 2016 two games into her sophomore season as a Raider. Dean – who averaged 7.7 points off the bench for UCLA – said she transferred because she wanted to be part of a winning culture. (MacKenzie Coffman/Assistant Photo editor)
Japreece Dean was tired of losing.
The former Texas Tech sophomore guard was 5 feet, 6 inches on a good day. But while she always set high standards for herself, she still wasn't satisfied.
So she decided it was time for a change.
"The first thing that I thought about when each school called was if they were going to win," Dean said. "(I looked at) where they were predicted to be in their conference that year, and if you weren't top half and above or even top three, you were out of there, and I wasn't going."
Since Dean's days at the Twin Lakes Family YMCA, her father Joseph Dean said his daughter had always been imbued with a competitive nature and an eagerness to win.
"(Dean) was the only girl on the team," Joseph Dean said. "I didn't even know she could play basketball at the time … and that's when I really saw the intensity come out of her."
The Austin, Texas, native grew up winning – from shootouts with her brothers at the park, to tournaments with the Texas Ambassadors, a community team that Joseph Dean coached.
After going 130-17 in her high school basketball career, Dean said she wanted to continue playing at an elite level.
"I basically wanted to play at the highest level college basketball has," Dean said. "Then, on my visit at (Texas) Tech, I was sold."
Joseph Dean – a former high school basketball scout – sat his daughter down.
"(My father) had it all mapped out," Dean said. "When coaches decided to call when I was a junior, he made me write it all down – every coach's name, every phone number."
As a freshman at Texas Tech, Dean averaged 14 points in the 24 out of 30 games she started, compared to averaging 8.8 points when she came off the bench.
The guard led all Big 12 freshmen in points per game by the end of the season and became the first in conference history to earn Big 12 Freshman of the Week six times.
But Texas Tech went just 13-18 that season and posted a 4-15 conference record.
"It was really hard," Dean said. "Just being a freshman, being the point guard and playing almost every minute of every game – and we weren't winning."
Dean was averaging 37.2 minutes by the last five games of her freshman season. Although the Raiders still couldn't get over the hump, Dean said her mentality never changed.
"I think it was just eternal," Dean said. "I'm super competitive, so I was just always ready for the next game and ready for the next opportunity to play well or beat someone."
Eventually, after winning just two of the final 10 games of the season, Dean said thoughts of transferring began to trickle – but she decided to stick around a little bit longer.
In August 2015, former UCLA guard Recee Caldwell announced her transfer to Texas Tech two days after her father Ray Caldwell was named an assistant coach on the Raiders' staff.
"When (Caldwell) came, I was like, 'Great, come on over,' because me, I want to win," Dean said. "I don't care who's on the team, I just want to win, so if she's a player that can help us win, then come on."
In Texas Tech's first two games of the 2016-2017 season, Dean played the majority of each game, but went just 4-of-11 from the field in the first contest and 1-of-5 in the second.
But Dean didn't care about the blemishes in her stat lines. She said she just wanted victories.
"After my freshman year, I obviously had thoughts about leaving just because of where the program was going and not knowing if we were going to win games," Dean said. "I just made the decision a little too late, and I knew I should've just left when I had the feeling."
So two games in, Dean requested a transfer-release agreement and sat down with her father again.
"No schools were on my mind," Dean said. "Just getting out of there was my main task."
Since the Bruins were without Caldwell, Dean saw UCLA as an opportunity to improve her game within a program that was fresh off a Sweet 16 appearance – even if that meant playing less minutes.
"It wasn't a matter of, 'They have (former guard) Jordin Canada so my minutes are going to be limited,'" Joseph Dean said. "But her mentality was, 'Oh, they have (Canada), so I can learn from an All-American point guard and be challenged more in practices.'"

Once she got to Westwood, Dean was sidelined for 28 games in 2017 due to transfer rules.
"Sitting out – I thought that was good for me," Dean said. "Because I just needed time to get my mind off of Texas Tech and then develop my game."
The guard debuted as a junior transfer 10 games into the 2017-2018 season, averaging 7.7 points and 2.3 assists off the bench. Dean racked up two 16-point outings last year in UCLA's first Elite Eight run since 1999.
"(Dean) puts the team first," said coach Cori Close. "It's more important to her to help a team win."
Close said Dean's work ethic and initiative are already on display. The senior often shows up to the gym at 8:15 a.m. to put up shots 45 minutes before practice begins.
Sophomore forward Lauryn Miller said Dean is one of her favorites to have on her team during drills in practice.
"(Dean) is super competitive, but it's in a way that makes everyone rise with her," Miller said. "Whenever you play with her (at practice), her competitive edge makes you be your best version of yourself."
Joseph Dean said his daughter is always working to improve her game for the betterment of her team.
"She was a basketball kid, just a total gym rat," Joseph Dean said. "In fact, she's probably at the gym right now."
Off the court, Dean said Miller – along with freshmen guards Ahlana Smith and Kiara Jefferson – got her addicted to playing Fortnite. But even at home behind a screen, Dean's competitiveness is prominent.
"She's the funniest one to play with because if she dies, somehow it's our fault," Miller said. "She's yelling at us through the headsets. She's definitely our point guard on and off the court."
Dean is also an avid NBA fan. The guard said her favorite player of all time is LeBron James, and she hopes to work out with fellow undersized guard Isaiah Thomas one day.
"If you follow her on social media, you can tell she's watching like five games a night," Close said. "She's got the computer out, the TV out … and she's tweeting about it or whatever else – it's because she loves the game."
After falling to Loyola Marymount on Tuesday, UCLA will face Rice in the Bruins' home opener Saturday – an opportunity for Dean to lead her team to its first win of the season.
"She's willing to do the work and she's willing to prepare," Close said. "I think that's what makes her a winner."
Hong is the 2019-2020 Managing editor. She was previously an assistant Sports editor for the women's basketball, men's water polo, women's water polo, women's tennis, and beach volleyball beats.
Hong is the 2019-2020 Managing editor. She was previously an assistant Sports editor for the women's basketball, men's water polo, women's water polo, women's tennis, and beach volleyball beats.