Protests held in Westwood, across the country after Sessions' resignation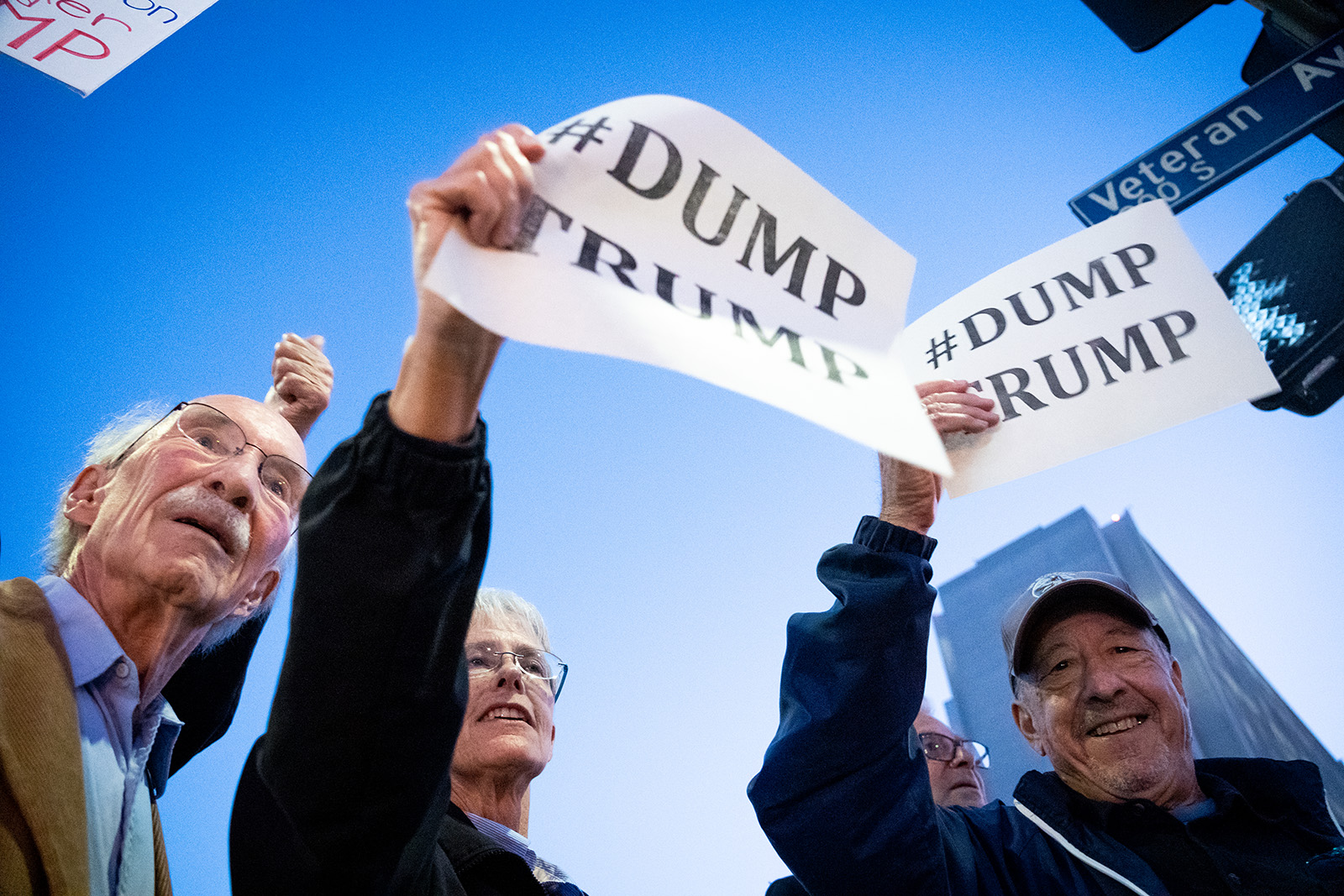 Protesters Jim Smith (left), Loreen Ayer (center), and Ron Abraham (right) demonstrated at City Hall as part of a nationwide movement spanning over 900 locations. (Elise Tsai/Daily Bruin)
Around 400 protesters demonstrated outside the Federal Building in Westwood, and over 1,000 outside Los Angeles City Hall, on Thursday as part of a nationwide protest against Attorney General Jeff Sessions' resignation.
Protesters gathered in response to President Donald Trump's appointment of Matthew Whitaker as acting Attorney General after Sessions' resignation Wednesday, at Trump's request. The protesters, who organized as part of a part of a nationwide movement spanning over 900 locations, demanded Whitaker not assume control of special counsel Robert Mueller's investigation into whether the Trump campaign colluded with the Russian government, which began last year.
Some student protesters said they think the resignation could affect the proceedings of Mueller's investigation.
David Yee, a third-year mechanical engineering student at the Westwood protest, said he thinks Sessions' resignation will influence Mueller's investigation.
"It's politicizing an independent investigation," Yee said. "It reduces Trump's accountability."
Josh Wiedner, a fourth-year psychobiology student at the Westwood protest, said he thinks Whitaker's appointment is unconstitutional because of his prior expression of bias.
"There's even new leaked audio where he is calling the fact that Russia even meddled in the elections a fake thing invented by Democrats, despite the fact that Congress determined Russia did in fact interfere in the United States' 2016 elections," said Wiedner. "So he's accepting lies as fact and shouldn't be in charge of this investigation."
Protesters at the Westwood demonstration waved signs in support of Mueller's investigation and against the Trump administration, including signs urging vehicles passing by to honk in support.
Yaacov Tarko, a fifth-year computer science student at the Westwood protest, said he is unsure what these protests will accomplish in light of Sessions' resignation.
"Democratic institutions are falling apart, and all I can do is stand on this street corner," he said.
Dominic Robolino, a fourth-year biology student at the Westwood protest, said he thinks protests have become more common in recent years due to Trump's controversial decisions, but people should not come to accept this as the status quo.
"Just because these things happen on a daily basis doesn't mean these things aren't a big deal," Robolino said. "It's important we continue to fight back."
Wednesday Meyers, a second-year psychology student at the Westwood protest, said she felt it was important for students to be vocal about the issue and that she was disappointed at the lack of student turnout to the protest.
"I wish we didn't have to do this, but it's our responsibility," she said.
The protesters originally only demonstrated in front of the Wilshire Federal Building, but eventually spread to each street corner of the nearby intersection of Veteran Avenue and Wilshire Boulevard.
Doug Roudeen, a recent UCLA Law graduate at the Westwood protest, said he thinks the divide between different branches of government is being threatened by the appointment.
"I usually try to be politically moderate, but if the separation between the judicial and executive branches, as represented by the special council, is (messed) with, then it represents a deeper assault on our constitutional values than anything Trump has done in the past," he said.
Another branch of the protest in Downtown Los Angeles involved about 1200 individuals in front of City Hall steps. As part of the protest, demonstrators shone flashlights on the City Hall building as a metaphor for shining light on the truth.
[Gallery: Protect Mueller protests]
Moira Cue, an actress and the founder of the Greater Los Angeles Indivisible Coalition, was one of the speakers at the protest at City Hall. Cue said she thinks Trump still poses a serious threat to the country despite the fact that the Democrats have regained a majority in the House of Representatives.
"This is basically like the boiling frog type of situation where the frog legs boil and the frog won't jump out of the water because it's so slow," Cue said. "It's a slow-moving Saturday Night Massacre … and the frog needs to jump out of that water."
Patricia Johnson, a microbiology, immunology and molecular genetics professor who participated in the Westwood protest, said she was glad UCLA students were participating in these protests.
"I would be thrilled to see the UCLA body a little more engaged," she said. "It's their future."