North Westwood Neighborhood Council recap – Nov. 7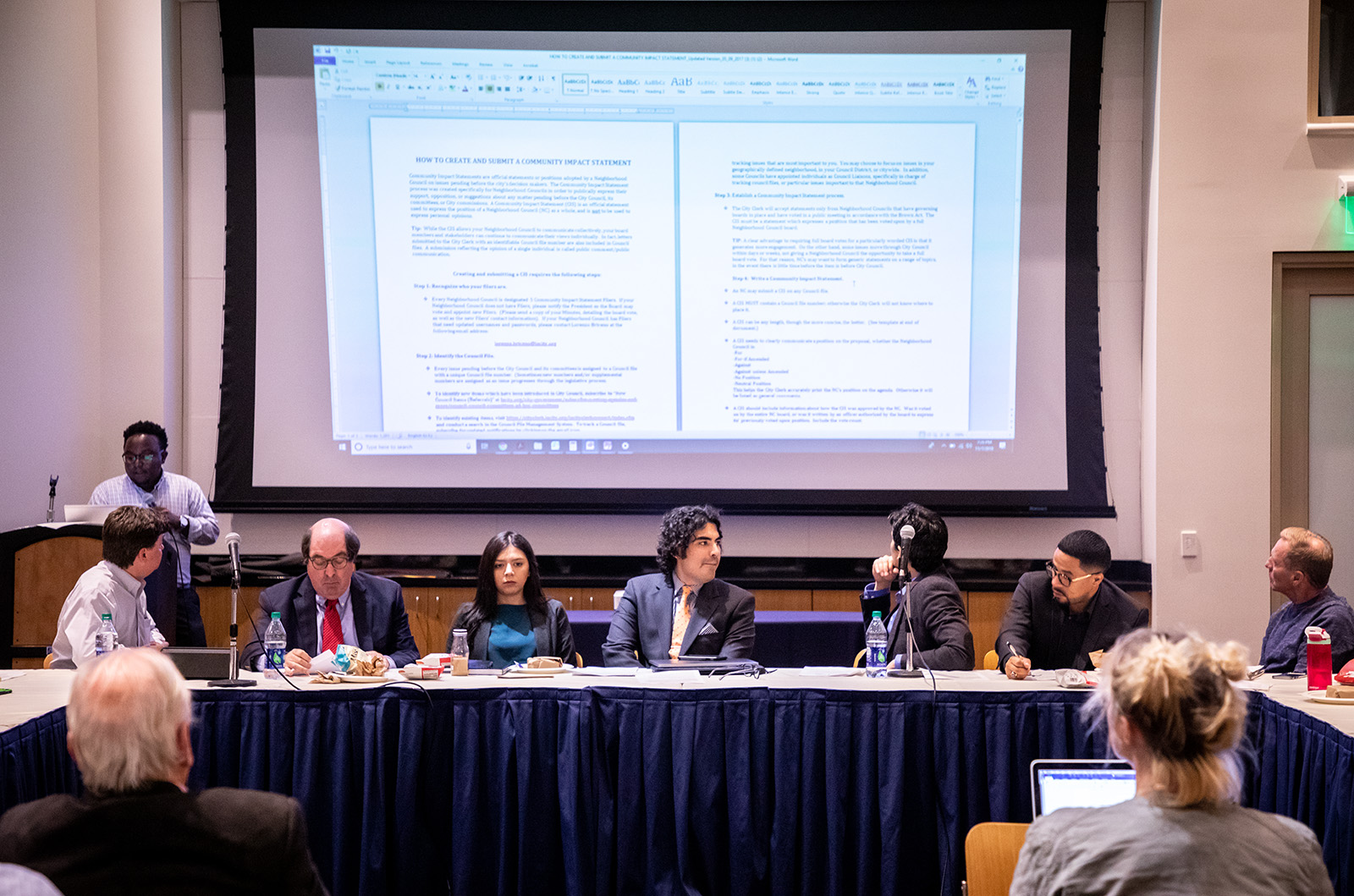 The interim board met for the first time to discuss Westwood VIllage matters and the formation of their new council. (Daanish Bhatti/Daily Bruin)
Correction: The original version of this article incorrectly stated Chantelle Eastman is a development coordinator for the UCLA Mary S. Easton Center for Alzheimer's Disease Research. In fact, she is a development coordinator for the UCLA Department of Neurology
This post was updated Nov. 13 at 2:28 p.m.
The North Westwood Neighborhood Council met for the first time Wednesday to discuss the formation of their council and issues pertaining to Westwood Village and surrounding areas.
Los Angeles City Councilmember Paul Koretz swore in 19 interim council members.
Members of the NWWNC also nominated and voted for their executive board seats. Michael Skiles, president of the Graduate Students Association, was elected president. Gabriela Meza, a fourth-year political science student, was elected vice president. Chantelle Eastman, a development coordinator for the UCLA Department of Neurology and council member of the Westwood Neighborhood Council, was elected secretary. Amir Tarighat, owner of WV Investments, was elected treasurer.
Meetings will be held on the first Monday of each month.
Comments by public officials
Koretz said he would consider actions of both neighborhood councils as points of view. He added he will try to find common ground on issues the two neighborhood councils disagree on. He recognized Westwood Village is now in the NWWNC's jurisdiction, but he will still consider WWNC perspectives.
Gibson Nyambura, a representative from the Department of Neighborhood Empowerment, said the committee is granted $42,000 a year to invest in the community through events and initiatives.

Discussion
Nyambura explained that no more than five standing board members could sit on each committee to stay under the majority vote of the quorum. The council's quorum consists of 10 council members. Skiles expressed his concern over the legality of the committee formation bylaws and asked the board to pass the motion with the intention of checking with the city attorney on specific quorum rules. Each committee must have two standing board members, and can include members of the public, according to the NWWNC bylaws.
Motions
The board motioned to tentatively set up the Planning and Land Use, Transportation and Safety, Outreach and Communications, Community Activities, and Budget and Finance committees. No more than five board members were allowed on each committee. The council has not yet agreed upon the board member placement in each committee.
Eastman proposed approving only the council members for each committee and voting to approve committee members from the public at a later time.
Skiles motioned to hold future meetings in the UCLA Weyburn Commons Village View Room on the first Monday of each month from 7 p.m. to 10 p.m. The motion is tentative until confirmation is received that the room is 

Americans with Disabilities Act-

accessible and that there is free parking, per DONE bylaws.
All other discussion matters were tabled for the next meeting at the recommendation of Nyambura because some council members had not finished their funding training.