Injuries from electric scooter accidents surge while regulations are loosened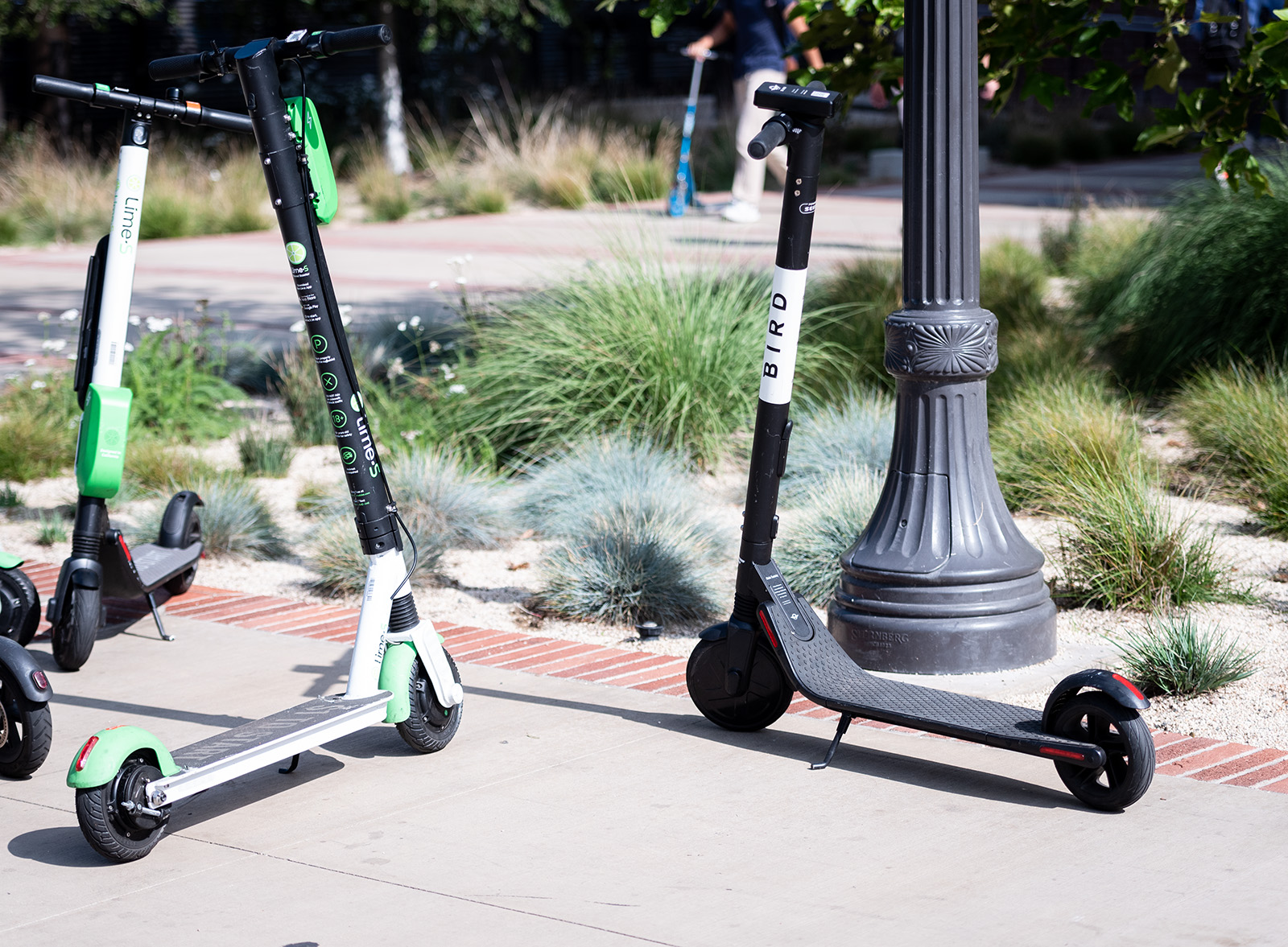 Emergency room doctors have seen numerous patients with minor injuries, such as sprains or fractures, as well as more serious injuries caused by e-scooters since their arrival in Westwood. (Amy Dixon/Photo editor)
Emergency room doctors have seen an increase in scooter injuries as electric scooter use has increased in Westwood over the past few months.
Mark Morocco, a faculty attending physician in the emergency department of the Ronald Reagan UCLA Medical Center, said he has seen numerous patients with minor injuries, such as sprains or fractures, as well as more serious injuries caused by e-scooters since their arrival in Westwood in January.
"But we also see, because of the nature of the scooters and the way they're used, a lot of accidents that are really disturbing us," Morocco said. "We're seeing serious brain injuries, the kind of things that we typically see on motorcycles or bicycles."
The severity of the injuries varies, but e-scooter injuries are exacerbated by a rider's speed, Morocco said.
"The motorization is allowing people to reach speeds that otherwise wouldn't be possible," Morocco said. "You can get going pretty fast and that turns the scooter fall of 5 or 6 feet into an accelerated fall that puts as much energy into your body as if you were falling 20 feet or higher."
Morocco added he thinks riders do not perceive e-scooters as dangerous.
"I think the fact that it seems like it's a toy means it's hard for people to imagine it's something that you could get hurt badly on," Morocco said. "The problem is, if you treat it like a toy, it's going to snap back and bite you because it's not really a toy."
The Los Angeles City Council voted in September to approve several regulations regarding e-scooters, including a 15 mph maximum speed.
However, Morocco said the worst kinds of head injuries occur when riders do not wear helmets.
"There's an old saying in neurosurgery – 'When air hits the brain, you're never the same' – and that's true even if you don't open the brain," Morocco said. "If you bleed or if you concuss yourself badly enough you may be a different person than you were before."
Morocco added that helmets, which are seldom worn in these accidents, can help protect the rider from most head injuries.
A Bird Rides, Inc. spokesperson said in an email statement the company offers free helmets to riders, and has distributed more than 50,000 free helmets as of last week. The company has also provided an in-app tutorial video and posts safety instructions on each vehicle.
However, Gov. Jerry Brown signed a bill in September that removed from the state's vehicle code the requirement that e-scooter riders wear helmets. The law will take effect Jan. 1.
There has been an average of around one e-scooter-related injury each day between UCLA Health's Santa Monica and Westwood locations since the scooters arrived, said Chris Phan, staff research associate in the emergency medicine department. Phan is also a manager of the Emergency Medicine Research Associates program, which screens patients arriving in the emergency department for ongoing clinical trials.
The incidents are not just limited to the riders, however. Pedestrians are also at a high risk for injuries, said Rishabh Shah, a second-year psychobiology student and general member of EMRA.
"Any particular accident is not just localized to the population of those riding the scooters; it's also everyone else that's just walking around and in traffic," Shah said.
Moving forward, responsibility for public safety rests primarily on the e-scooter companies themselves, Morocco said.
"I think the companies have probably been a little too fast and loose with this," Morocco said.
Morocco added the companies could further regulate scooter usage, perhaps requiring people scan or take a picture of themselves with their helmet in order to rent the scooter.
"I know that kind of spoils the fun but it's important to protect people from a product if the product isn't fully thought-out or fully realized," he said.
At the end of the day, though, Morocco said, each rider is responsible for their own safety.
"It ultimately comes down to the individual scooter riders. Remember that it's fun, but try to keep it under control," he said. "That means wear your helmet, go a little slower, and you'll still get there, and you'll still have fun doing it."
Qiao is the 2018-2019 Design director. Qiao was previously a 2017-2018 assistant Design director, and a 2016-2017 Design intern.
Qiao is the 2018-2019 Design director. Qiao was previously a 2017-2018 assistant Design director, and a 2016-2017 Design intern.