FAC hosts town hall to hear feedback on campus accessibility from students with disabilities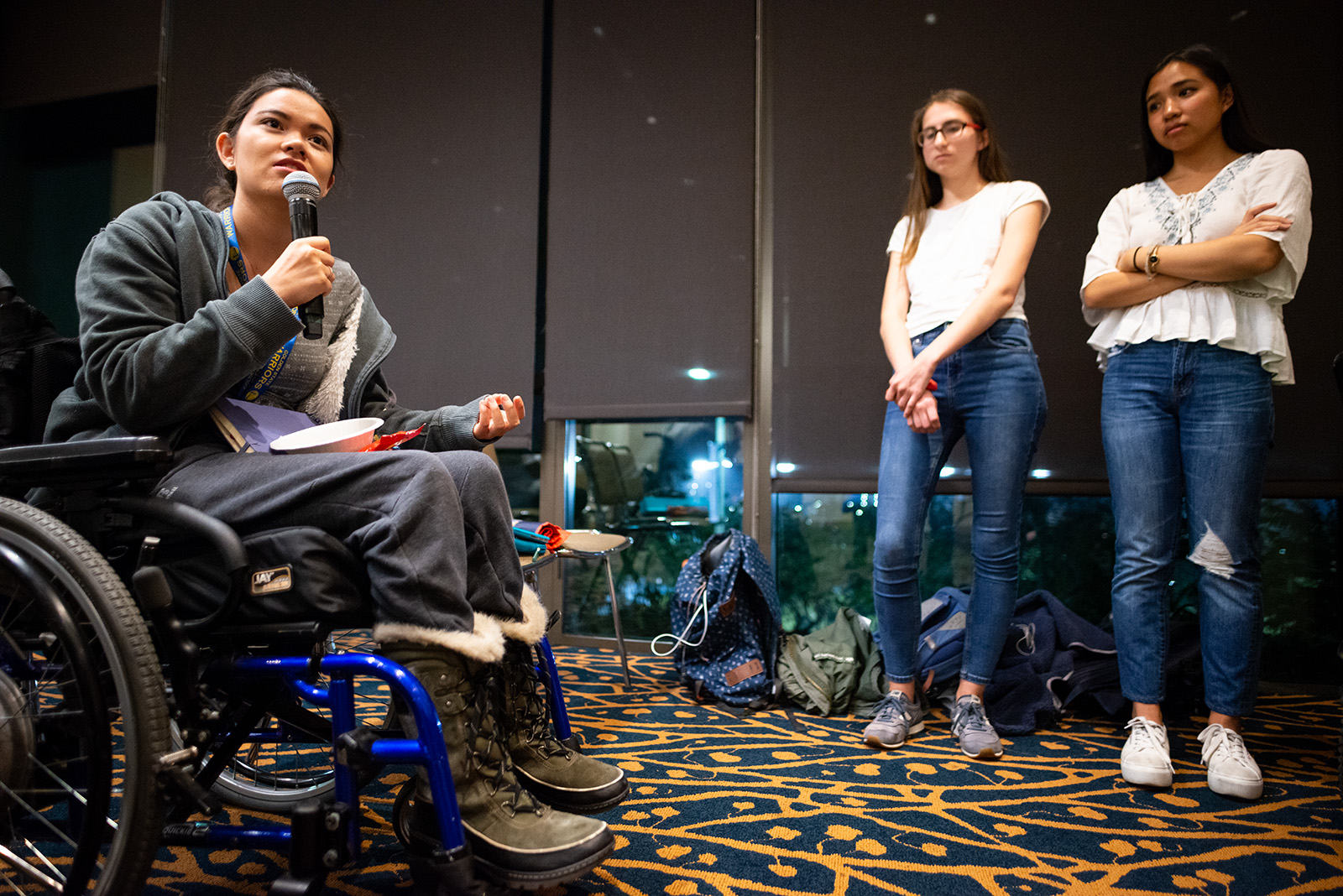 While UCLA has taken measures to accommodate for inaccessibility, including fixing some elevators and creating plans for campus renovations, some students said they feel more could be done. (James Schaap/Daily Bruin)
This post was updated Nov. 9 at 11:34 a.m.
Students said UCLA was prioritizing aesthetics over access by painting some disability placards brown rather than keeping them a clearly visible blue.
The Undergraduate Students Association Council hosted a town hall Wednesday for students with disabilities to provide feedback to administrative offices on how their needs are being met.
Julia Ho-Gonzales, USAC Facilities commissioner and fourth-year political science student, said the Facilities Commission held the event to provide a space for students with disabilities to have their concerns addressed.
"We also want to know the needs of students and the main way of determining these needs is through direct student interaction and the creation of a meaningful dialogue," Ho-Gonzales said.
Access on Board, a team that strives to improve access to facilities for students with disabilities, presented its findings from a summer survey that aimed to collect feedback from students with disabilities on their experience at UCLA. The team said the results of the survey will help better understand how FAC could fix accessibility problems on campus.
For many buildings on campus, the lack of automatic buttons and constant elevator malfunctions make it difficult for students to move around, the presenters said. The limited transportation services offered by UCLA also contribute to this difficulty.
While UCLA has taken measures to accommodate for inaccessibility, including fixing some elevators and creating plans for campus renovations, some students said they feel more could be done.
Claudia Peña, a law lecturer, said faculty members are not equipped with proper training on the rights and needs of disabled students, which prevents those students from receiving the same educational experience as abled students.
Peña said she switched from using videos to podcasts in class to accommodate visually impaired students, but added not all professors know how to address these situations.
There are several resources available to students with disabilities, said Access on Board, but many students are unaware of them. Resources include the Center for Accessible Education, the ADA/504 Compliance Office and the Tarjan Center.
Carolanne Link, a recent UCLA graduate who attended the town hall, said she wishes she knew about the resources when she first came to the university.
Travis Lee, Disabilities and Computing Program coordinator and one of the panelists, pitched the idea of allowing disabled students to access all resources on a centralized online portal. DCP works to ensure that UCLA adheres to accessibility guidelines and students have ease of access online, Lee said.
Students said they hoped to see a change in campus culture and the stigma surrounding disabilities.
"People tend to cast a judgment without knowing," Link said. "Someone could be walking slow because of (their disability), but you don't have a right to know about that."
Disabilities are often understood as physical, but the presenters said disabilities could be invisible as well. According to the CAE, examples of invisible disabilities include being on the autism spectrum and having attention deficit hyperactivity disorder or hearing loss.
Lily Shaw, a third-year political science student who works for FAC, said FAC is working on a Disability Visibility Campaign for winter quarter. The campaign, formatted like Humans of New York, will feature students with disabilities and spread awareness about the challenges they face.
"Our goal isn't just to make disability a poster-esque thing," Shaw said. "We want to talk about all aspects of students with disabilities – both the normal and abnormal part of it."