Throwback Thursday: Voter turnout in 2002 reflected voter apathy, difficulties at polls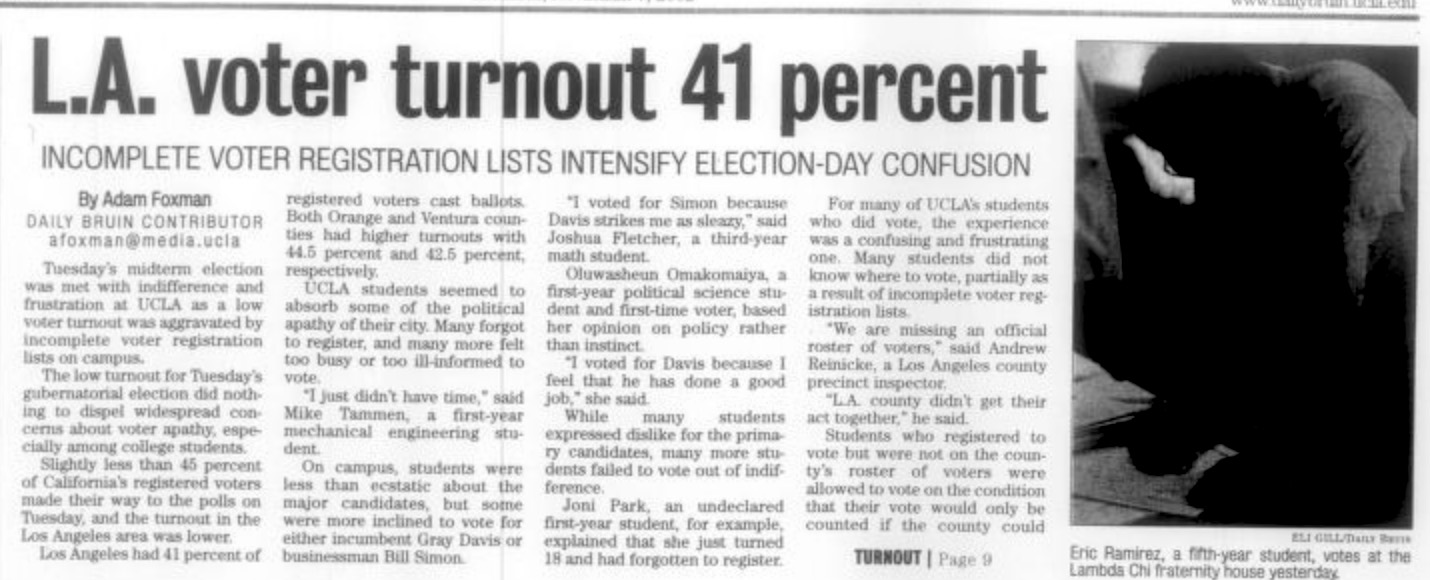 Throwback Thursdays are our chance to reflect on past events on or near campus and relate them to the present day. Each week, we showcase and analyze an old article from the Daily Bruin archives in an effort to chronicle the campus' history.
There's at least one thing both Democrats and Republicans can actually agree on – the importance of voter turnout.
This year, we have all been urged to go to the polls, but in 2002, things were a bit different. In November of 2002, the Daily Bruin published an article that reported disappointing voter turnout in Los Angeles, with only 41 percent of registered voters casting ballots for the midterm elections. Voter apathy continued to affect UCLA's student population, where Bruins either failed to register or felt too busy to do so.
Students confessed they just did not have the time or were too ignorant to.
But students were not the only young people who demonstrated voter apathy. According to the Center for Information & Research on Civic Learning & Engagement, the youth voter turnout rate for the 2002 midterm elections was 31 percentage points lower than the adult voter turnout rate.
That is likely because, unlike today, Americans were generally content with the government and how then-President George W. Bush handled national issues, such as the 9/11 attack in 2001. Voters were reluctant and uninspired to change the government, leading to low voter turnout in 2002.
Those who did vote described it as a confusing and frustrating experience due to incomplete voter registration lists for the Los Angeles County. Many students' names did not appear on the county's roster despite being registered to vote. Although they were still able to vote, students had to vote with provisional ballots while their voter status was being verified by the county.
Things are a bit different nowadays. On the days leading up to the 2018 midterm elections, the members of the UCLA BruinsVOTE! Campaign actively promoted voter registration by handing out forms and rallying for civic engagement among their peers. Additionally, because of the frustration and controversy surrounding current issues, such as health care and immigration policies, voters had a greater reason to cast their vote at the polls Tuesday.
UCLA has also become the first campus in the nation to streamline voter registration by allowing students to register to vote through the same portal students use to manage classes and other affairs. The portal auto-completed the California voter registration form with the student's information and sent it to California's secretary of state office for approval.
Along with this new development, voting took place in Ackerman Union for the first time in a general election instead of through various polling stations in the dorms, further simplifying the process for students, especially first-time voters on campus.
But while the fight for voter turnout is stronger than ever, some things do not change.
In 2016, some students experienced difficulties at the polls, similar to their 2002 counterparts. Several ended up voting with provisional ballots or were in the wrong line at the polling station.
Voter apathy is also still an issue, despite an increase in turnout. According to NPR, many citizens feel pessimistic toward the future of their government and the people in office, believing their vote will not matter or change anything.
But, some things have changed drastically. The 2002 article informed readers of students' excitement to speak their voices at the poll and pick up some stickers along the way – something the Daily Bruin didn't do this year.
If anything, the past 16 years have highlighted a notable increase in civic engagement among voters, students or otherwise – or at least a greater interest in collecting those patriotic "I voted" stickers.