Women's basketball takes early lead against Westmont for 75-55 finish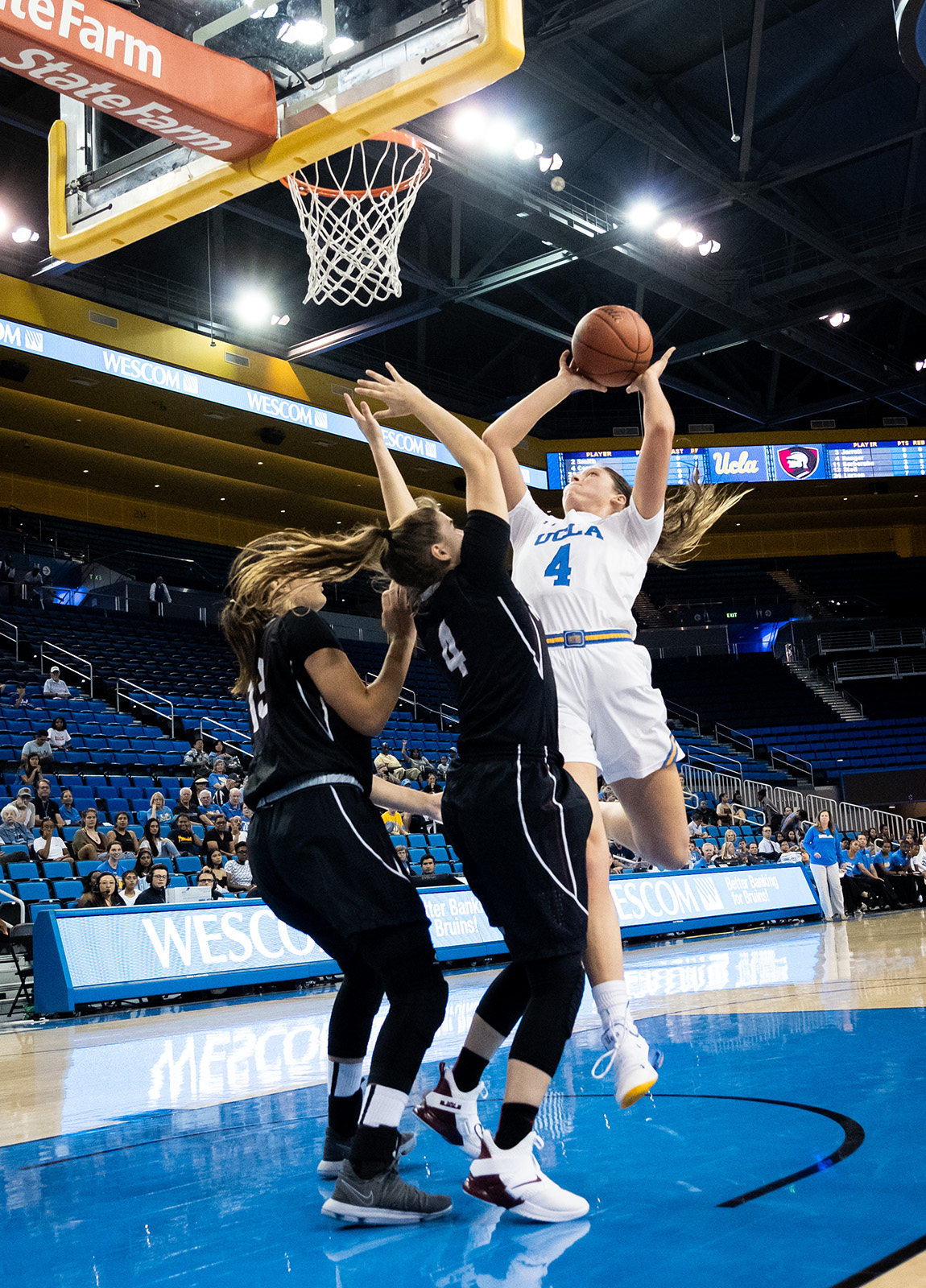 Redshirt freshman guard Lindsey Corsaro went 5-of-11 from the field, posting 12 points and 10 rebounds for her first career double-double. Corsaro also logged seven assists, one steal and no turnovers in Saturday's exhibition. (Elise Tsai/Daily Bruin)
After sitting out the majority of the past two seasons, Lindsey Corsaro was finally ready.
"I'm just really excited to get to play," the redshirt freshman guard said. "So, I just go out there and give everything I have."
UCLA women's basketball defeated Westmont 75-55 at home in Saturday afternoon's exhibition game, led by Corsaro's first double-double of her career. Corsaro finished with 12 points and 10 rebounds in 31 minutes of action – more time than the two games combined she played last season prior to her injury.
Coach Cori Close said Corsaro and senior guard Japreece Dean – who are both always first in the gym during practices – are going to be important assets to the team this year.
"(Corsaro's) three assists away from a triple double and (Dean's) stat line is ridiculous," Close said. "But even more important than that is the urgency that they bring everyday in the locker room and everyday in practice. … So it starts with them."
UCLA's game against Westmont showcased the new dynamic of a team without former guard Jordin Canada and forward Monique Billings.
"These guys put in the work," Close said. "I love this team – don't feel sorry for us, we have a lot of pieces to work with."
The Bruins trailed 3-2 about a minute into the game, but a driving layup by Dean put UCLA on top for the remainder of the contest.
Despite shooting nearly 50 percent from the field, UCLA allowed 36 of Westmont's 55 total points to come from 3s. The Warriors shot 40 percent from behind the arc but went just 4-of-23 from the rest of the field in the entire game.
"We knew that they wanted to draw us in and then kick out for 3s, and we still got sucked in over and over," Close said. "We needed to take away from the 3s, but they got (more than) 30 off them. So that's something we need to get better at."
The Bruins led the Warriors 40-26 at halftime and extended their lead further in the second half. Dean drained two 3-pointers in the fourth quarter to put the Bruins on top by 23 points – the largest lead of the game.
"I'm really confident in what we're going to do offensively," Dean said. "We're really emphasizing our defensive rebounding; that's what has to make the most strides for us."
UCLA registered 44 rebounds in the game, with 29 of them coming from the defensive end. The Bruins held the Warriors to just 23 total rebounds.
As a team, UCLA also assisted on more than half of its field goals, logging 17 dimes on 29 total field goals.
Corsaro said the team's biggest strength is being able to step up in different areas at any time.
"This team this year is the closest team that I've ever been on in my life, so it's just fun to go out with your good friends," Corsaro said. "They're great teammates to play with so it was just fun, and the enthusiasm that we all have for each other – it was just a blast."
Conte joined the Bruin as a freshman in 2018 and contributed until 2019. She spent time on the women's basketball beat.
Conte joined the Bruin as a freshman in 2018 and contributed until 2019. She spent time on the women's basketball beat.