Women's basketball emerges from den in search for preseason prey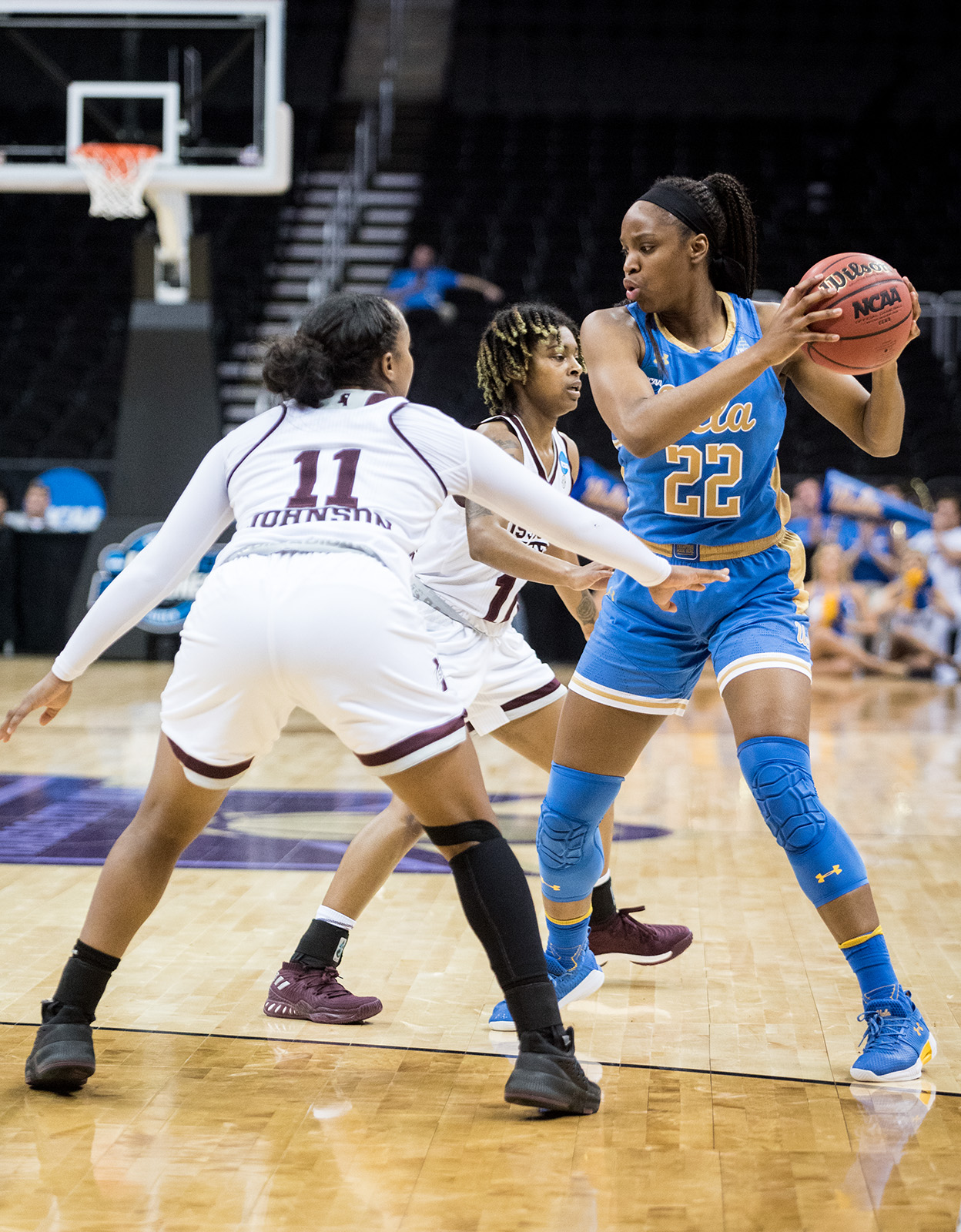 Senior guard Kennedy Burke is entering her third year as a starter with UCLA women's basketball. Last season, Burke averaged 10.6 points and 4.3 rebounds per game on 43.4 percent shooting, all down from her sophomore marks. (Axel Lopez/Assistant Photo editor)
Cori Close's word of the year for the Bruins this year is "expectant."
"We're in a work in progress, but I really like our pieces," the coach said. "Our expectations have not changed, and we don't really care what anyone else thinks."
UCLA women's basketball graduated a decorated senior class – guard Jordin Canada, forward Monique Billings and guard Kelli Hayes – that led the Bruins to three consecutive Sweet 16 appearances and an Elite Eight finish last season.
But UCLA will open its season sitting outside the top-25 preseason rankings for the first time since 2015.
Close said that while it may seem like UCLA is losing a majority of its points after Canada averaged 17.0 and Billings averaged 15.3, the Bruins' biggest loss is going to be on the defensive end.
"I'm not sure this team won't be a better offensive team than last year," Close said. "Everyone's talking about all the points that we lost in (Canada) and (Billings). … I'm not missing their points nearly as much as I'm missing their defense."
UCLA referred to defense as its identity last season, finishing second in the Pac-12 in both steals and rebounds. Canada led the team in steals per game at 3.3 while Billings led the team in rebounds per game at 9.5.
"We know that (the seniors) set the tone for what it meant to be a leader and what it meant to put the team before yourself," said sophomore forward Michaela Onyenwere. "I need to be more vocal, which was something I didn't do last year."
Onyenwere – who was usually first off the bench last season – averaged 6.9 points and 4.7 rebounds and earned a spot on the Pac-12 All-Freshmen team.
Senior guard Kennedy Burke and redshirt senior forward Lajahna Drummer are UCLA's only returning starters.
The Bruins traveled to Saint Mary's on Sunday for a scrimmage. Despite putting 86 points up in the contest, Burke said it took some time to figure out how to defend against the Gaels.
"We had a really good fight," Burke said. "We were down in the first half, but in the third and fourth quarters, we really picked up our energy. … Saint Mary's had all shooters so we had to change up our defense and make them drivers."
Close said she plans to use senior guard Japreece Dean – who backed up Canada at the point last year – as UCLA's primary ballhandler.
Dean logged 10 assists and two turnovers in the scrimmage against Saint Mary's after posting a 2.3 assist-to-turnover ratio during the 2017-2018 season.
"I don't want (Dean) to lose (her scoring mentality)," Close said. "But at the same time, I need her to set up some other people for some easier shots."
Onyenwere said even though UCLA lacks in size in comparison to last year, the Bruins are more athletic on the offensive end this season.
"We are more efficient when we're going off the pass and the cut than off the bounce," Onyenwere said. "We can beat more teams if we're cutting with speed and tempo, so I think that's our strength right now."
UCLA will only have eight healthy players when it faces Westmont in a preseason exhibition game Saturday, causing Burke to play more as a post player.
"I've developed more of my post game because I'm so used to playing the one, the two or the three," Burke said. "This past weekend I've been playing the four and five, so I've really been working on my post moves."
Close said the injuries are nothing major, so she said she told Burke not to get used to it.
"It's really going to be dependent a little bit on the style of the team we're playing," Close said. "(That will determine) where we move (Burke) around to take advantage of her strengths."
Close said UCLA's secondary ballhandler is going to depend on the type of defense it faces, especially against pressure teams. The coach said redshirt freshman guard Lindsey Corsaro and freshman guard Kiara Jefferson are both options for the Bruins.
Corsaro – who suffered season-ending injuries the last two seasons – played 30 minutes in the scrimmage; Close said she looks ready for Saturday.
"She's just going to have to get reps to get confidence," Close said. "But she's doing great (and) she prepares so well."
Hong is the 2019-2020 Managing editor. She was previously an assistant Sports editor for the women's basketball, men's water polo, women's water polo, women's tennis, and beach volleyball beats.
Hong is the 2019-2020 Managing editor. She was previously an assistant Sports editor for the women's basketball, men's water polo, women's water polo, women's tennis, and beach volleyball beats.