CAT scans of sabertooth cats' skulls unearth evolution of predatory behavior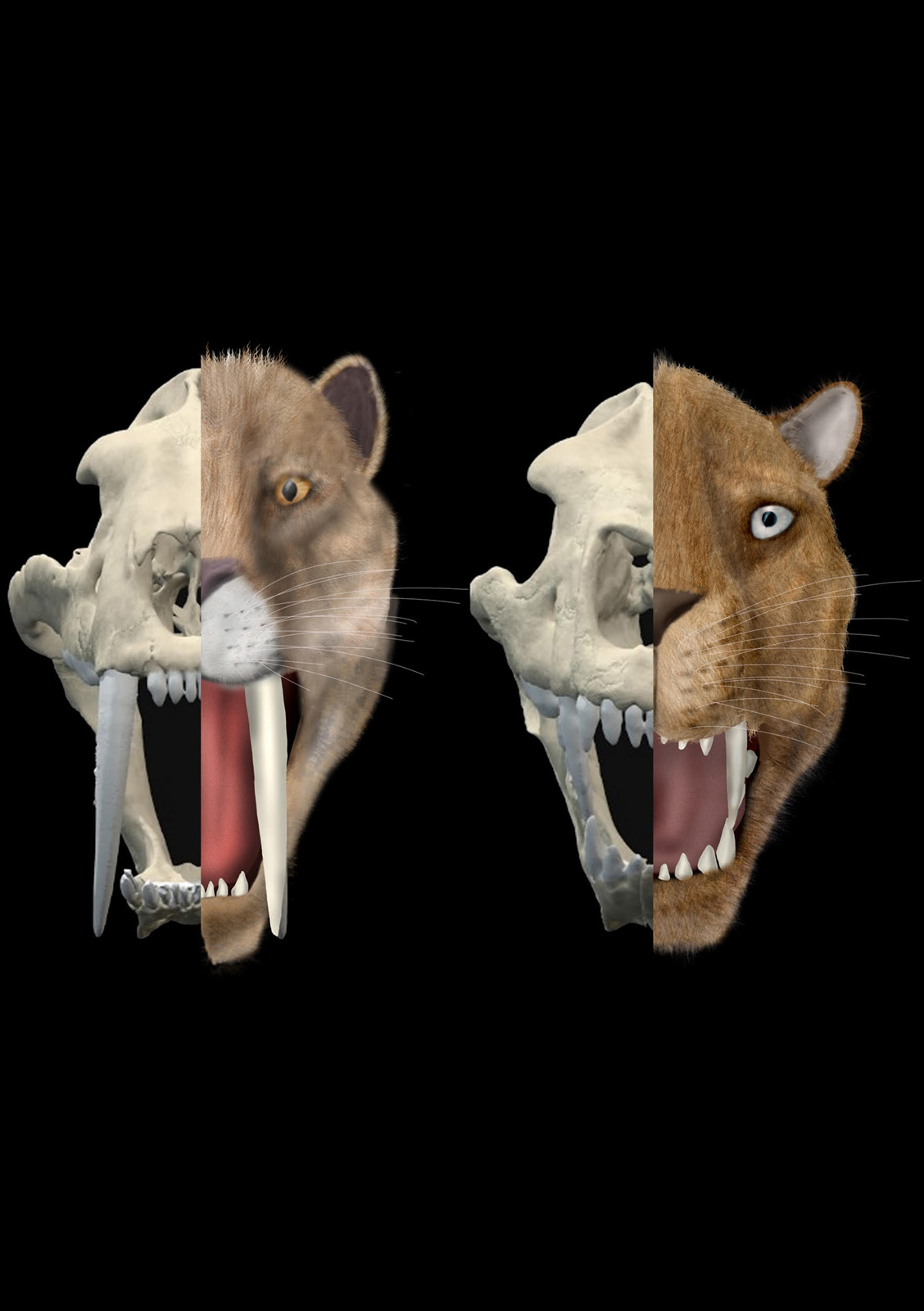 Reconstructions of the skulls of two species of sabertooth cats. (Courtesy of Stephan Lautenschlager)
Some sabertooth cats had powerful skulls that allowed them to kill their prey in one or two bites, according to research published at UCLA.
A UCLA professor, along with a team of international researchers, published a study in October that analyzed sabertooth cat skulls from two different species to determine how the cats killed their prey. Their results suggest that one species killed its prey with one or two strong bites, whereas the other species used a combination of biting and shaking prey.
Understanding the evolutionary advantages of certain bone structures allows scientists to see why some species are still around and why some are extinct, said Blaire Van Valkenburgh, professor of ecology and evolutionary biology at UCLA and the senior author of the study.
To study the sabertooth cat skulls, the researchers took X-rays to examine their bone densities and construct 3D models of the skulls. Using the model, the researchers analyzed how much force was applied to each part of the skull as a sabertooth cat bit, stabbed or shook its prey with its teeth and jaw.
The analysis showed one species of sabertooth cat, Smilodon fatalis, had a thick skull, particularly at the jaw area. Van Valkenburgh said the thick skull gave S. fatalis a powerful bite that was useful for attacking the throat of its prey.
"S. fatalis is built like a wrestler," Van Valkenburgh said. "They had powerful forelimbs to hold their prey still (so S. fatalis could) use their canines (for one or two killing bites)."
The other species of sabertooth cat, Homotherium serum, also had a thick skull, but its skull was built so that it could handle the stresses of biting, grabbing onto and shaking its prey, Van Valkenburgh said.
H. serum had longer forelimbs, which allowed it to chase its prey but made holding down and immobilizing its prey more difficult, said Van Valkenburgh. The research suggests H. serum used both its forelimbs and a strong clamping bite to immobilize its prey.
In contrast, if S. fatalis tried to clamp down on struggling prey with its teeth, the teeth probably would break because they could not handle the stress, she added.
To compare the skulls of sabertooth cats to other animals, the researchers also scanned the skulls of modern animals. Both sabertooth cats had thicker and stronger skulls compared to the modern African lion, hyena and wild dog, Van Valkenburgh said. This difference may have evolved because of how sabertooth cats hunted, she added.
Whereas dogs and hyenas hunt in packs and can bite many times to wear down their prey, sabertooth cats hunted alone and usually only had one chance to attack. For sabertooth cats, the additional skull strength may have helped guarantee that a bite resulted in a kill, Van Valkenburgh said.
The S. fatalis skull was found at the La Brea Tar Pits and is about 12 to 15 thousand years old, Van Valkenburgh said. The H. serum cat skull was found in a cave in Texas and is about 20,000 years old.
Van Valkenburgh added that besides being an interesting subject, studying sabertooth cat skulls allows researchers to understand the changing biodiversity of the planet.
"(Our work) provides a window to what the planet was like before humans," she said. "It opens your eyes to the potential of Earth to include (so much) biodiversity … it shows how incredible the planet is and has been."