Editorial: UC's confidentiality policies regarding Title IX threaten campus safety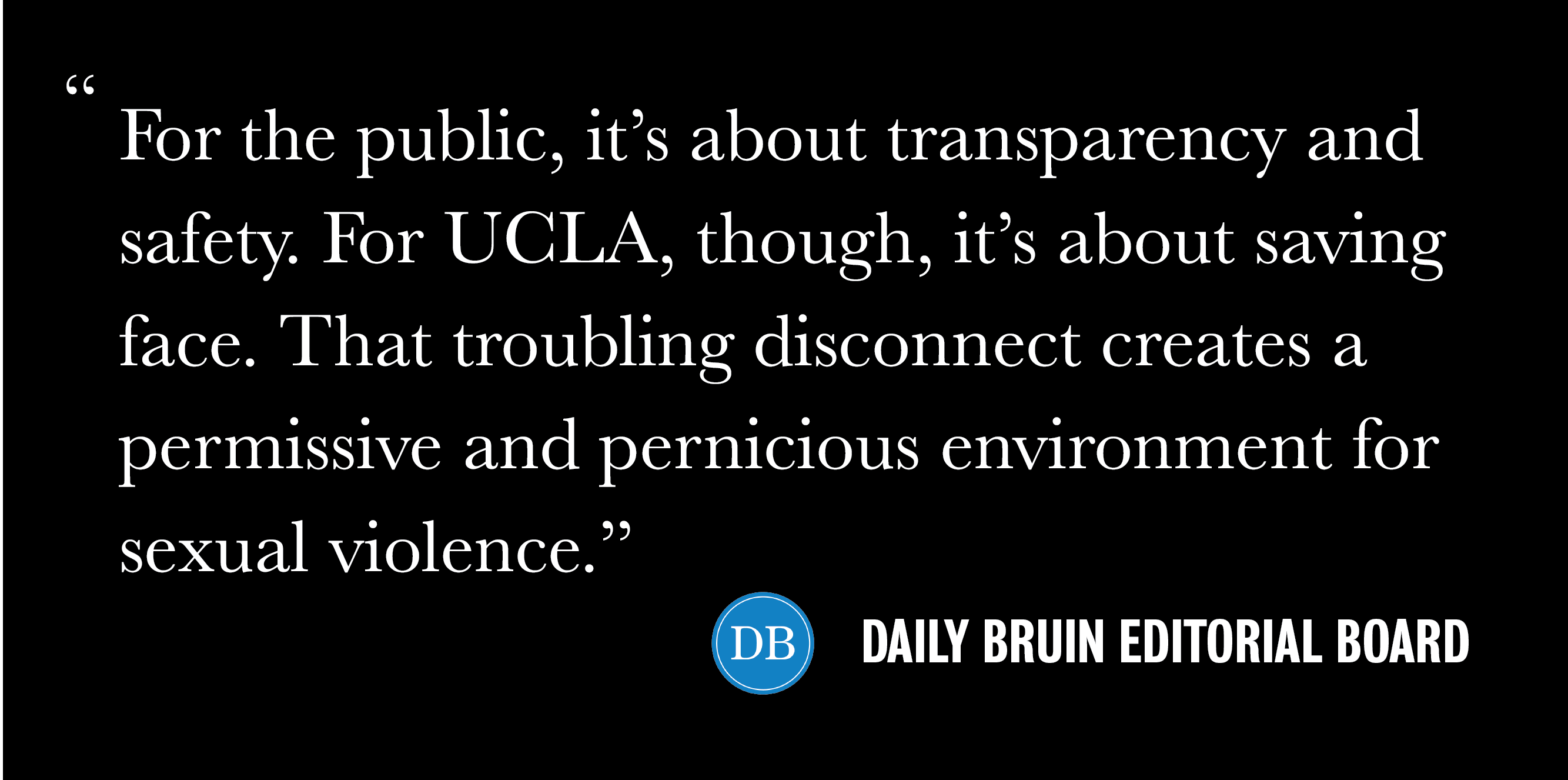 If a UCLA Title IX investigation finds an employee to have violated sexual violence policy and no one notices, does it make a sound?
No, this isn't another quantum physics conundrum. It's a question about transparency and safety.
Students might hear about Title IX investigations from media outlets in sporadic intervals following public records requests. Most never see the reports themselves. But all are affected by sexual violence.
The latest iteration of this cycle was as troubling as the previous: UCLA's Title IX office last week released 31 heavily redacted cases detailing investigations that found UCLA employees to have violated the university's policy on sexual harassment and sexual violence. Twenty-two of the 31 employees were unnamed. At least five still work at UCLA.
Campus safety seems an elusive concept for a university that repeatedly stresses its commitment to keeping students, staff and faculty safe. A member of the campus community who is implicated in a Title IX report is someone who, after an in-depth investigation, is found by the university to have sexually harassed or assaulted someone.
It says a lot these findings are kept confidential, and those implicated in them can remain on campus years after the investigations conclude.
The community has a right to know who among them may be sexually harassing or assaulting their peers. Concluded Title IX reports should be made readily accessible on the Office of Equity, Diversity and Inclusion website with redactions used to protect the identities of survivors, not perpetrators.
Some of the cases released in the most recent dump were concluded three years ago. This means there were at least three years in which students had no way of knowing there were sexual harassers among them, or problematic employees and faculty walked among them.
And let's not get fooled by the document release: The Daily Bruin and other publications have to engage in disjointed communications with the university, relying on the California Public Records Act to overcome university delay tactics. As the trend stands, the University of California seems to coordinate biennial Title IX document dumps, failing to convey necessary safety information to students in a timely and organized manner.
Yet despite these hundreds of pages of data, the campus is still left in the dark: SVSH policy violators can remain unnamed. Add in entire pages of Title IX reports can be redacted, and it's clear the administration has different priorities than the campus community.
For the public, it's about transparency and safety. For UCLA, though, it's about saving face. That troubling disconnect creates a permissive and pernicious environment for sexual violence.
To be fair, it's common practice for universities to guarantee confidentiality to harassers via settlements. That's why many concluded cases aren't made readily available. Confidentiality helps the universities save time and money on potential lawsuits over wrongful dismissal.
But while counter lawsuits are, in a monetary sense, a real threat, we shouldn't lose sight of how the lack of information is a true threat to students and members of the community. You cannot put a price on safety.
When administrators allow sexual predators to fester unnamed, they make a cultural statement. By failing to condemn these individuals, they fail to condemn their behavior.
And if the nation's most premier public university system won't answer to the public and prioritize its safety, it doesn't matter how loud we protest – sexual harassment and assault will still remain a silent issue.