Bird and Lime slapped with class-action lawsuit over rider and pedestrian injuries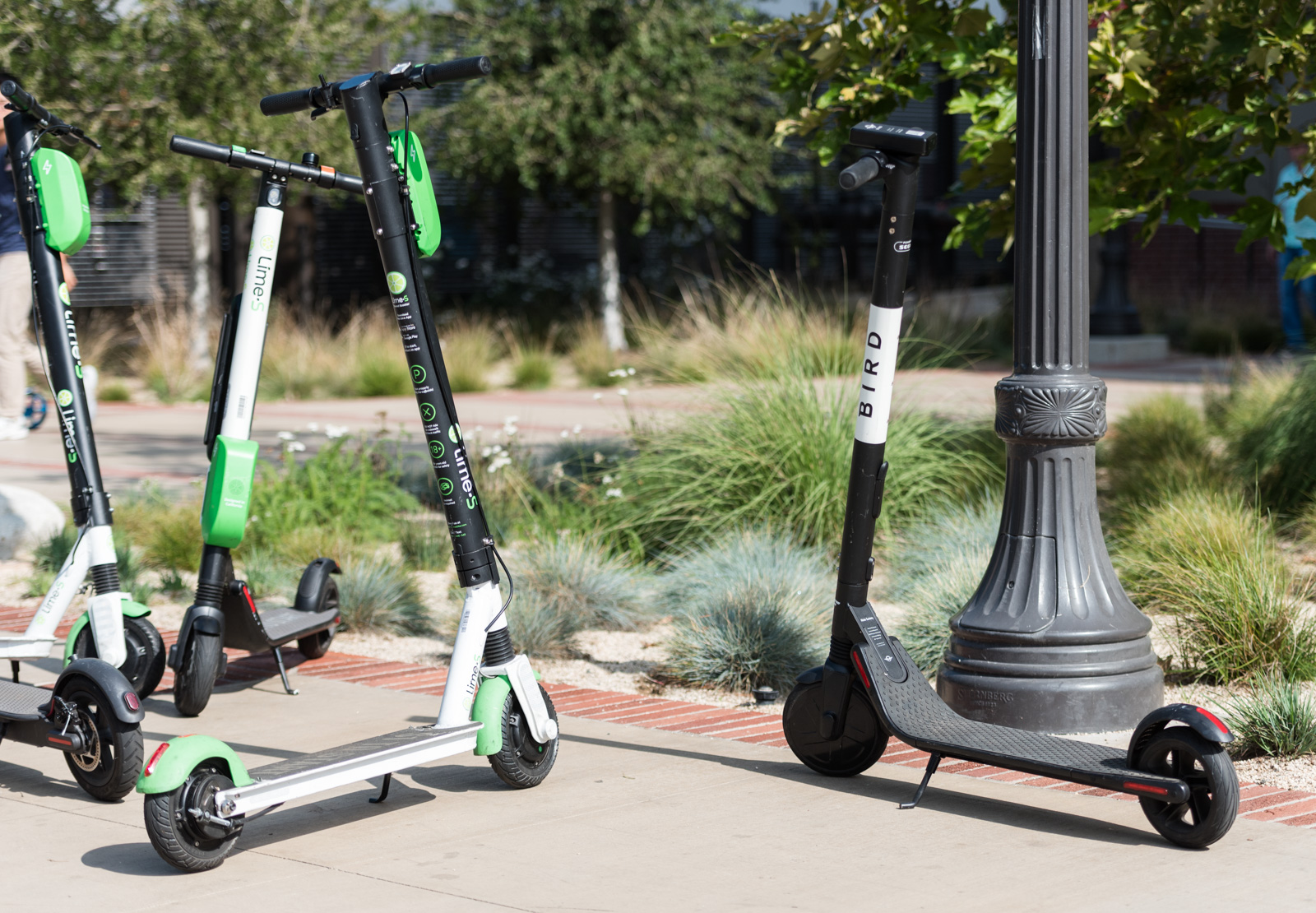 Bird and Lime e-scooters companies have been named in a class-action lawsuit filed in Los Angeles County Superior Court on behalf of injured riders and pedestrians this week.
(Amy Dixon/Photo editor)
Two Los Angeles-based attorneys filed a class-action lawsuit against e-scooter companies and scooter manufacturers on behalf of injured riders and pedestrians earlier this month.
Catherine Lerer and Jeffrey Costell filed the lawsuit on behalf of eight plaintiffs in Los Angeles County Superior Court on Oct. 19. The suit alleges that e-scooter companies Bird and Lime, as well as the companies that manufacture the vehicles, are responsible for the injuries the plaintiffs sustained while riding the scooters, Lerer said.
"The scooters are so poorly maintained," Lerer said. "They came and threw these things on the street with no warning."
She added their suit focuses on changing and improving how Bird and Lime communicate the potential risks of riding their vehicles, as well as improving the maintenance of the vehicles themselves.
A statement from Lerer's law firm alleges that though riders have agreed to the terms and conditions, the majority of people injured by the scooters have stated they did not read the terms before agreeing. Lerer added the companies need to communicate more effectively when people sign up for the services.
"I'm not at all against scooters, I want to figure out a way to make these scooters safe," she said. "We have to tell people what the risk is, and they have to be fully informed."
The firm's website lists two instances of scooter accidents in Westwood. Both accidents that occurred in Westwood were allgedly caused by mechanical failure such as brakes locking or the scooter handlebar stem collapsing, according to the firm's website.
Bird released a statement following the lawsuit, claiming there is no evidence showing that riding a scooter is more dangerous than riding a bicycle, and that cars are still the largest threat to commuters.
A Lime spokesperson said that the company does not comment on pending litigation, and the company remains dedicated to the safety of its riders.
David Marcus, a professor at the UCLA School of Law, said this suit may have difficulty proceeding as a class action because of the variety of the injuries, and the fact that both riders and pedestrians are filing the suit together.
"I just think that there are too many individual differences from one person's claim to the next, that would make this difficult to litigate as a class action," Marcus said.
The purpose of class-action suits is to allow the court to make a decision about many similar cases at once, Marcus added.
"The idea is that their injuries have to be sufficiently similar so that they can be meaningfully adjudicated all at once," he said. "I think that it is unlikely that the court would certify this as a class action."
Marcus added he does not think this case will disrupt the overall e-scooter industry, as e-scooter companies likely have financial resources dedicated to defending themselves against lawsuits.
The legal questions surrounding Bird and Lime mirror the questions surrounding Uber and Lyft, Marcus said.
"These tech companies, particularly transportation-related ones, come into markets and just kind of force their way in regardless of what the laws are until people just accept them," he said. "Uber opens up its operations in cities that don't allow them, and they just become so popular that the governments cave and allow them."
Both Los Angeles and Santa Monica have recently put rules in place to regulate the e-scooter industry, such as limiting the number of devices permitted for each company and issuing speed limits on the vehicles.
Some students at UCLA said they think e-scooter ride-share companies are responsible for assuring that the vehicles are safely ridden, while others said they believe scooters are not inherently unsafe and that riders are responsible for their own safety.
Nevin Choi, a third-year mathematics of computation student, said he thinks the e-scooter companies purposely disregard the laws to get more business, specifically in areas with many students.
"They make their rules vague to make their business more lucrative," he said. "It would hurt their profit if they were to enforce a rule banning the scooters at UCLA."
Choi added he thinks companies hold responsibility for injuries received when riding the scooters.
"Companies should hold responsibility because they are the ones putting them out there," Choi said.
Srikar Poruri, a first-year undeclared student, said he thinks the companies are only responsible for warning users of the risks and are not responsible for their riders' injuries.
"As long as Bird and Lime take precautions to warn people of the safety risks, that is the extent that they should go," he said.
He added he thinks the companies are not responsible for the riders breaking the law.
"I think students make the scooters unsafe by using them in a stupid way," he said. "Drunk riding is the same as driving drunk, and you don't sue Volvo over drunk drivers."