New UCLA study reveals statistics on student policing by LASPD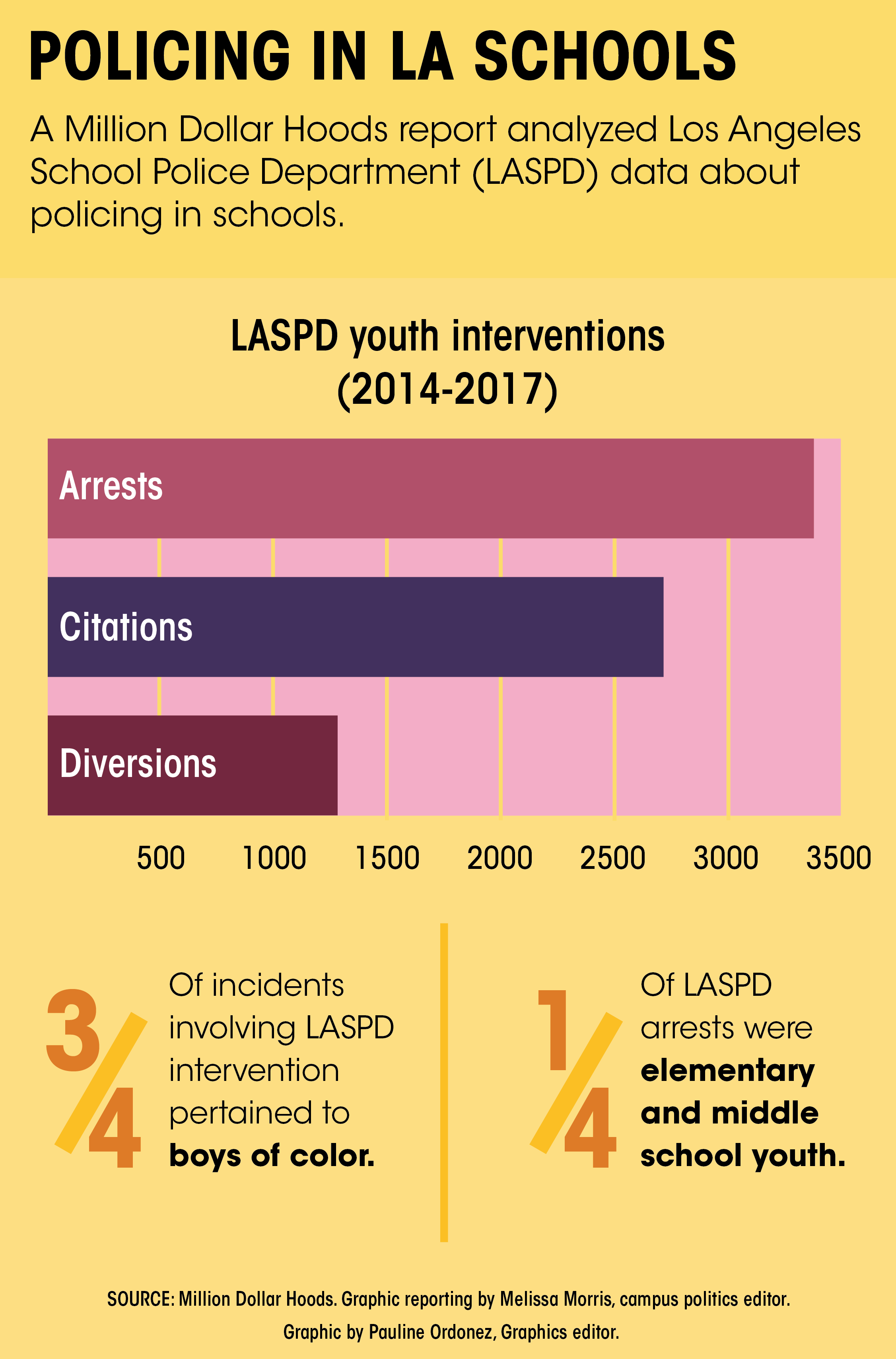 Nearly 1,000 elementary and middle students in Los Angeles were arrested at school between 2014 and 2017, a UCLA report found.
The report was released by Million Dollar Hoods, a project founded by Kelly Lytle Hernandez, a professor of history and African American studies. The project, which analyzes policing and mass incarceration in Los Angeles, examined data from documents released by the Los Angeles School Police Department following a public records request from Lytle Hernandez.
The UCLA researchers found 7,395 students in Los Angeles County came into contact with the LAPSD at school. Seventy-six percent of them were boys of color. A total of 3,389 students were arrested.
The report found the most common charges against children were public disturbance and battery.
Andrew Guerrero, an author of the report and a fourth-year international development studies student, said police and school administrators have a large amount of discretion in deciding how they treat one child versus another.
"In a lot of places, a lot of high schools don't have school police," Guerrero said. "They figure out ways to deal with these children that are constructive and don't lead to criminal records."
Isaac Bryan, the director of public policy at MDH and public policy advisor to the Ralph J. Bunche Center for African American Studies at UCLA, said he believes historical legacy around what a criminal looks like impacts in-school policing.
"People still act out on misguided beliefs that were rooted, quite honestly, in slavery and oppression, but still manifest themselves in implicit bias," Bryan said.
Terry Allen, lead author on the report and a doctoral student of education, said contact with law enforcement can impair students' mental health and well-being, which negatively impacts educational achievement.
Guerrero said he thinks many people of color in LA feel that they are targeted by police.
"We don't necessarily always have the stats to prove it, so that's where I believe (Lytle Hernandez) stepped in," Guerrero said. Lytle Hernandez made the original California Public Records Act request but declined to comment for this story.
Allen said he thinks many schools look and feel like prisons. He added he thinks people must acknowledge that this does not create a positive learning environment.
"We must also acknowledge that behavior problems by students should not be dealt with by law enforcement and/or the criminal justice system," Allen said. "We must first pursue the option of understanding the root causes of why some students misbehave."
Of the 7,395 interactions with police, the report found 1,282, or 17 percent resulted in police offering diversions, or community-based services and programs to students in lieu of arrests and citations.
"Instead of arrests and citations, diversion at every possible stage should be the first priority," Allen said.
The report found the number of diversions, rather than arrests or citations, has been increasing since 2014. Among the three types of interactions, diversions are still the least common, according to the report.
Guerrero said LAPSD operates on a budget of over $60 million per year. He added he thinks this money could be spent differently within the Los Angeles Unified School District to benefit students.
"Reports like this allow us to reimagine ways we can reinvest in things conducive to the betterment and aspirations of children," Guerrero said.
Morris was previously the 2020-2021 Editor in chief. She was also the 2019-2020 assistant Enterprise editor as well as the 2018-2019 assistant News editor for the campus politics beat.
Morris was previously the 2020-2021 Editor in chief. She was also the 2019-2020 assistant Enterprise editor as well as the 2018-2019 assistant News editor for the campus politics beat.