UCLA quarterback, football legacy Austin Burton stays ready behind the scenes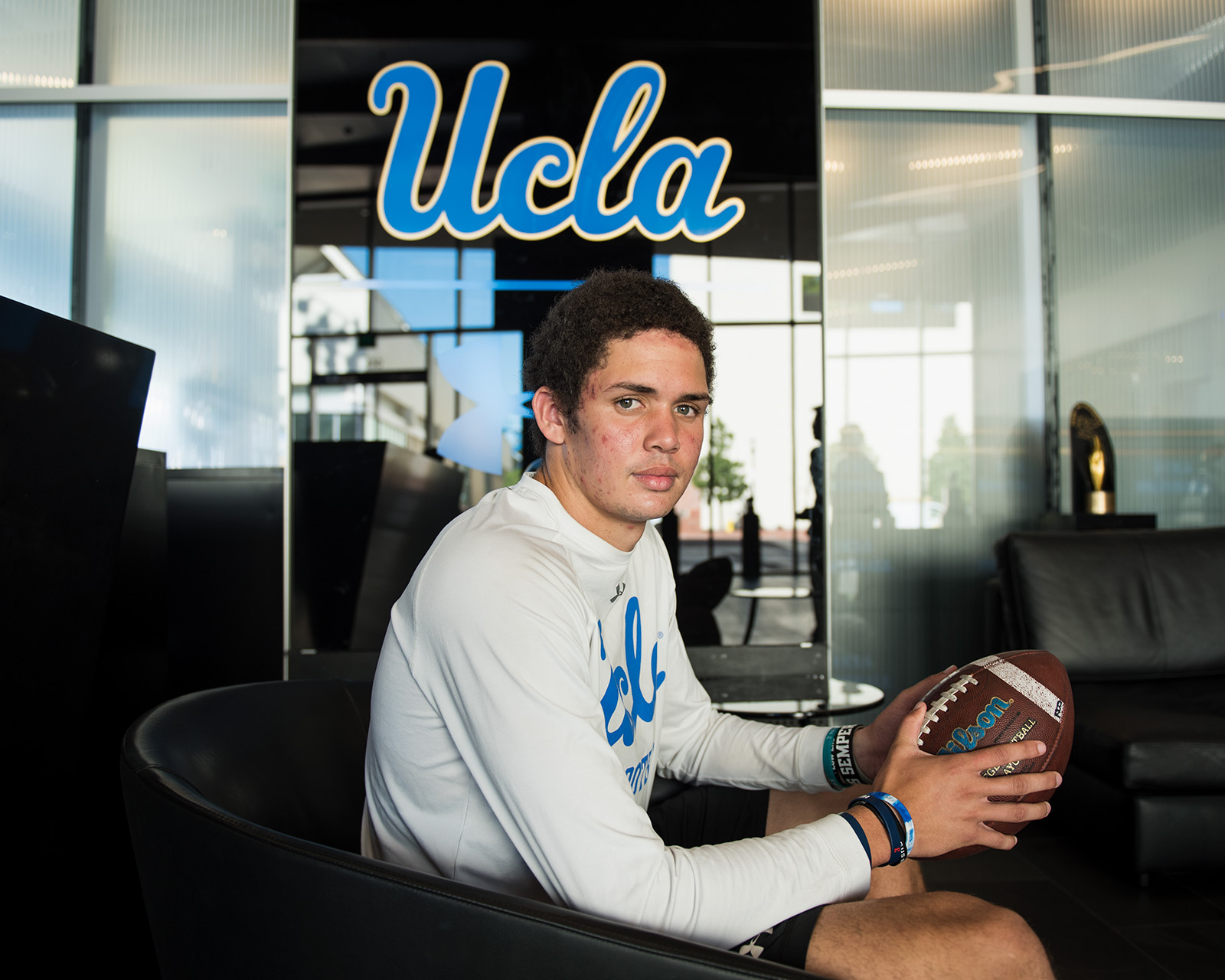 Redshirt freshman quarterback Austin Burton has been a backup for UCLA football for two seasons. His father, Steve Burton, and grandfather, Ron Burton, both played football at Northwestern. (Axel Lopez/Assistant Photo editor)
Austin Burton has football in his blood.
In 1960, his grandfather, Ron Burton, was the first ever draft pick of the Boston Patriots.
His father, Steve Burton, played quarterback for Northwestern from 1982-1984. He is now the sports anchor for the local CBS news network in Austin's home state of Massachusetts.
The redshirt freshman quarterback has yet to take the field for UCLA football, but has been preparing to do so since he was 7 years old.
"He would get up at 4:30 in the morning and run 7 1/2 miles," Steve said. "And he would go to bed at 7:30 at night during the summertime."
Austin grew up training at the Ron Burton Training Village, a nationwide youth football camp started by Ron in 1985.
Austin isn't the only Division I product of Ron's training regiment either. Ron also started Pop Warner football in Charlestown, Massachusetts and Framingham, Massachusetts, where he handed Hall of Fame defensive end Howie Long his first ever football pads.
But Austin's grandfather died when he was just 8 years old.
Austin said he only remembers bits and pieces of his relationship with him, but Steve said Ron would tell his grandson to always keep things in perspective.
"Stay humble," Steve said in his father's words. "No matter how big you get and no matter how far you go, God has blessed you with a talent that enables you to play this game and you want to play for his glory, but stay humble and help people along the way."
Steve and his brothers promised their father they would continue the RBTV after his death. But despite running the camp his son attended, Steve said he always avoided being an overbearing "sports dad."
"(I learned) to let (Austin) play the game, to let him enjoy it," Steve said. "When my dad was at the game, you never knew he was there. … A lot of parents want to live through their kids and scream and yell and everything else, and my dad just let me play. And that's what I want to be able to do with Austin."
On the other side of the relationship, Austin said he was grateful for what his father taught him – on and off the field – growing up.
"He pushed me, but it was definitely more helpful than anything," Austin said. "Just because he had that experience, all those years of practice and just learning different techniques. So having him – as a quarterback – taught me a lot of lessons I don't know I would have learned if I didn't have him."
Moving on out
Austin started playing high school football at Newton South High School in Newton, Massachusetts. But he moved in with his aunt and uncle in Winter Garden, Florida and played his final season of high school football at West Orange High School to generate more recruiting buzz.
"It's funny, I think we've grown closer (since he moved away)," Steve said. "And I think, because he's gone off on his own, that his faith has gotten stronger in God in how he lives his life. That's very important to him."
Austin originally committed to Boston College, but reopened his recruitment in December 2016. Representatives of Northwestern – both his father and grandfather's alma matter – were about to fly down to meet Austin in Florida before a last second mixup with another recruit caused them to back out.
Austin came to UCLA for an official visit and said he couldn't say no, so he signed with Jim Mora and became a Bruin.
Two years later, Austin is still on the bench.
"You come in like every recruit ever, they gas you up – a lot of colleges in general will do that," Austin said. "You hit a reality check when you get here. You go from being a high school star or whatever you were to maybe third or fourth on the depth chart."
But Austin's luck changed last April.
Since top quarterback recruit Dorian Thompson-Robinson was yet to enroll in UCLA, he could not join the team for spring practices. K.J. Carta-Samuels transferred to Colorado State in March. The Bruins' eventual day-one starter, graduate transfer Wilton Speight, had only committed to UCLA days prior, and was not ready to take reps with the team.
The perfect storm of quarterback mayhem led to Austin getting the starting nod in UCLA's spring game, where he put up 110 yards and a touchdown on 6-of-8 passing in addition to a read option keeper he took into the end zone.
"It was just good to have all that work you put in during spring ball pay off," Austin said. "Just show it off with more fans out there – it was definitely a fun game."
The performance put Austin on the map, too.
Suddenly, the guy at the bottom of the depth chart was in the thick of the race for the starting quarterback job, and coach Chip Kelly said the redshirt freshman was in the running as late as August.
"It's really wide open right now," Kelly said on Aug. 4. "Everything is factored into this – everything they do."
Austin failed to come out on top of the six-player race, but he said he had a good time battling with his teammates regardless.
Chasing the stars
Austin's father was a quarterback, yes, but even Steve said he knew his son's real idol on the field was someone that almost every other kid in Massachusetts looked up to.
Tom Brady.
"He's learned the game by watching Brady," Steve said. "Growing up in New England, that's what you watched, that's who you watched."
The New England Patriots' quarterback came to Westwood last spring to get some reps in at the Wasserman Football Center. Austin said he and his teammates all stopped what they were doing to watch Brady, who he also called the "greatest of all time."
Austin got to talk to Brady about the Patriots' outlook this season, but it wasn't the first time the two had met.
When Austin was 12 years old, he tossed the ball around with Brady before a Patriots game his dad was covering.
"I had met him a couple times back in Boston, just after practice or something like that," Austin said. "I don't think he would remember me or anything."
Two days after saying that, Austin's phone rang in the middle of class.
"(Brady) called him last week," Steve said. "I walked into the (Patriots') locker room, (Brady) goes, 'How's Austin doing?' I said, 'He's hanging in there Tom.' He goes, 'Give me his number, I want to call him.'"
Brady called him later that day.
The future Hall of Famer told Austin to "hang in there" and that his time to shine would come.
Brady wasn't the only professional athlete from Boston to give the young Bruin advice, however.
When Boston Celtics point guard Kyrie Irving heard Austin was wearing his jersey around campus last spring, he sent him a video wishing him nothing but luck. Irving's teammate Marcus Smart sent Austin a similar video congratulating him on a successful spring season as well.
But of all the professional athletes who have given Austin shoutouts, Brady always stood out. He has always worn No. 12 to honor Brady, and now he wears it for UCLA.
"If I want to be like anyone, I would want to be like Tom Brady," Austin said.
The redshirt freshman may have shaped his game around Brady, but he had another mentor with him at school last year.
In Austin's freshman year, former UCLA quarterback Josh Rosen had the starting job. Before he left for the NFL Draft, Austin said Rosen was a great leader to follow in the quarterback room.
"(Rosen) is one of the smarter guys out there, I'm sure everyone knows that," Austin said. "If I had questions or anything, he was very open and looked out for all the other quarterbacks as well, so he was a good mentor to have."
Calling an audible
Austin is a third-generation Division I football player. He has watched NCAA and NFL football his entire life, and said it was tough for him to find one archetype to imitate on the field.
He has the lineage, he has the connections and he has his idols, but Austin said there was one thing he wanted to be known for when he took the field.
"Just (to) have a crazy work ethic, that's definitely the one thing I want to be known for," Austin said. "Just that guy who stays after hours and continues to put in work."
And Austin has done just that.
Connon joined the Bruin as a freshman in 2017 and contributed until he graduated in 2021. He was the Sports editor for the 2019-2020 academic year, an assistant Sports editor for the 2018-2019 academic year and spent time on the football, men's basketball, women's basketball, baseball, men's soccer, cross country, men's golf and women's golf beats, while also contributing movie reviews for Arts & Entertainment.
Connon joined the Bruin as a freshman in 2017 and contributed until he graduated in 2021. He was the Sports editor for the 2019-2020 academic year, an assistant Sports editor for the 2018-2019 academic year and spent time on the football, men's basketball, women's basketball, baseball, men's soccer, cross country, men's golf and women's golf beats, while also contributing movie reviews for Arts & Entertainment.