Men's water polo ready to rematch Cal after edging out win in last meeting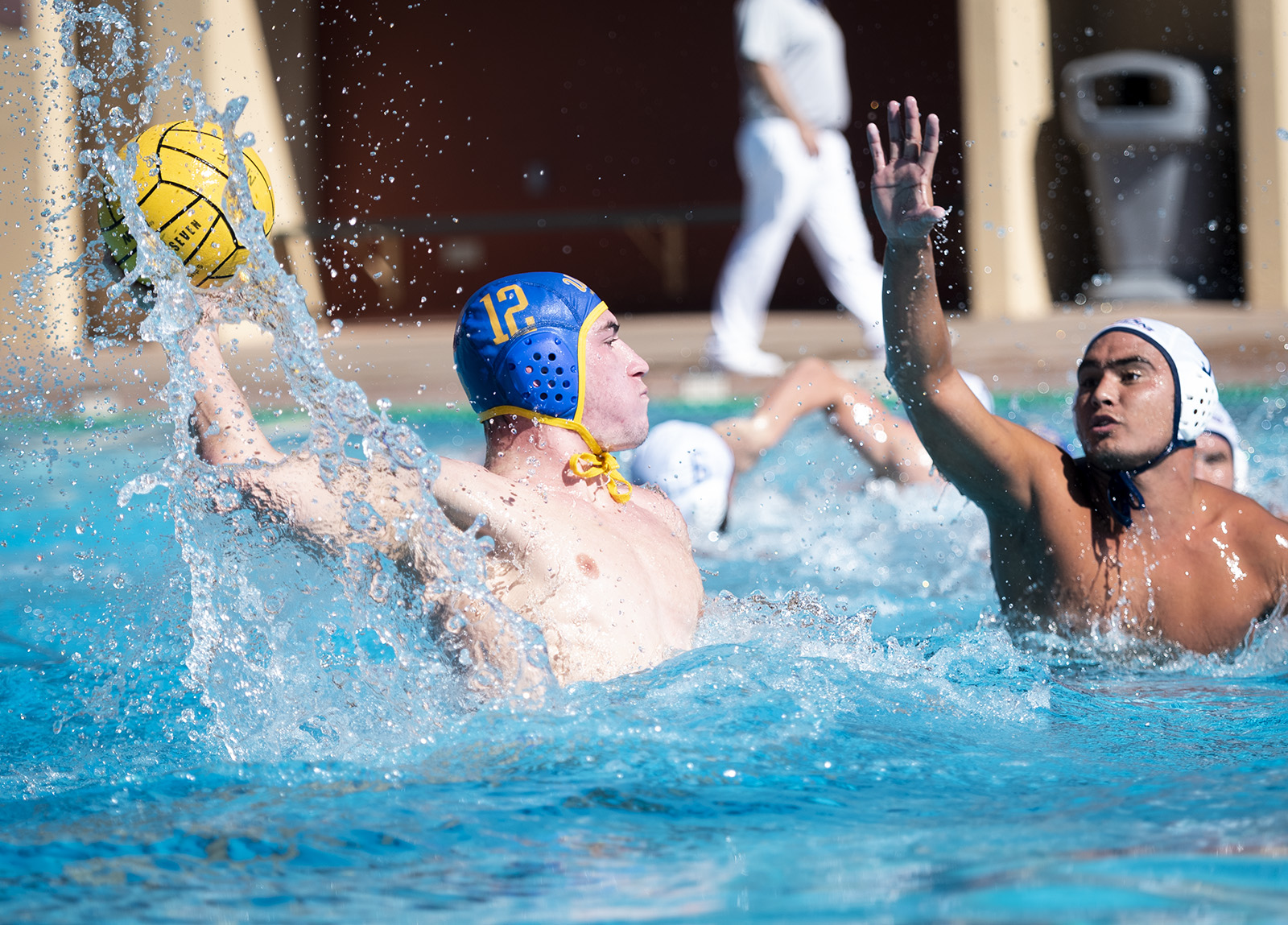 Freshman attacker Michael Graner has scored six goals in his first season with UCLA men's water polo. Graner was held scoreless when the Bruins played Stanford and Cal at the MPSF Invitational on Oct. 13 and 14. (Liz Ketcham/Assistant Photo editor)
Men's water polo
---
No. 4 California
Saturday, noon
Spieker Aquatics Complex
Pac-12 Networks
One shot decided the last meeting between the Bruins and the Golden Bears.
"We were up by three," said coach Adam Wright. "And then all of the sudden they had a chance to tie it – the ball laying on the line. We know (who) we're up against and we will be in the same situation at some point throughout (Saturday's) game."
No. 3 UCLA men's water polo (19-1) will head north to face No. 4 California (15-3) in a rematch of the third-place game from the MPSF Invitational on Oct. 14 when the Bruins won 12-11.
"We got lucky on a lot of situations with (Cal)," Wright said. "They put a lot of pressure on us defensively and they are always looking to go on the counterattack, (so) it absolutely could have been a different game."
Sophomore utility Evan Rosenfeld said that the last matchup between the schools got physical after the Bruins allowed a 4-0 run with about three minutes left in the third period.
"The game got a little out of hand obviously, a couple of (Cal's) players got majors," Rosenfield said. "It's a game against Cal, it's going to be an aggressive game and a physical game."
Cal attacker Johnny Hooper scored in all three games last year and registered two goals against the Bruins on Oct. 14. Hooper has scored over 70 goals in both of his first two seasons with the Golden Bears.
"(Hooper's) very quick when he moves," said freshman attacker Michael Graner. "People fall asleep on him and that's when he gets inside (water) and scores. You just have to be awake."
The Bruins have been working on both their power play and penalty kill. Two weeks ago, UCLA converted on three of 10 exclusions and has been working on improving efficiency for much of its two-week break from competition.
"We've been working on (California's) plays for 6-on-5s and five mans this whole last two weeks," Rosenfield said. "(We're) a lot more prepared versus a tournament setting where you find out you're playing them and then you're playing them."
The two-week break following the four games played at the MPSF Invitational allowed the Bruins to refocus before having to play three conference opponents. UCLA will play against Cal, No. 2 Stanford (15-1) and No. 1 USC (24-1) in the next three weeks.
The Bruins have emphasized conditioning in the past two weeks to prepare for the Golden Bears after a close win in their last contest.
"Good conditioning and a lot more practice (have made us) able to really prepare for Cal too," Graner said. "It's going to be a hard game up at Berkeley this weekend so it's definitely good to have that extra week to work on plays against them."
UCLA currently holds an all-time record of 87-67-1 against Cal. The Bruins have also won 10 of 12 meetings in the last three years.
UCLA has won three of the last four national championships, but in 2016 Cal ended the Bruins' NCAA tournament run in the semifinals and went on to win the national championship.
Wright said that maintaining energy will be key in the upcoming rematch at Berkeley on Saturday.
"When our energy dips we seem to lose focus," Wright said. "If you let your focus go for one second it's the difference of the game."
Rae joined the Bruin as a freshman in 2017 and contributed until 2018. She spent time on the men's tennis and men's water polo beats.
Rae joined the Bruin as a freshman in 2017 and contributed until 2018. She spent time on the men's tennis and men's water polo beats.