Throwback Thursday: Bruins have been a driving force in carpool services since the 1970s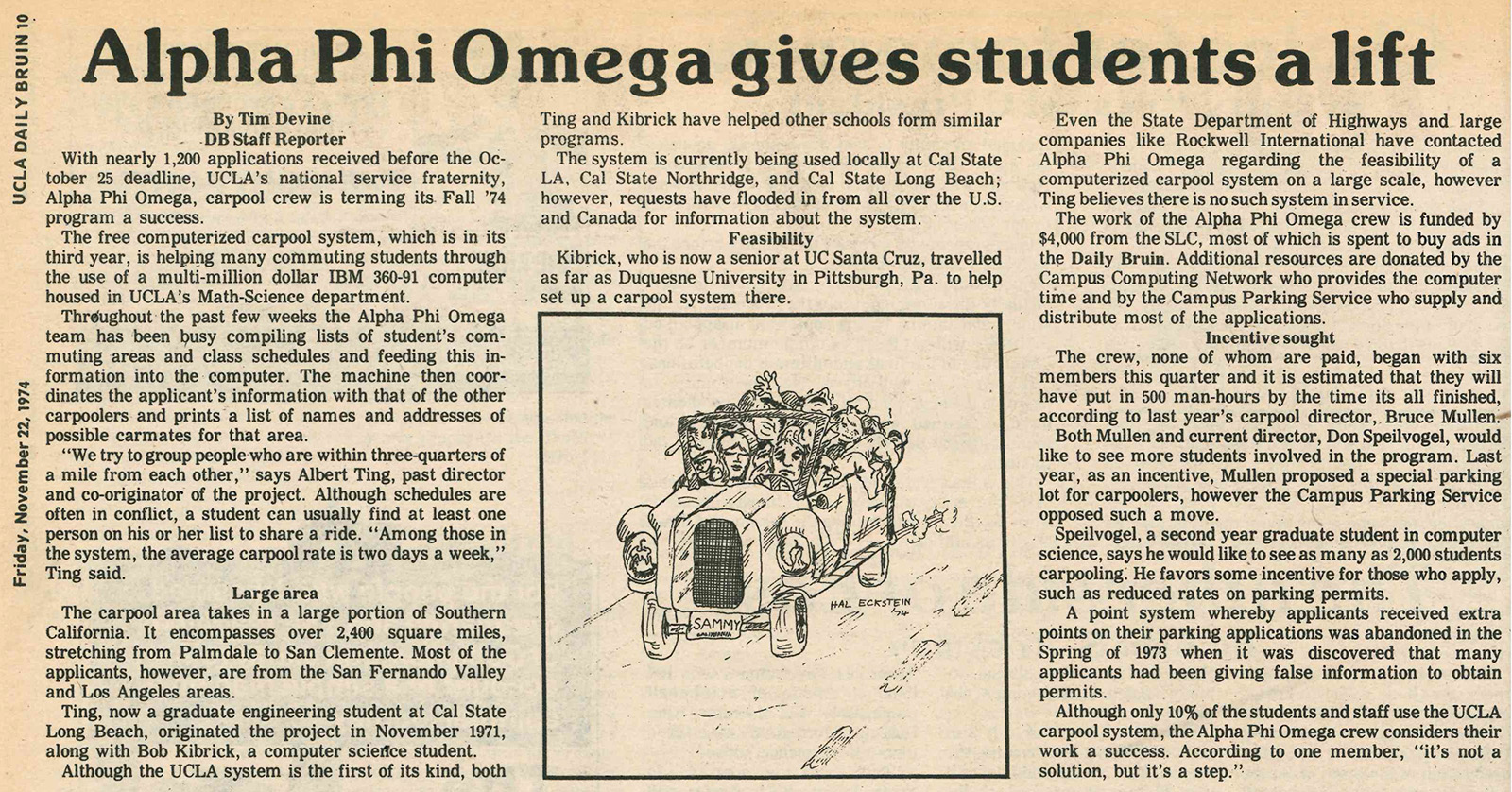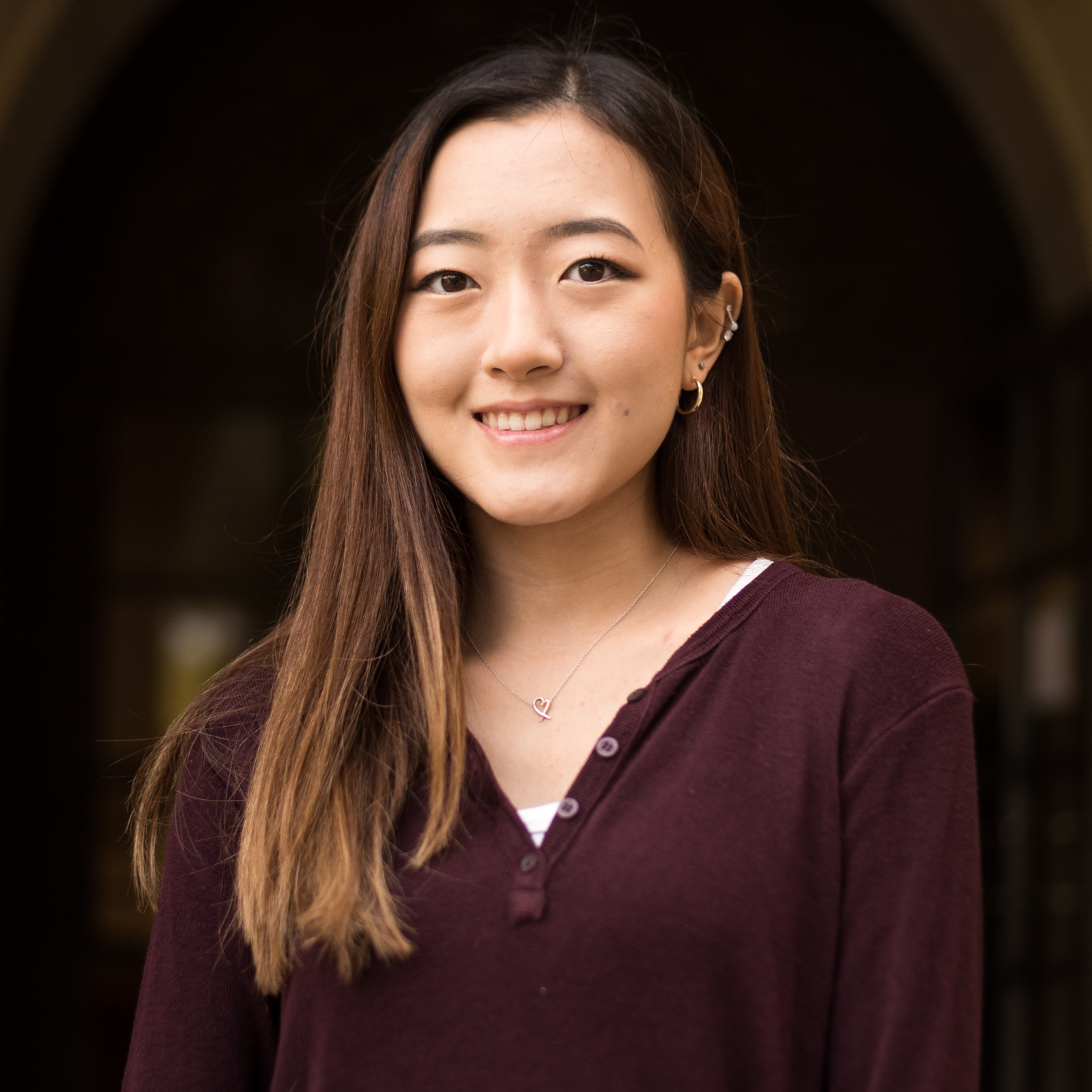 Throwback Thursdays are our chance to reflect on past events on or near campus and relate them to the present day. Each week, we showcase and analyze an old article from the Daily Bruin archives in an effort to chronicle the campus' history.
Alpha Phi Omega, the nation's largest coeducational community service fraternity, has been working to serve people in need since its inception, but the UCLA Chi Chapter's past work as the "carpool crew" may have been the pinnacle of its campus services in the 1970s.
On Nov. 22, 1974, the Daily Bruin ran a story describing some of the earliest formations of a systematic carpool system at UCLA – a predecessor to Uber and Lyft, if you will. Long before the popular ridesharing services, there was the multimillion-dollar IBM 360-91 computer which improved many students' commuting experiences through a free computerized carpool system.
The working gears behind this machine, which resided in UCLA's mathematical sciences department, was a six-member squad of APO brothers.
The members of this "carpool crew" helped implement the carpool system by compiling lists of students' commuting areas and class schedules and inputting this information into the computer. The computer then proceeded to coordinate a student's information with that other applicants and print out a list of names of addresses for each respective geographical area.
The Bruin wrote that the project, which was created by alumni Albert Ting and Bob Kibrick, pioneered the start of similar carpool programs at other schools.
It got so big that large companies tried to monopolize on the idea.
"The State Department of Highways and large companies like Rockwell International have contacted Alpha Phi Omega regarding the feasibility of a computerized carpool system on a large scale," read the 1974 article.
It is safe to say that 44 years later, the carpooling system at UCLA has certainly grown from its humble origins into a large sustainable transportation network with commute and rideshare options. UCLA has been designated as one of the "Best Workplaces for Commuters" by the organization of the same name, and was awarded a Metro Rideshare Diamond Award for an Outstanding Overall Rideshare Program in 2014.
While UCLA's commitment to creating accessible quality transportation blossomed in the late '70s, 2018 was a big year for UCLA with the introduction of innovative modes of transportation such as the rise of electric scooter-sharing companies like Bird Rides Inc. and Lime, as well as increased Uber and Lyft options to carpool with riders who are taking similar routes.
Other programs like the Bruin Commuter Services and UCLA's "trip planning" tool – which help determine the best routes to campus and locates other people to carpool with – have been enacted to create a broad range of resources one can use to ease their commute and to save time and money. Options include public transit passes, bicycle rentals and vanpool and carpool programs.
The brothers of APO are no longer affiliated with UCLA's carpool services, but the progress made over the years can surely be attributed in part to the original "carpool crew" of the '70s.
Despite the rapidly evolving changes in shared transportation methods over the years, one fact most can agree on is that students have always been looking for new time- and cost-efficient ways to get around the hills of UCLA, whether it be 1974 or the present day.