Event features North Korean refugees discussing personal stories, experiences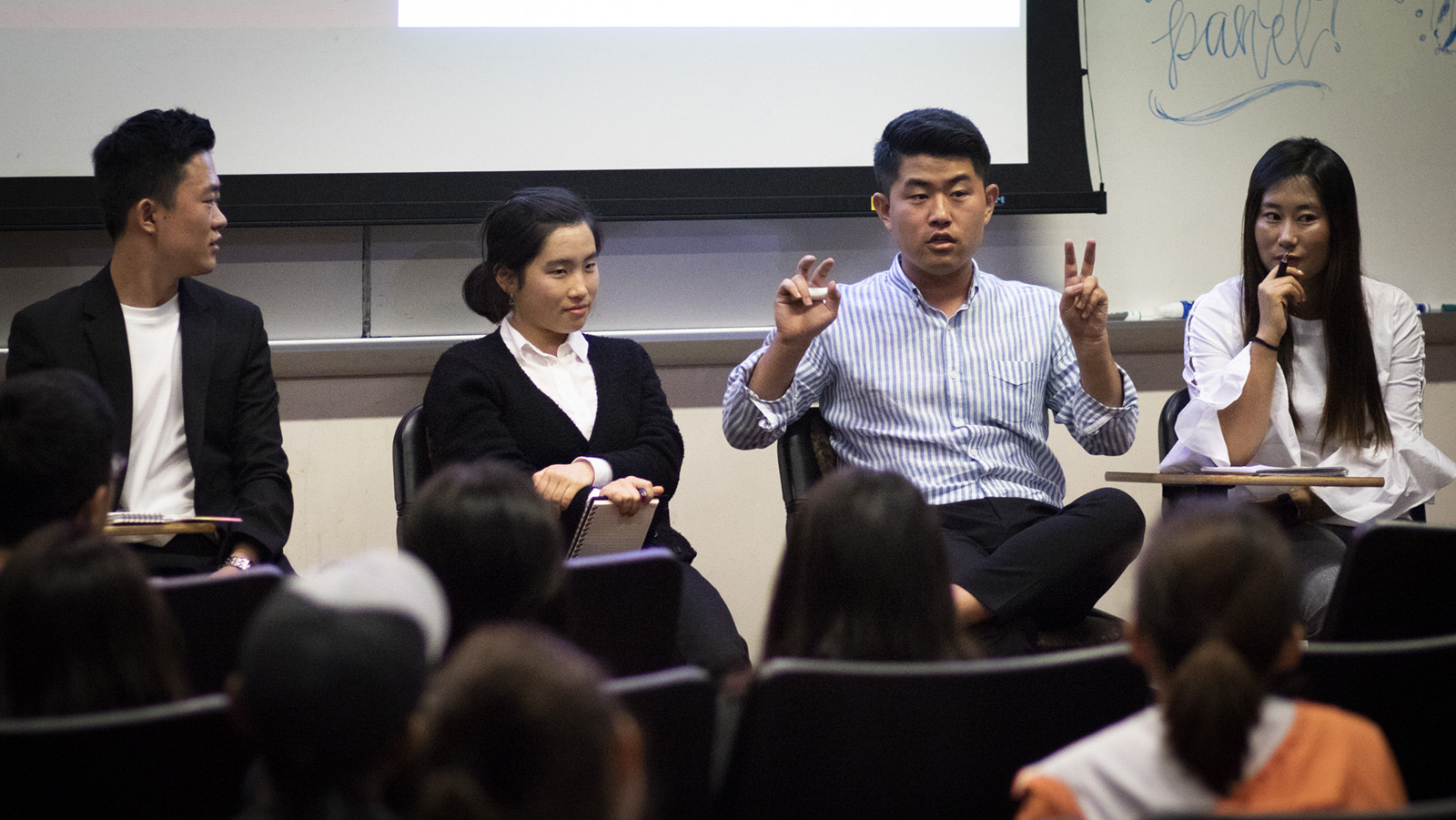 The North Korean LiNK advocacy fellows are visiting college campuses across the nation to share their personal stories on defecting from North Korea. (Ken Shin/Daily Bruin staff)
Noel Kim was taught at school how former North Korean leader Kim Il Sung defeated the Japanese in combat with a single pine cone.
Kim was one of four visiting North Korean refugees who shared their personal stories at "From Another World," an event hosted by UCLA Liberty in North Korea on Monday. Liberty in North Korea is a student organization which aims to locate North Korean defectors and aid them with financial support.
The North Korean LiNK advocacy fellows are visiting college campuses across the nation to share their personal stories about defecting from North Korea.
Grace Park, the president of UCLA LiNK and a fourth-year geography and environmental science student, said the organization hosts fundraising opportunities on campus to finance overseas rescue missions and aims to raise awareness about North Korean refugees and their resettlement process.
Dahyun Kim, LiNK program coordinator, said the advocacy fellows project is a three-month pilot program that helps North Korean students in South Korea develop storytelling, public speaking and critical thinking skills, so that they can communicate authentic accounts of North Korean life.
"We started building this project because we thought there was no voice for North Korean people," she said. "There is so much news on nuclear weapons, Kim Jong Un, or the political side of North Korea, but we would just like (to hear) their true voice, their lived experience."
Illyong Ju, a student at Korea University and a LiNK advocacy fellow, left North Korea in 2008 to flee famine in the countryside. Ju grew up on a farm in Chongjin, North Korea, listening to illegal South Korean radio – considered a crime against the North Korean regime that could have resulted in political imprisonment or execution.
Born to an elite ruling class, Geum-Hyok Kim, another LiNK advocacy fellow, attended the Kim Il Sung University in Pyongyang, North Korea, and did not have to worry about food or entertainment – Geun-Hyok Kim even had a South Korean computer that could load illicit foreign movies. It was during a study abroad opportunity in Beijing when Kim first encountered notions of human rights and democracy, both foreign concepts to him at the time.
Jessie Kim, another LiNK advocacy fellow, started her own smuggling business at the age of 14. Known as "the girl with the best soju in town," Jessie Kim was taught how to make the Korean spirit by her grandmother. Instead of carrying school supplies in her backpack, Jessie Kim sold alcohol to neighbors and accepted potatoes as a form of currency.
Before leaving North Korea, Noel Kim had limited access to books. Upon discovering diverse plotlines and characters, Noel Kim became immersed in the power of words and decided to use writing as a medium to communicate her experiences.
The advocacy fellows also answered audience questions during a question and answer session about topics ranging from U.S. foreign policy to favorite foods.
Ju said resettling in South Korea was a relatively smooth process because he resettled at a young age with the support of the South Korean government.
"But when (they) come at an older age … their backgrounds are totally different. They could not study in North Korea, so when they come to South Korea, it could be a little hard to catch up," Ju said.
Ju added he hopes the South Korean government will continue to aid in the resettlement of North Korean refugees. He said he plans to attend law school to become a human rights lawyer for North Koreans.