UCLA unreceptive to resident physicians' demands for security measures, stipends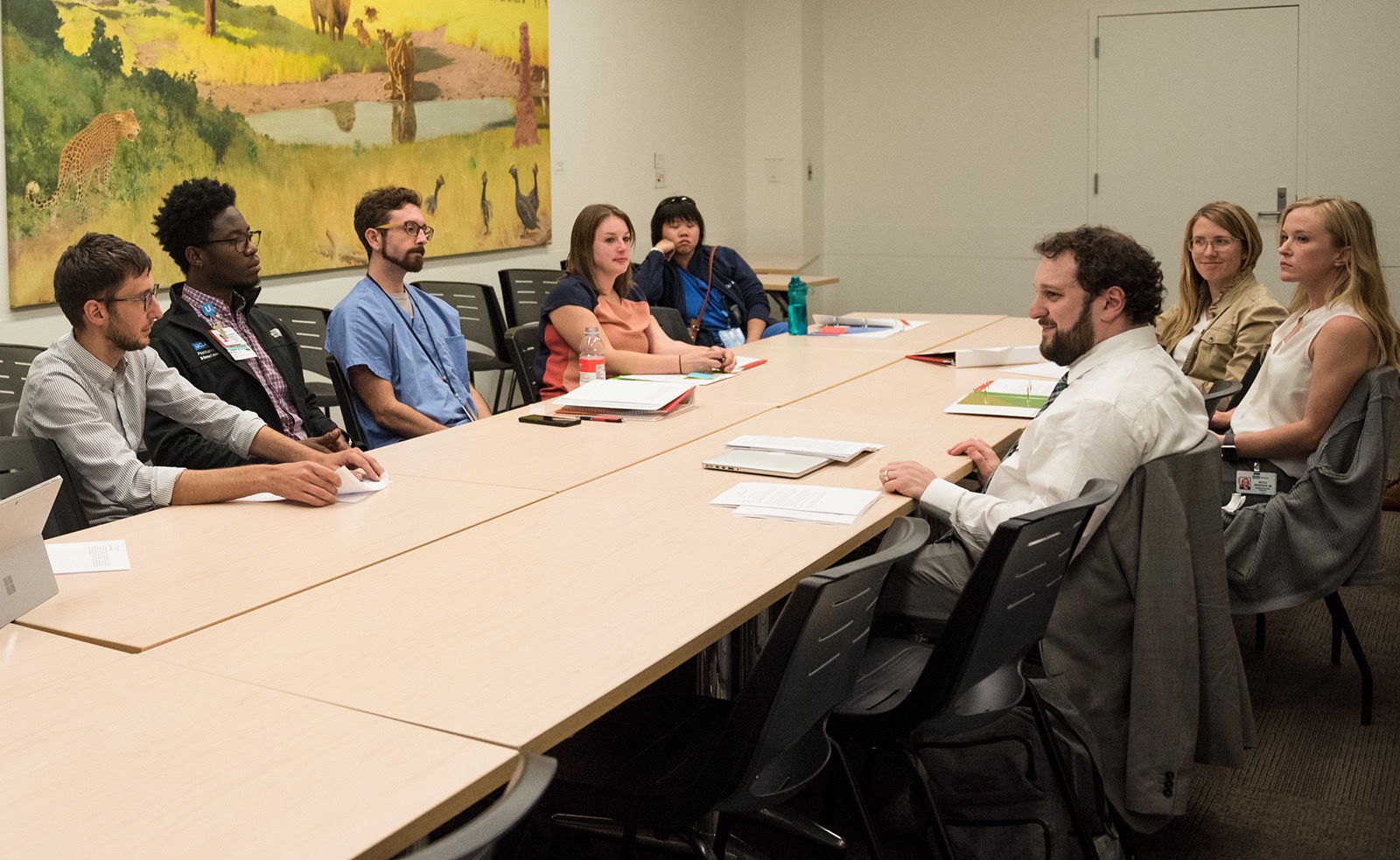 A union representing UCLA residents and fellows advocated for security measures that UCLA negotiators put down. UCLA negotiators did not allow reporters into the room during negotiations. (Liz Ketcham/Assistant Photo editor)
A union for resident physicians at UCLA argued for improved security measures during its second bargaining session with the university Wednesday.
The Committee of Interns and Residents, a union representing over 1,200 residents and fellows at the David Geffen School of Medicine, began bargaining with UCLA on Oct. 3. CIR was formed from a grassroots effort by residents and was officially certified in July.
Kathryn Weaver, a psychiatry fellow at UCLA Health, said there are significant safety concerns in patient care areas, such as the emergency room and psychiatry unit. She said the union proposed adding security for residents in the hospital and in the parking lots, but she said UCLA negotiators were not receptive.
Weaver added the union is concerned UCLA negotiators scratched their entire proposal on health and safety instead of proposing different language.
Susan Naranjo, the Southern California CIR area director, said the union's goals are still being shaped, but acknowledged residents' safety concerns.
"The (goal) that came up tonight about safety was really about being able to have a rapid response system within the hospital when a patient or a visitor becomes violent with the residents who are trying to take care of them," Naranjo said.
Andrew Davidowitz, a psychiatry resident, added this proposal was made in the wake of multiple workplace incidents involving patients violently attacking residents. Davidowitz said he had been attacked at work by an angry patient and no staff was around to help.
"I was able to remove myself from the situation – be perfectly fine. It's something that residents have to … band together to advocate not just in psychiatry, but also in every speciality," Davidowitz said. "Everyone sees these patients to some extent whether they want to or not."
UCLA Health Executive Director Maure Gardner, who was present at the negotiations, declined to comment. UCLA Health spokesperson Phil Hampton also declined to comment.
UCLA Health negotiators also said they would not negotiate while reporters were present in the room.
UCLA, the main employer in the negotiations, declined to comment.
UCLA's contract proposal states its desire to "continue to provide a safe work environment for Residents."
Hampton said UCLA Health does not have any updates on an unexpectedly small housing stipend paid out to residents and fellows.
School of Medicine residents and fellows said they received only a fraction of a $5,000 housing stipend that UCLA Health had promised them.
Gregg Gabrellas, a psychiatry resident, said he believes UCLA Health does not want to be liable for resident safety conditions.
"In their initial verbal response as well as in their counter(proposal) today, they specifically do not want to feel responsible in a contract for ensuring the safe working conditions of our residents," Gabrellas said.
Davidowitz said it is important all medical personnel collaborate to promote workplace safety.
"Everybody has a vested interest in making sure that health care workers feel safe and are safe while they're at work," Davidowitz said.
The next bargaining session will take place in two weeks.