Election board's chairlessness sets back process of revising its code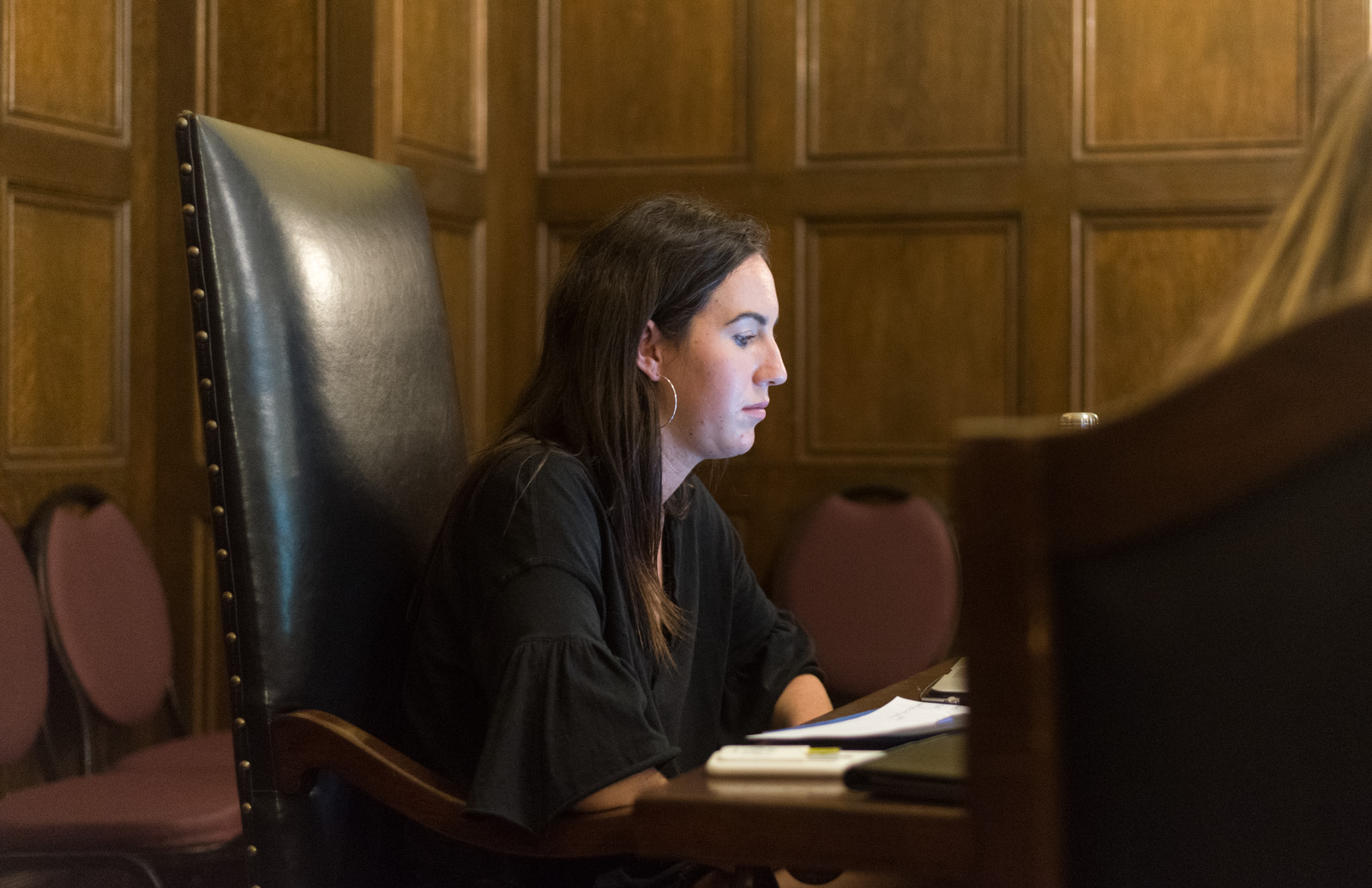 Claire Fieldman, the Undergraduate Students Association Council president, to begin the revision process, but there is no election board chair candidate up for a vote as of this article's publication. (Liz Ketcham/Assistant Photo editor)
The undergraduate student government promised to overhaul its election code, but has yet to take the first step to do so.
Claire Fieldman, the Undergraduate Students Association Council president, announced Aug. 7 the council would rewrite the election code, the procedures governing the election board and election process. The effort to reform election code comes after the election board refused to issue a sanction against general representative 2, Bella Martin, after she was found to have engaged in voter coercion in the spring USAC election.
Fieldman must appoint an election board chair to begin the revision process, but there is no election board chair candidate up for a vote as of this article's publication.
Mher Mkrtchian, the 2017-2018 election board vice chair, said he thinks the council is not prioritizing election code reform. Mkrtchian applied to be election chair, but was not accepted.
"Everyone's just sitting, waiting for election board chair, some Jesus to come down from the sky, for whoever this person is to give all the orders," Mkrtchian said. "They don't crack open the book and say, 'Here's what we should prioritize.' They have no intention to."
Mkrtchian added changes made after week five of fall quarter will likely be rushed.
"Anything that's changed after week five (fall quarter) is going to be sloppy," Mkrtchian said. "The time to change it is now. … But if that's not going to happen, it's going to be sloppy."
Former councilmember Justin Jackson, who applied to be election board chair, said he thinks the new chair should have been appointed during the summer so there would be enough time for the code to be rewritten in a careful manner. But since the council did not do so, the code needs to be rewritten at least before spring elections.
Despite the setback into the middle of the quarter, Fieldman said she is confident that a high-quality rewrite of the code can still happen before spring elections and hopes to appoint a new election board chair in the coming weeks.
Members of this year's council, who will have to vote on Fieldman's appointment, said they disapprove of the board's current structure, citing Martin's case.
Robert Blake Watson, the USAC internal vice president, said he does not think the election board's process is democratic enough.
"(I'm concerned about) the veto power the chair has," Watson said. "I don't think it's democratic and there should be a process to ensure election board isn't just one person making decisions unilaterally."
Jack Price, the 2017-2018 election board chair, overruled the election board's majority decision to sanction Martin and Bruins United candidates for voter coercion.
Martin said she found the board's questioning in her voter coercion hearing sexist and hopes that any revisions to the board include adding Title IX training.
"There was a lot of pointed and backhanded questions that implied this assumption of guilt as well, I dare to say, misogynistic," Martin said. "I was asked about what I was wearing at parties, how much I drank and how many men I spoke to and if I was flirting with them."
Mkrtchian said the current election code is unclear on issues including proof in investigations, sanctions and the power of the chair.
Mkrtchian added he feels the council has not given enough thought to fixing specific issues in the election code and that it lacks the experience to properly rewrite the code. He added the council sent amendments to the election board during his tenure as vice chair, but he did not think they were well thought out. He said he hopes the council will leave it to the appointed election board chair to write up the new election code.
"The list of amendments were so mundane and unnecessary and I wouldn't expect them to be less from people who weren't involved in election board," Mkrtchian said.
Fieldman, who nominates the election board chair before they are voted on by the council, said in an email statement she is looking for someone who has knowledge of election code and processes, but has been minimally involved in campus politics.
Watson said he believes it is likely impossible to find a candidate who is both highly dissociated from past boards but is also experienced.
"I think what we've seen over these years is what's even more complex is being fair and making sure we're sanctioning people when they deserved to be sanctioned and making sure election board is operated in a democratic manner and not in a dictatorship," Watson said.
Mkrtchian added he thinks poor behavior of council members and election board, accompanied with nonsensical sanctions, delegitimizes USAC because it hurts the integrity of the election process.
"All these things eat at the legitimacy of USAC and of election board," Mkrtchian said. "That's just sad and unfortunate, but if they can't see that and if they can't understand that their behaviors are leading to this, they can never solve it."
Khatri is the Daily Bruin Copy chief. He was previously a slot editor in 2017-2018, Copy staffer and Copy contributor. He is also a News contributor.
Khatri is the Daily Bruin Copy chief. He was previously a slot editor in 2017-2018, Copy staffer and Copy contributor. He is also a News contributor.