UCLA must invest in infrastructure for e-scooters, future alternative transport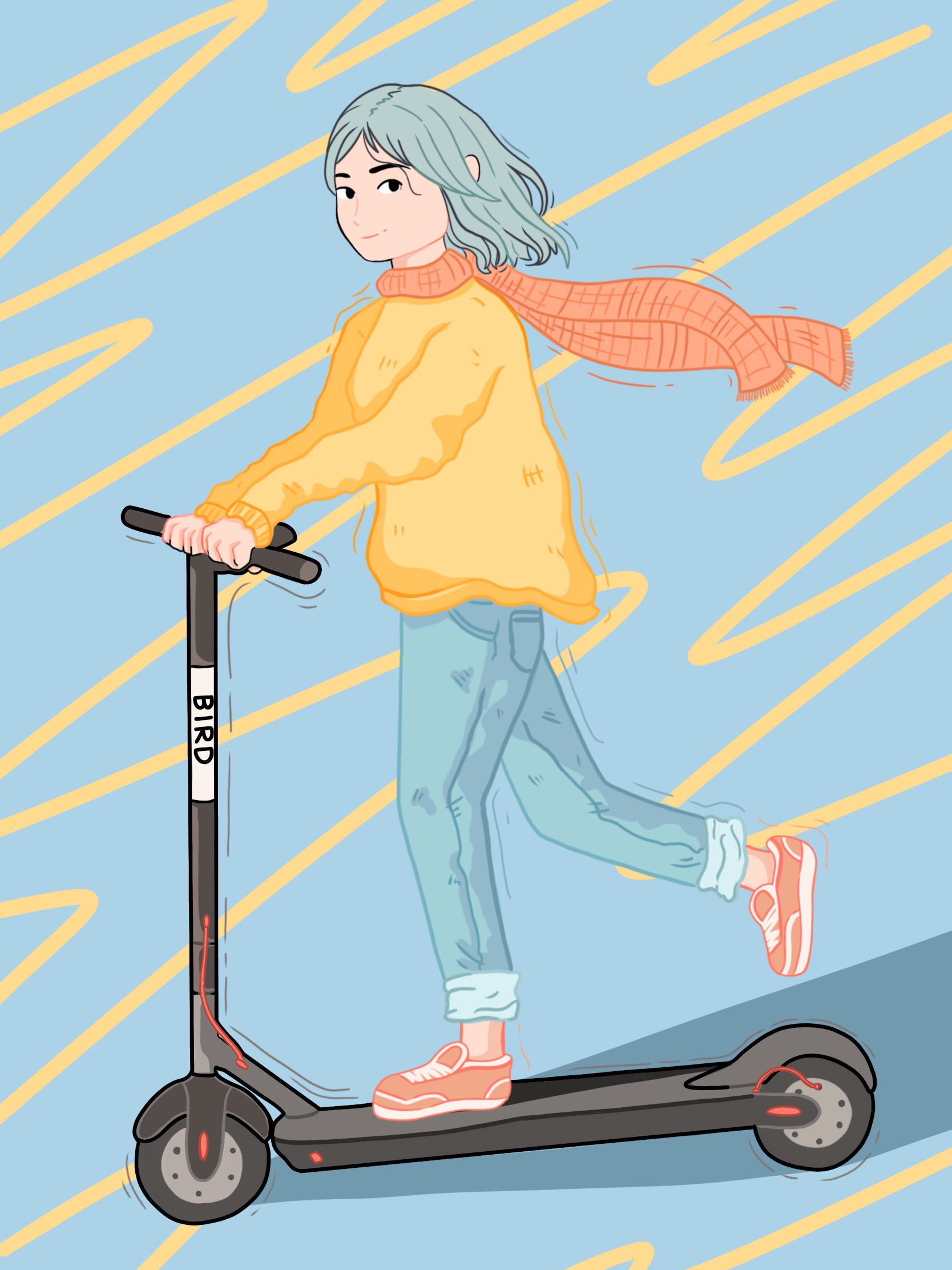 (Nicole Anisgard Parra/Illustrations director)
Anybody who has visited UCLA's campus recently can't help but notice its brick-laden paths are abuzz with whirring motorized scooters weaving in and out through crowds of students. The barely avoided collisions and recent proliferation of university police officers in heavily trafficked areas give the impression of a campus at war – between those who ride and those who walk.
The real story, however, isn't how scooter riders are breaking rules. It's how UCLA is encouraging riders to flout the rules.
The motorized scooter revolution came to UCLA at the beginning of 2018 when Bird, a Santa Monica based startup, blanketed the campus with its electric scooters. Motorized transportation methods have run amok on campus. Bird Rides Inc. and LimeBike are two companies that have cornered the market on scooters, although Lyft has plans to get in on the action. And with Uber introducing electric bikes and scooters right next door in Santa Monica, it won't be long before they too make their way over to the streets of Westwood.
With these scooter companies scoring sky-high valuations and large corporations like Uber and Lyft entering the foray to invest in motorized alternative transportation, it's clear on-demand personal transportation is here to stay.
Administrators don't seem to have gotten this. Motorized scooters and vehicles are not allowed on most campus thoroughfares, and most streets are not properly equipped to safely accommodate both riders and cars. This extends to the city at large, where inadequate infrastructure creates a lose-lose situation. The mixing of high-speed motorized traffic and high-density foot traffic is a recipe for disaster and a safety hazard for everybody.
Most campus thoroughfares do not have designated zones for bikes, skateboards or motorized vehicles, forcing riders to weave in and out through an ocean of pedestrians. City roads are built with cars in mind and often lack protected bike lanes, meaning many riders risk their safety by taking to the streets rather than sidewalks or campus footpaths.
The solution at UCLA so far has been to post UCPD officers, tickets at the ready, in zones with high foot traffic.
"In the upcoming weeks and months, UCPD officers will be on Bruin Walk and throughout campus specifically watching for e-scooter law violations," said Lt. Kevin Kilgore, a UCPD spokesperson, in a statement. "It is our hope that our community will obey the laws for e-scooters and join UCPD and our campus safety partners in our safety efforts."
While not necessarily a bad thing, making this the only approach ignores the crux of the issue.
In the short term, a campus police presence will prevent some accidents. But individuals will continue to use scooters and other alternative transportation methods unsafely during times when and in areas where there isn't a police presence.
"It's very dangerous to have scooters going fast with pedestrians and there are danger zones on campus," said Anastasia Loukaitou-Sideris, professor of urban planning and associate provost of academic affairs at the Luskin School of Public Affairs. "For me, it is the way you design and build space around the scooters. We really need to find space so pedestrians and scooters don't have to mix."
Put differently, riders face extreme difficulty in following existing rules and policies because they weren't designed for the transportation system that currently exists.
A lot of cities are facing this dilemma, and the number is poised to grow as alternative transportation becomes more popular.
For example, Los Angeles, which already has problems with walkability, is seeing scooter riders either hog sidewalk space or brave the roadways – which has resulted in accidents, ticketing and a municipal nightmare.
That's because scooter riders don't have the space to ride, even though the demand clearly exists. This problem needs to be addressed by both UCLA, locally, and the city government by designating specific and accessible space for scooters, bikes and other alternative transportation methods to come. This could be accomplished by allocating more space on roads for protected bike lanes and carving out spaces on campus thoroughfares for non-pedestrian traffic.
UCLA administration's reaction to motorized alternative forms of transportation has been far from adequate. UCLA needs to get serious about piloting campus infrastructure that can support sustainable alternative transportation if it wants to maintain its status as an incubator of future big ideas and a vanguard of progress.
This is certainly a difficult task, one which would require time and resources from the university and the city. Given how meteoric the rise of the e-scooter has been, it's easy to dismiss the university and city's responsibility to cater to riders of alternative transportation.
However, this is clearly the way transportation is going. The ability to pick up a personalized transportation device, ride it where you need, drop it off and proceed with your day is attractive to many. And this transit model is proving a worthy alternative to short car rides or even buses.
Electric scooters and bikes also address a pressing transportation need to be able to get to public transit hubs without a car or a needlessly long walk.
With a little investment, the university can not only become a model of how to embrace this transportation trend but also provide a safer, more convenient campus infrastructure for its students.
Birds are here to stay. It's up to UCLA to make sure we're all flying safely.
Busco is an Opinion columnist and a staff representative on the Daily Bruin Editorial Board.
Busco is an Opinion columnist and a staff representative on the Daily Bruin Editorial Board.