GRE wastes applicants' time, fails to indicate future student success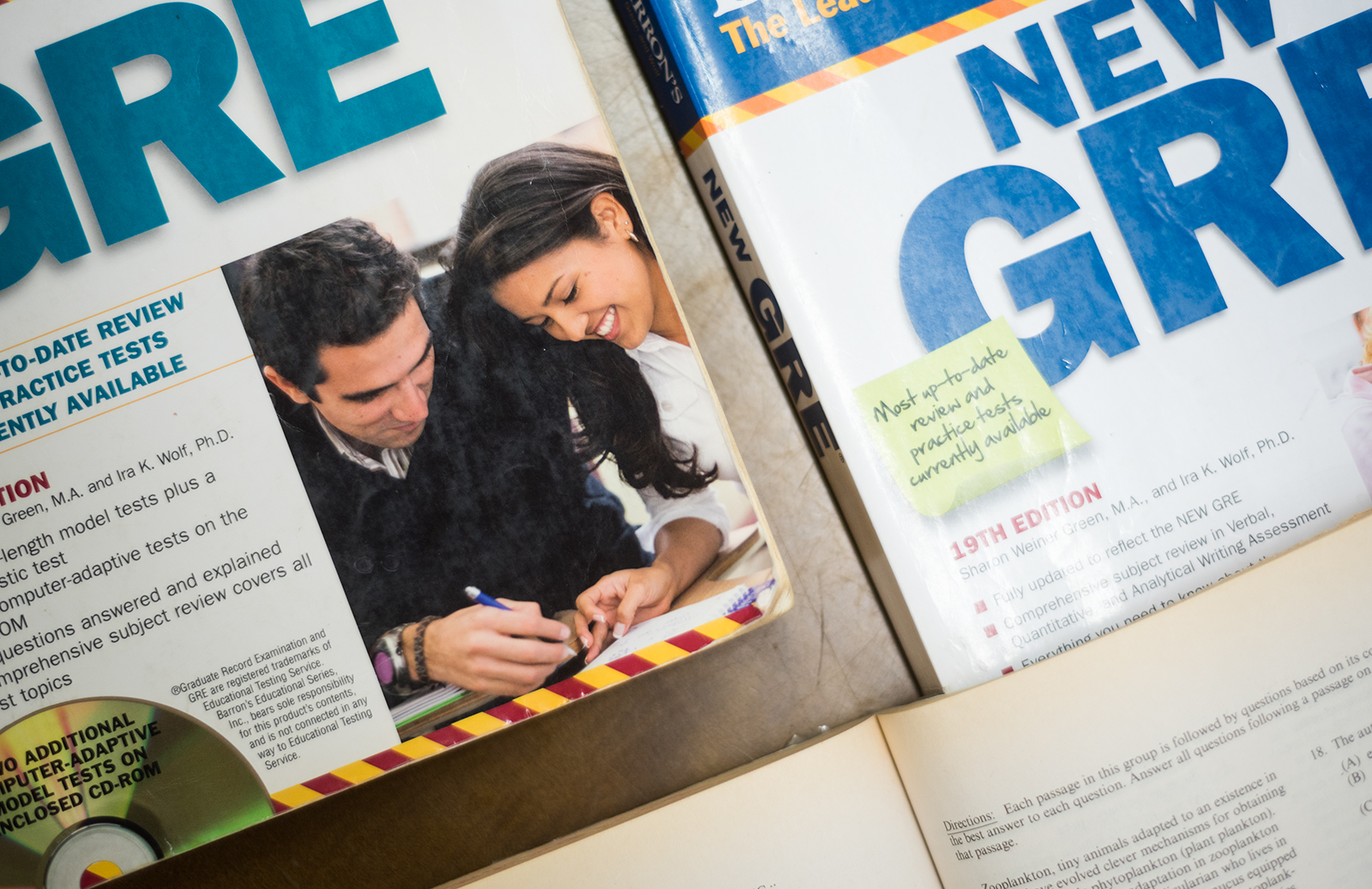 The general GRE tests students in verbal reasoning, quantitive reasoning and analytical writing, but graduate programs in the University of California system should no longer require students to take the exam to apply. The general GRE test doesn't test students in the knowledge they'll need to know in their prospective graduate degree programs and is, therefore, an unnecessary hassle. (Amy Dixon/Photo editor)
Prospective graduate students have a lot of boxes to check: personal statements, transcripts and also a four-hour high school review costing about $200, otherwise known as the GRE.
Graduate schools can require applicants to submit scores in the GRE General or a GRE Subject test, sometimes both if you find yourself applying to an English graduate program at UCLA. While the GRE Subject tests evaluate applicants on their knowledge of specific academic areas, the GRE General test is a mixture of verbal reasoning, quantitative reasoning and analytical writing. As if that weren't enough, test takers are also given a time constraint.
But, the exam isn't really necessary.
The GRE General test is completely impractical. It doesn't accurately portray prospective graduate students' abilities to work at the graduate level. And it hardly measures the knowledge they've acquired up to that point.
The exam tests people's algebra and geometry skills, along with their ability to memorize esoteric vocabulary words. And it costs a pretty penny – more than $200 – reducing the accessibility of graduate school programs for low-income applicants.
Graduate programs in the University of California system have the ability to eliminate the GRE General requirement, and should do so. Graduate programs should rely solely on GRE Subject test scores, if relying on standardized tests at all.
Eliminating the need for standardized tests isn't a revolutionary notion. Universities are beginning to eliminate the need for SAT and ACT exams. The University of Chicago, for example, made it optional to submit SAT scores for undergraduate programs. Some in the Cal State and UC systems argue these tests aren't accurate predictors of students' academic success. UC faculty leaders announced last month they are launching a study to determine if that's true.
Graduate level admissions programs shouldn't be far behind in dropping GRE General tests from the long list of admission requirements.
Much like the SAT and ACT, the GRE doesn't predict success or productivity, especially for science, technology, engineering and math field applicants. A study of the Vanderbilt University Medical School's biomedical umbrella program found the GRE wasn't useful in predicting graduate student success, such as passing the qualifying exam, delivering conference presentations and graduating.
A similar situation arose in UCLA's teacher education program.
Megan Franke, an education professor, said UCLA looked several years back at whether the GRE was a predictor of student success for teacher education students.
"(We) found it did not predict grades in classes or ratings about their actual teaching," Franke said. "So we do not require it in teacher (education) anymore."
The GRE General test does not necessarily even test students' intended areas of study. Not all students go on to study mathematics, and knowing what the word "gossamer" means certainly does not predict whether you are ready for a humanities graduate program. Yet, many graduate programs require students to take an additional exam that digs deeper into their pockets.
Ciara Martin, a fourth-year psychology student planning to take the GRE within the next year, said the exam tests outdated material that is not immediately relevant to students.
"Depending on the (applicant's) major, the GRE tests subjects that students haven't studied since high school," Martin said.
Students acquire no long-term knowledge when studying for the GRE because they're studying just to take a test. All this cramming for a pointless exam also causes a lot of stress for applicants, conflicting with demanding work and school schedules.This can result in lower scores which only negatively impact students' possibilities of being admitted to graduate programs of their choice.
Graduate admission applications already have components that help to assess prospective students.
"(Graduate admissions applications) should focus more on the GRE subject test and on the personal essays and recommendations," said Manmeet Bains, a recent UCLA alumna from the class of 2018 who is currently studying for the GRE.
Letters of recommendation can also be weighted more by admissions officers, as they show a long-standing history between a student and their colleagues or professors.
Focusing on letters of recommendation and other aspects of an applicant's undergraduate years makes it cheaper too. A fee waiver for the GRE will only reduce the total by 50 percent. This is in addition to the $150 some applicants must pay to take the subject exam for certain graduate programs. This hefty price tag might cause applicants to re-evaluate their graduate school or post-undergraduate plans.
While some might argue the general test is necessary to gauge students' readiness for graduate school, it's better fit to gauge whether students know how to take a standardized test. And it, therefore, has biases. Education Dive, a news source focusing on the education industry, found the test to be especially biased against nonwhite, female and low-income test-takers. For example, low-income students don't have the same resources, such as GRE prep courses and workbooks, that are similarly available to other applicants. Graduate admissions programs need to take these inequities into account.
Success in graduate programs is more than just a good score on a multiple choice, fill-in-the-blank exam.
So, let's make applying to graduate programs a little more than just guessing option "C" when the clock is running out.
Sandra Wenceslao is an Opinion columnist.
Sandra Wenceslao is an Opinion columnist.