Student leaders spy breaches of privacy in new UCLA security camera policy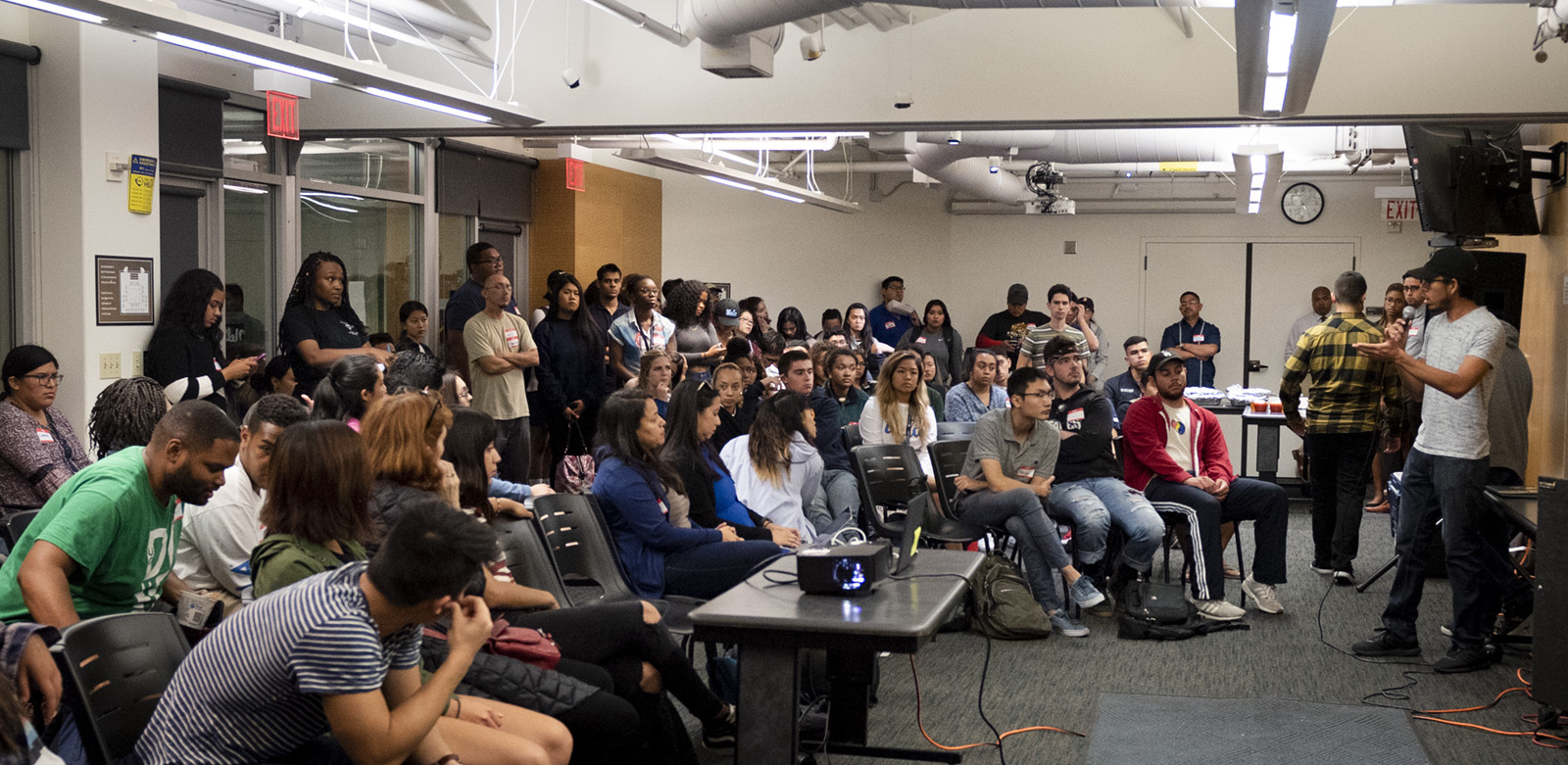 At the town hall, students brought up concerns including funding, privacy violations, access to resources and the timing of the policy's announcement. (Amy Dixon/Photo editor)
Students expressed concerns at a Wednesday town hall that a new security camera policy would increase breaches of privacy.
UCLA Policy 133, which was announced Sept. 11, outlines new procedures for security cameras on campus. The policy aims to improve campus safety by centralizing security camera data storage, providing UCPD with access to camera data in emergencies and establishing maintenance standards for cameras, said Ricardo Vazquez, a UCLA spokesperson.
Vazquez added there are already more than 2,500 cameras across the campus, but only about 12 were visible to UCPD.
Oscar Macias, a fourth-year Latin American studies and sociology student who organized the event, said he has worked with students from heavily policed neighborhoods and understands that more cameras on campus may not be beneficial.
"Students should be educated about the gray areas within policy that might cause problems for certain student populations," Macias said.
At the town hall, students brought up concerns including funding, privacy violations, access to resources and the timing of the policy's announcement.
Richard White, a fourth-year political science student, said he was concerned students would end up paying for security camera updates.
"UCLA hardly ever foots the bill for anything that they institutionalize on this campus," White said. "A lot of it – most of it – comes out of students' pockets."
Vazquez said it was unclear how costs might expand due to the policy.
"It is unclear how costs for students would be impacted," Vazquez said. "Although as camera use expands, that will add cost to whichever department deploys the cameras, but those costs would have occurred regardless of the policy."
Vazquez did not further specify how camera use would expand.
Alexander Yessayantz, who graduated in 2018, said he thinks mass surveillance in private areas is unnecessary and could be misused.
"Once you build the cameras, even if the policies right now are very reassuring, they're totally subject to change over time, but the infrastructure will still be there," Yessayantz said. "The physical cameras will still be there and they can be misused."
Macias and other students at the event said they were concerned the policy would deter students from seeking out resources offered at the Student Activities Center, including resources for LGBTQ or undocumented students. They said these students or their families could be outed or put in danger for their sexuality or legal status if they were identified on camera.
White added he felt it was disrespectful that UCLA announced the policy to students before classes were in session because new students and working students do not have time to thoroughly read through policy.
Paula Gonzales, a third-year sociology student, said she thinks students should be making decisions about policies that affect them.
Nidirah Stephens, the Academic Affairs commissioner for the Undergraduate Students Association Council, said the policy was originally created in response to hate crimes against former council members. Last year, a Jewish door ornament and pride flag were vandalized in Kerckhoff Hall.
After listening to student comments, Stephens said she thought the town hall was productive because it showed how the policy could diverge from its original intentions.
"We were able to understand the overreach that happened with this policy, that was almost independent of the intention of what it was supposed to be," Stephens said. "And I think unless there's terms and stipulations to which the students … can agree, then it shouldn't happen."
Salvador Martinez, a third-year applied mathematics student who moderated the town hall, said he understood the good intentions behind the bill, but added cameras were not making people feel safer.
"I do understand the good intentions behind the policy itself to make students on campus feel safer," Martinez said. "But at the end of the day, we can really tell, just by the town hall, there was somewhat tension, somewhat fear of these cameras being turned into a police state, Big Brother initiative."
Kayla Thomas, a fourth-year molecular, cell and developmental biology student, said she thinks hate crimes could be better prevented through institutional support rather than surveillance.
"Why doesn't the institution institutionalize events put on by people of color, put on by LGBT students and empowering those students who are often victims of these crimes?" Thomas said. "And only then when UCLA proudly represents those students and shows the world that we are watching out for those students and empowering then hate crimes, I feel, will decrease."
Mick Deluca, the assistant vice chancellor of campus life, attended the town hall and said student voices are important.
"I think a student's voice is critical to the campus and how we make decisions and I'm here tonight just to listen," Deluca said.
Macias said he hoped student input from the town hall will affect the way administrators view the policy.
"Hopefully they'll take into consideration concerns students have," Macias said. "It's a draft, so there's time to modify anything students might have concerns about."
The public comment period for the bill ends Monday.
When asked if UCLA administration should consider the student input from the town hall, Stephens offered two words.
"They better."
Morris was previously the 2020-2021 Editor in chief. She was also the 2019-2020 assistant Enterprise editor as well as the 2018-2019 assistant News editor for the campus politics beat.
Morris was previously the 2020-2021 Editor in chief. She was also the 2019-2020 assistant Enterprise editor as well as the 2018-2019 assistant News editor for the campus politics beat.