Reusable water bottle program intends to reduce dining waste on the Hill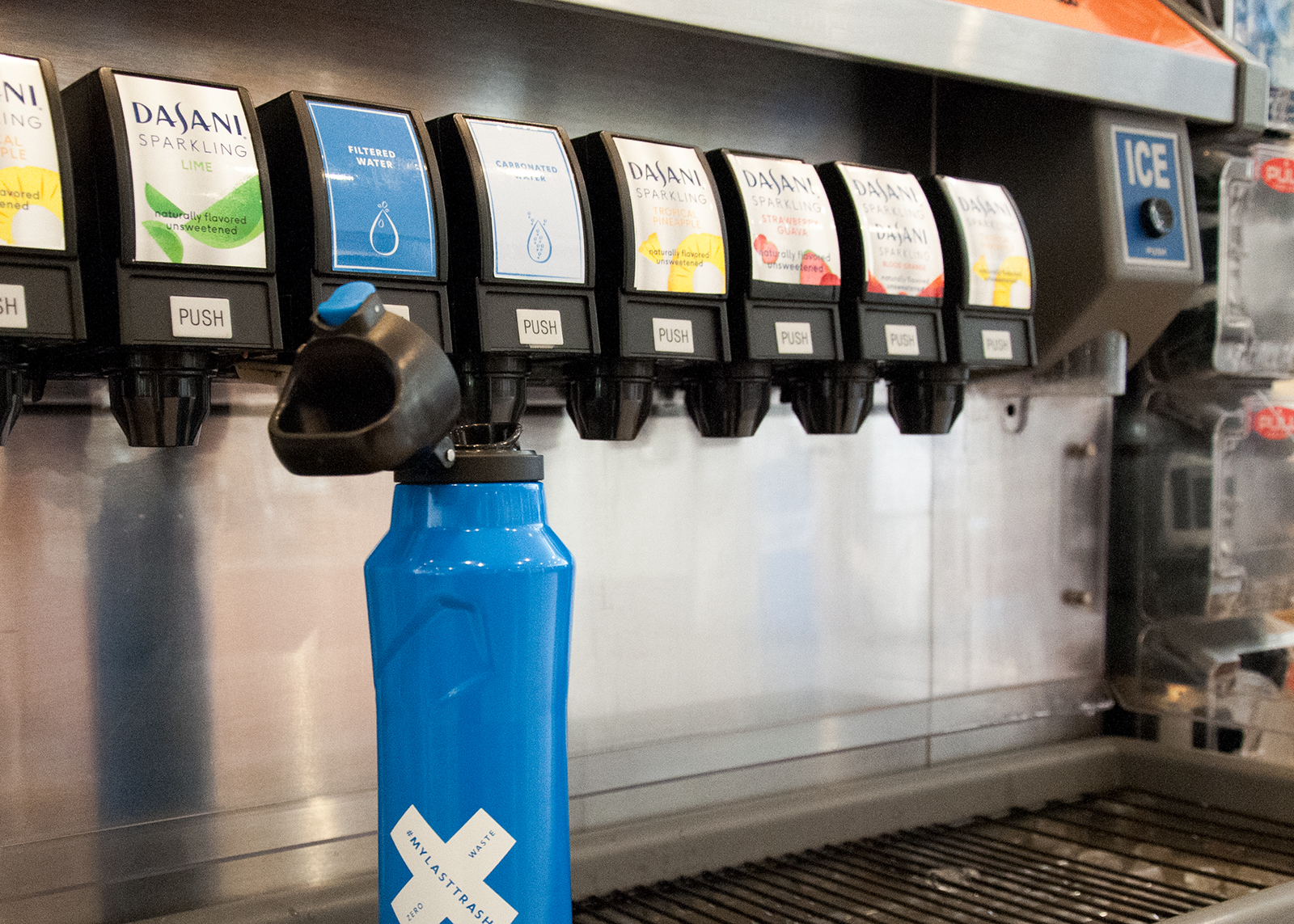 The program was initiated to help UCLA reach its goal of reaching zero waste by 2020. UCLA takeout restaurants use around 7,000 cups a day, most of which end up in landfills. (Liz Ketcham/Daily Bruin)
Students can now use their own reusable bottles at takeout restaurants on the Hill.
UCLA Dining Services launched a program this quarter encouraging students to use their own bottles instead of disposable cups. The initiative is part of the effort to reduce waste and meet UCLA's sustainability goals, said Erin Fabris, sustainability manager for Housing & Hospitality Services.
Participating restaurants include Bruin Café, Rendezvous, Café 1919, The Study at Hedrick and De Neve Late Night.
UCLA Dining Services hopes to encourage students to participate by giving out free reusable water bottles to students living on the Hill, said Fabris. She added UCLA is also offering a discount on drinks to students who use their own water bottle when purchasing fountain drinks without a meal plan.
In previous years, students were not allowed to bring their own bottles into dining halls due to safety concerns, said Samantha Durazo, an assistant manager at Bruin Café.
"Previously, it was a sanitation issue that they didn't want you to use your own bottle, but we changed the nozzle on our fountain machine, so it's more sanitary to put your bottles closer to it," Durazo said.
The program was initiated to help UCLA reach its goal of reaching zero waste by 2020. Fabris said UCLA takeout restaurants use around 7,000 cups a day, most of which end up in landfills.
"If we can even reduce that by 20 percent, that is already a significant amount," Fabris said.
Fabris said preliminary data showed 15 percent of students who dined at Café 1919 used their own bottles during the first week of the program.
Kyle Alves, the 100% Renewable Energy campaign coordinator for California Public Interest Research Group, said he thinks the new program would be more effective if there were more incentives to use the renewable water bottles.
"If people were made (conscious) of this issue of single-use versus nondisposables, even if it's not for sustainability, but for monetary reasons, it will change behavior," Alves said.
Kailash Ram, a third-year neuroscience student, said he uses nondisposable bottles because they are portable.
"If I'm thirsty, I can drink from it anywhere. It's more convenient," he said.
Alves added he thinks encouraging change in people's behaviors can help change campuswide norms, which he said he thinks is a goal sustainability programs should aim to achieve.
"When California was (in) a drought, the school pushed to stop using trays in the dining halls. Once people stopped using it, it became the campus norm, and it wasn't even for sustainability anymore," Alves said. "Things like that are able to change the culture."