Women's soccer aims to harness home field advantage in upcoming Pac-12 play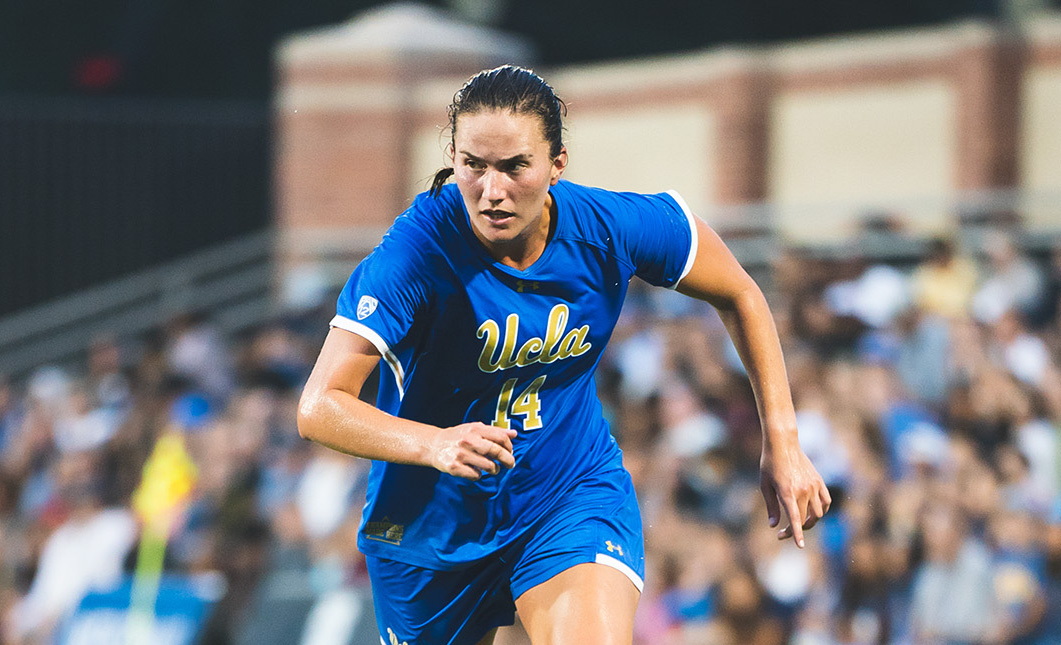 Sophomore midfielder Olivia Athens said the Bruins will have to take advantage of their remaining Pac-12 home games. The Bruins will travel to four more matches this season and host another four at the Wallis Annenberg Stadium. (Isa Saalabi/Daily Bruin)
Women's soccer
---
Arizona State
Thursday, 5:00 p.m
Wallis Annenberg Stadium
Pac-12 Networks
---
Arizona
Sunday, 3:00 p.m
Wallis Annenberg Stadium
Pac-12 Networks
The Bruins are in search of their first home conference win.
No. 15 UCLA women's soccer (6-3-1, 1-2 Pac-12) will face off against Arizona State (6-3-1, 1-1-1) and Arizona (8-2-1, 1-1-1) at home this week at Wallis Annenberg Stadium. The games will be Thursday and Sunday, respectively.
"We have to make the most of these home games because we don't have that many left," said sophomore midfielder Olivia Athens. "We only have four Pac-12 home games left this season, which is a lot less than we would hope for. The atmosphere at home is great and I think that makes a big difference."
UCLA failed to defeat No. 7 Washington State (10-0, 3-0) at home in its conference opener and fell to No. 1 Stanford (10-0-1, 3-0) during its road trip to Northern California last week.
UCLA earned its first conference win of the season Sunday in its competition against California (4-6-1, 0-3). However, the Bruins had 12 corner kicks in their match against the Golden Bears and failed to score on any of them.
"We definitely need to work on our long throw-ins and our other set plays before we continue," said assistant coach Sam Greene. "When we tied to Arizona last year, they kept the ball high and they countered well, so we also need to work on defending against that."
Though the Bruins defeated the Sun Devils in 2017, they then tied with the Wildcats at two apiece after an early 2-0 lead in their meeting in Tucson, Arizona. UCLA recognized defensive miscues for its loss of the lead in the match.
"We are looking to play more as a unit for sure," said junior goalkeeper Teagan Micah. "I think we have one of the best defenses in the country. If everyone plays their role, then there is no reason why we wouldn't keep a clean sheet."
UCLA is expected to see some familiar faces return to Wallis Annenberg Stadium this week. Micah, who returned from a stint on the disabled list to play the second half in the Bruins' victory over the Golden Bears, is expected to start in goal against Arizona State. She will replace redshirt freshman Lauren Brzykcy, who has started UCLA's last three games.
Sophomore midfielder Marley Canales also returned Sunday from a five-game break to nurse an ACL injury.
"Both (Canales and Micah) adjusted well to returning to the field," said coach Amanda Cromwell. "They've been working really hard in training and doing what they need to do. It's a matter of waiting and making sure we're not rushing anything back, and we're excited to have them back with us for these home games."
The Bruins have eight conference matches left before the end of the regular season. Their 2017 conference record was 8-2-1, with their conference losses resulting from matches against Stanford and Washington State, and their only tie coming from Arizona.
"We've been doing some good things on the field in our recent games," Cromwell said. "We played really well against Stanford, even though we didn't get a result. We just have to keep getting better and trying to get shutouts and finish as many chances as we can create, and we will be ready to take on the rest of the conference."
Hunt is currently a Sports staff writer on the gymnastics beat. She was previously a reporter on the women's soccer, women's water polo and swim & dive beats.
Hunt is currently a Sports staff writer on the gymnastics beat. She was previously a reporter on the women's soccer, women's water polo and swim & dive beats.