Panel discusses LA's path to becoming a sustainable megacity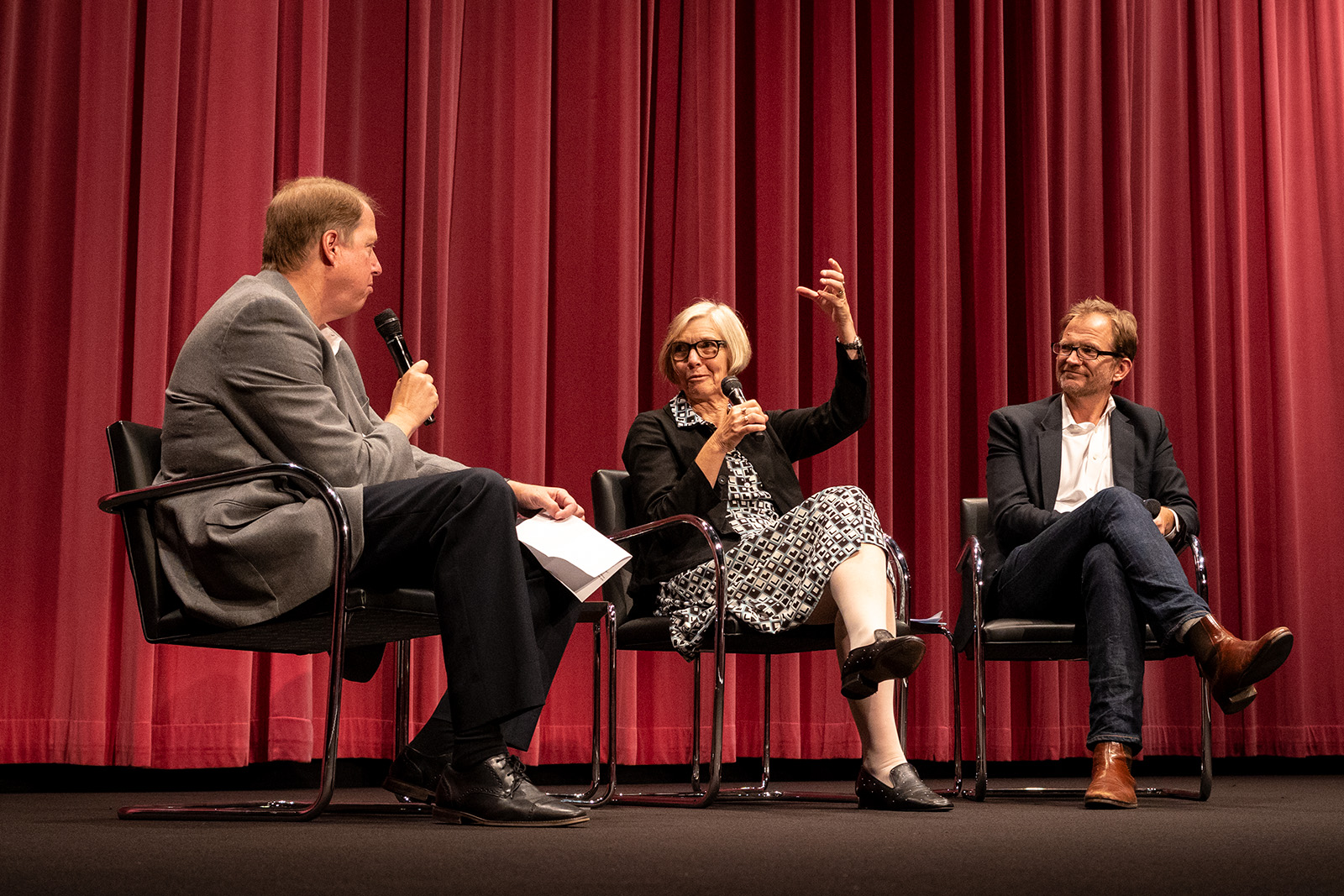 A UCLA associate professor, vice chancellor, and a former Los Angeles sustainability officer discussed how Angelenos can work toward a sustainable future. (Niveda Tennety/Daily Bruin)
This post was updated Oct. 7 at 3:30 p.m.
UCLA experts said at an event Wednesday that Los Angeles and its residents can learn from the successes of other megacities to build a more sustainable future and reduce the impact of global climate change.
The panel is the eighth segment of a yearlong series co-hosted by the Hammer Museum alongside the UCLA Sustainable LA Grand Challenge project, titled, "Future L.A.: Engineering a Sustainable Supercity." Mark Gold, UCLA associate vice chancellor for environment and sustainability, moderated the panel, which included Dana Cuff, a UCLA architecture and urban design professor, and Matt Petersen, former Los Angeles chief sustainability officer.
During a period of unprecedented population growth, particularly in urban areas, policymakers and researchers are collaborating to prepare megacities such as Los Angeles for a more sustainable future, Cuff said. Environmentally friendly urban planning has been particularly inspired by three such cities along the Pacific Rim.
Cuff opened the conversation by presenting her research on sustainability efforts in the three megacities: Shanghai, Tokyo and Mexico City. Her research examines each city's unique efforts to support sustainability by incorporating existing water structures, such as canals, bays and lakes, with the urban landscape. While each city differs in its approach to its own unique problems, they are all united by a common thread.
"We are looking at urbanism and nature through the lens of water," Cuff said.
Cuff studied post-World War urban planning in each city by examining how it dealt with unique problems involving local water supplies. For example, after the 2011 earthquake and tsunami that devastated Tokyo, Japanese policymakers instituted several policies to protect residents, including massive seawalls and the relocation of homes by the coast.
She then said these efforts have inspired more local programs to enliven the Los Angeles River. Some efforts, such as those headed by Alice Carruth, an associate professor in English, plan to bring community activities to the river basin. Others hope to remove California's urban presence from the river and restore the natural ecosystem.
"Many desire to reconnect with nature in a way that pushes the city out of the picture," Cuff said.
Petersen also spoke on how large cities, including Los Angeles, are working to reduce carbon emissions through changes in transportation. He said that the introduction of electric buses has not only reduced carbon emissions, but also offered transportation that is quieter and more enjoyable than the city's traditional buses. Even electric scooters, such as Birds and Limes, have helped reduce the use of cars for trips of short distances.
"Los Angeles is really leading by example," Petersen said.
After the two presentations, Gold moderated a discussion with Cuff and Petersen regarding the different ways Los Angeles can learn from the examples of other megacities. Shenzhen, a rapidly growing metropolis in China, was a frequently cited example. Gold and Petersen said that, even though it is a relatively new urban center, Shenzhen has made remarkable strides toward sustainability and already has over 16,000 electric buses.
"They are creating a sustainable megacity almost from scratch," Gold said.
One of the greatest challenges all three panelists said they have faced is encouraging urban residents of various backgrounds to accept sustainability measures. Petersen said his experience working with Los Angeles Mayor Eric Garcetti has taught him that people will more readily accept these measures if local governments enforce regulations, incentivize sustainable options and focus on tangible solutions like improved air quality.
During the discussion, Gold asked how changes made toward sustainability could coexist with local cultures and customs as much as possible. Cuff said that when working to make any city sustainable, locals should be involved in every step of the process. She said locals within a community must work with one another and with the international community to create change.
"Events such as the Olympics are a unifying component of sustainable change in megacities," she said.
While these megacities, including Los Angeles, still have a long way to go in terms of complete sustainability, the efforts of local officials, researchers and policymakers are driving the planet closer to a sustainable future, the three panelists said. In order to create the greatest change, they said that all citizens should make environmentally friendly choices to work toward a sustainable future.
"Changing our priorities in the way we live our daily lives leads to positive changes in the quality of life," Gold said.