Brewhouse opening in Westwood aims to revitalize nightlife, appeal to students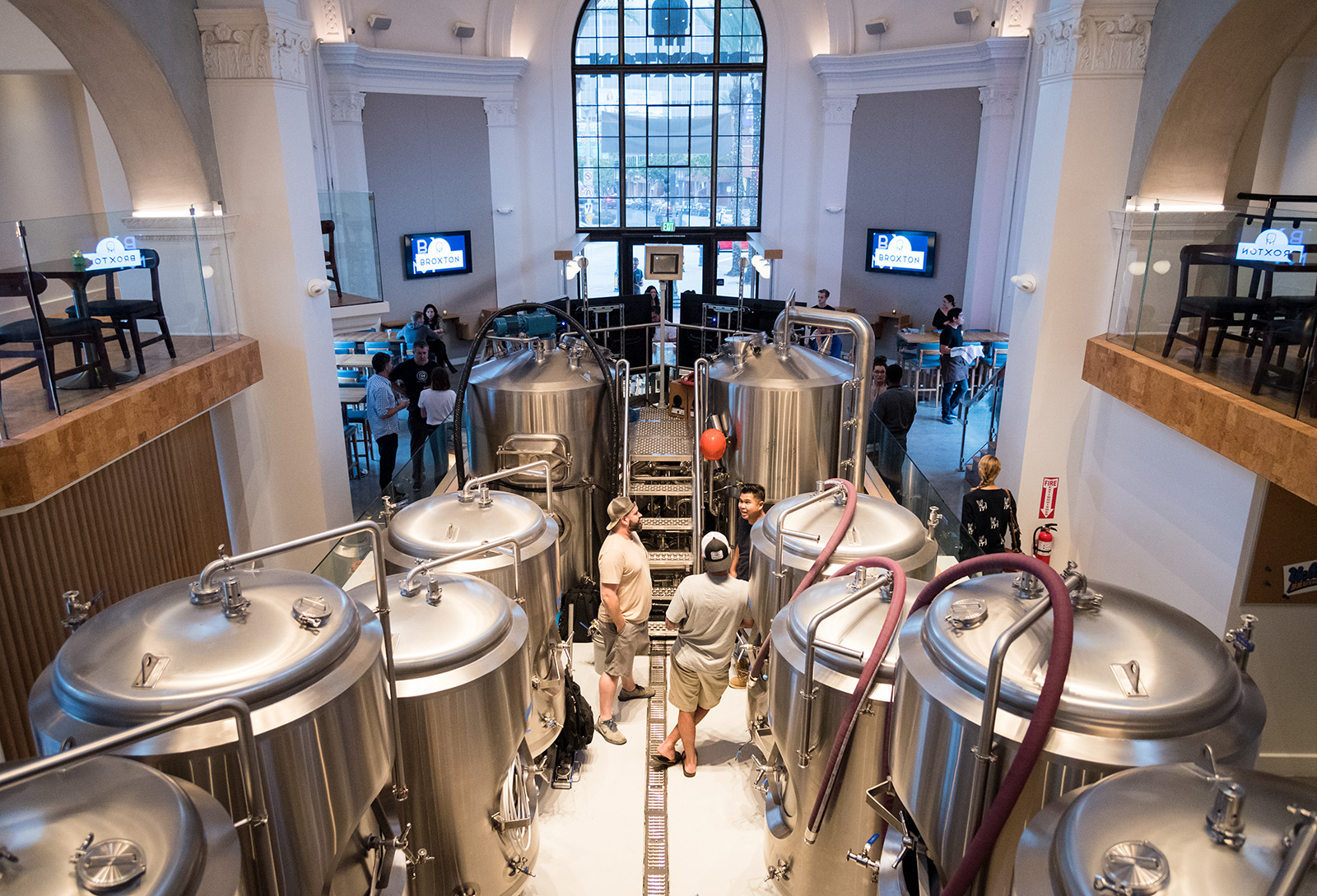 Broxton brewhouse will include a 10-tank brewing system, which will allow it to craft up to 10 beers at a time. Broxton's opening is the first use of the Janss Dome space since Yamato Sushi's closing in June 2016. (Daniel Leibowitz/Daily Bruin staff)
A new brewhouse in Westwood Village will officially open its doors to thirsty customers on Sunday night.
Broxton, Westwood's latest taproom, is located in the historic Janss Building adjacent to the intersection of Broxton Avenue and Westwood Boulevard. The new eatery will serve a range of house-made beers, lunch and dinner options.
Broxton's opening is the first use of the Janss Dome space since Yamato Sushi's closing in June 2016. The Mediterranean-styled Janss Building was the first building constructed in Westwood Village in 1929 and was originally constructed as headquarters for the Janss Investment Corporation.
The brewery features a 10-tank brewing system, but is currently inoperational, said Tony Yanow, one of the establishment's eight owners. Before it produces its first brews, Broxton will be serving beer from the four other LA-based breweries owned by its parent company, Artisanal Brewers Collective.
The "tank farm" is located behind the establishment's crescent-shaped bar in the center of the restaurant, and will allow brewers to craft up to 10 beers at a time. The Janss Building will require additional plumbing and electrical work for the system to become operational, Yanow said.
Jon Lerdsuwanrut, one of ABC's owner-operators and the brewery's engineering specialist, said the Janss Building required a complete overhaul of plumbing and electrical work in order to house the new brewing system. The basement was also transformed into a concrete foundation in order to support the massive tanks, he said.
Lerdsuwanrut added that Broxton hopes to attract people to Westwood and be a part of a resurgence in Westwood Village's nightlife. He said that the ownership supports the recent creation of the North Westwood Neighborhood Council, and hopes the council's new policies will improve nightlife.
"What's good for nightlife is good for us," he said. "We can't be the only one, we want Westwood to have a network of after hour activities."
NWWNC is the product of a subdivision effort led by Westwood Forward, a coalition of students, residents and business owners. The group campaigned on a nightlife-friendly policy that promised students more establishments that would serve alcohol, and include live music and dancing.
Eric Ronquillo, front-of-house manager for Broxton, said he hopes the brewery will attract a wide range of Westwood's residents.
"We want this place to be the hub of everything in Westwood. We want to attract people young and old," he said. "We aren't trying to be a Rocco's (Tavern)."
Tabitha Bond, a fourth-year dance student and a hostess at Broxton, said that the brewery aims to build a community with UCLA students by offering student discounts and opening its doors as a study space in the morning with complimentary coffee.