Librarians, allies demonstrate for academic freedom amid UCOP negotiations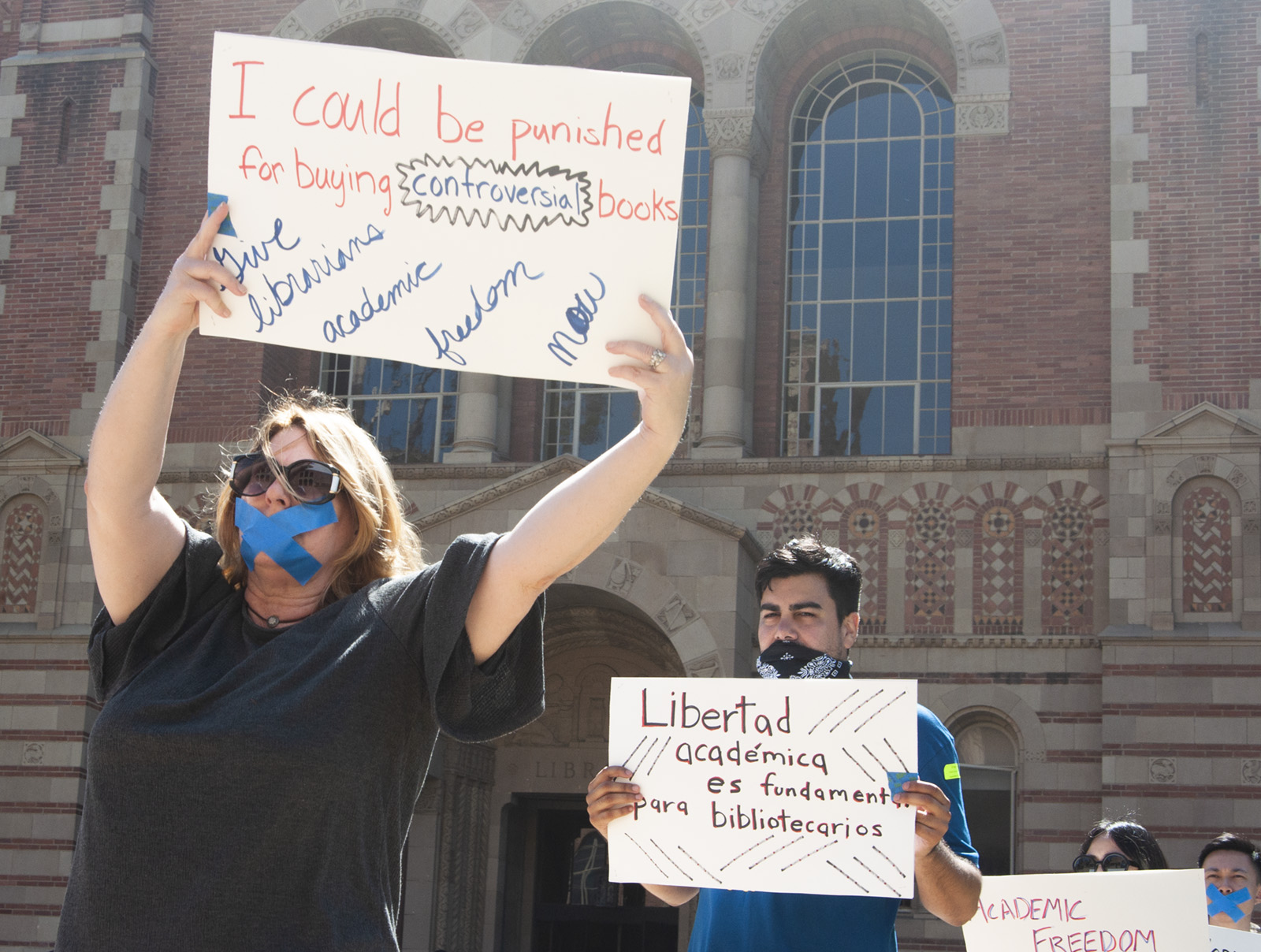 A union for UC librarians and non-Senate faculty held a demonstration Wednesday in between contract negotiation sessions to oppose academic censorship of librarians. (Niveda Tennety/Daily Bruin)
University of California librarians and their allies marched across campus Wednesday with their mouths taped shut in support of academic freedom for librarians.
University Council-American Federation of Teachers, a union that represents UC librarians and non-Senate faculty, held the demonstration during their lunch break between contract negotiation sessions with the University of California Office of the President. Librarians are negotiating with the UC for better academic freedom policies, which protect academics from censorship of controversial ideas.
Roughly 40 UC-AFT librarians and their allies marched from the Charles E. Young Research Library to Powell Library. The librarians carried signs, but did not speak. Their allies used bullhorns to shout the union's message.
Allies of the protestors chanted "Librarians' silence is academic violence," and "If we don't get it, shut it down." The allies added the UC had said academic freedom was not a good fit for academic librarians.
Martin Brennan, a member of UC-AFT, said he thinks librarians are denied necessary academic freedom by the UC.
"Academic librarians need the protections of academic freedom – freedom of inquiry, freedom of expression in teaching and research, and the ability to speak freely on professional issues in matters of institutional governance – in order to responsibly perform our academic duties," Brennan said in an email statement.
UC-AFT president Mia McIver said librarians examining third-party contracts have felt unsupported by the UC when pointing out problems.
"Like many of us at the UC, librarians want the ability to scrutinize those contracts, understand those relationships and if necessary, to critique or call for change in those relationships," McIver said. "In the past librarians have felt unsupported or even punished for doing that."
McIver said current UC academic freedom policy only applies to faculty, students, teaching assistants, graduate students and researchers.
"Librarians really stick out like a sore thumb as a group of academic employees who are excluded from academic freedom policy," McIver said.
Miki Goral, a librarian at Powell Library who has worked at UCLA since 1970, said she thinks the academic work of librarians needs protections. She added she believed academic librarians had academic freedom protections like faculty and students, until the UC said they did not.
"Librarians do research and write and publish, same as faculty do, so they should have the same academic freedom to say what they need," Goral said.
UCOP spokesperson Danielle Smith said in an email statement UC policies of academic freedom do not extend to nonfaculty academic personnel, including librarians.
"The provision of academic freedom (or a derivative thereof) is a complex issue that has been rooted in faculty rights, professional standards and obligations — and requires extensive examination and discussion," Smith said. "Historically, this is also the case at research universities where librarians are not faculty."
Brennan cited the same policy in support of extending academic freedom protections to librarians. He added the policy states current academic freedom policy is not meant to diminish the rights and responsibilities enjoyed by other academic appointees. He also added there is nothing in UC policy that prevents UCOP from extending this right to librarians.
Smith added UCOP will work to better understand the union's stance on academic freedom in the hopes of reaching a long-term agreement including competitive pay, health care and retirement benefits.
McIver said the UC has offered some agreeable statements on the union's thoughts on academic freedom at the negotiating table, but have yet to concede contractual protections.
"We want them to walk the walk now," McIver said. "The talk that happens behind closed doors is one thing, but we want actual contractual protections guaranteeing librarians rights and responsibilities of academic freedom."
Goral added she hopes students will get involved in future UC-AFT actions.
"I would like to think students understand the importance of it and will support us as we continue in our struggle because it will not be over soon," Goral said.
Morris was previously the 2020-2021 Editor in chief. She was also the 2019-2020 assistant Enterprise editor as well as the 2018-2019 assistant News editor for the campus politics beat.
Morris was previously the 2020-2021 Editor in chief. She was also the 2019-2020 assistant Enterprise editor as well as the 2018-2019 assistant News editor for the campus politics beat.