Editorial: CAPS needs to accept its limitations, focus on short-term treatment, referrals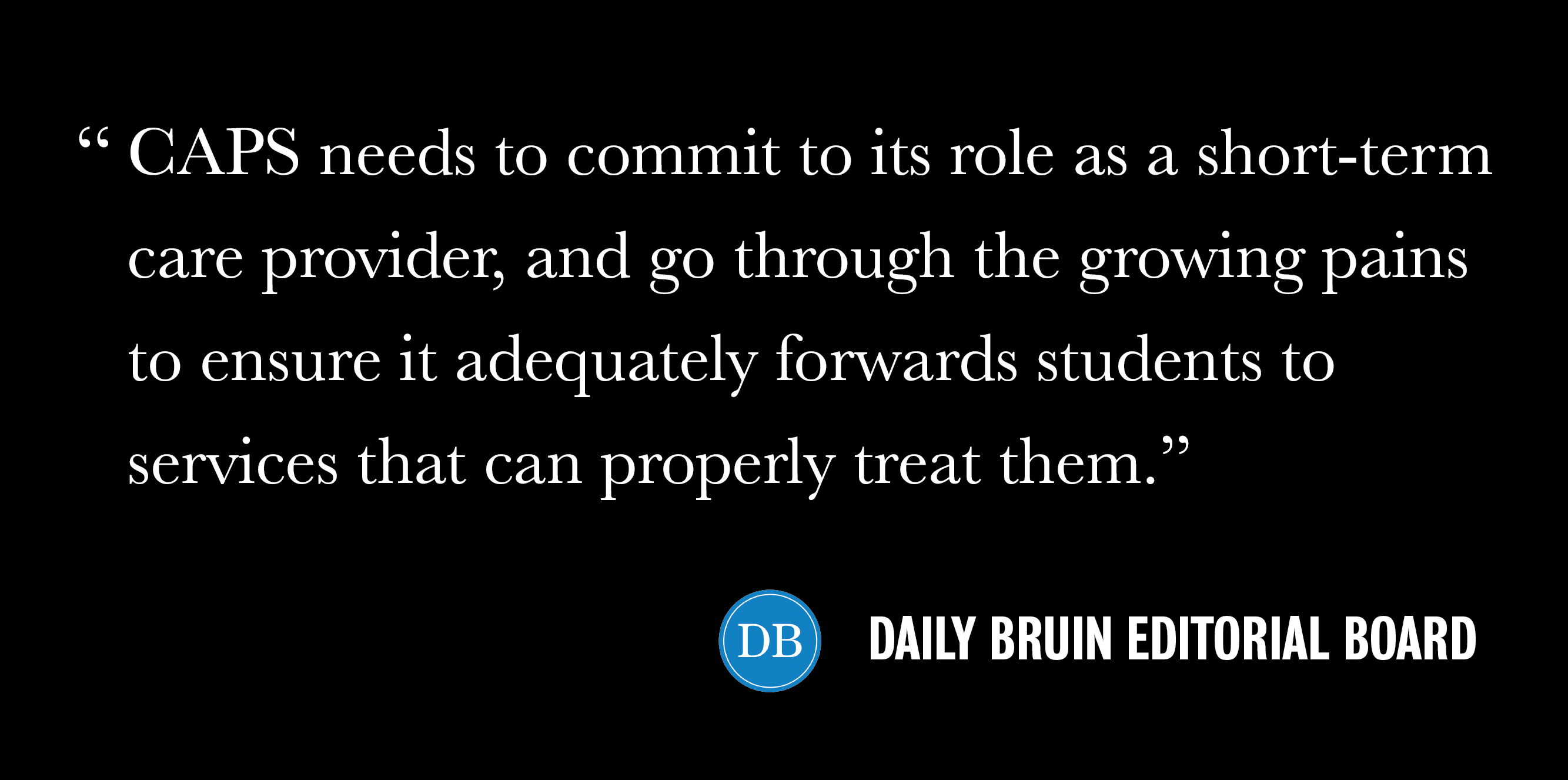 September 26, 2018 11:48 pm
UCLA's mental health care services can be summed up in one word: disappointing.
That's old news to many.
UCLA's Counseling and Psychological Services has an unflattering reputation: ludicrously long appointment wait times, cramped space, dried-up funding and limited personnel. Add in that those in need can only receive up to three therapy sessions per year if they have nonuniversity provided health insurance, and it's hard to blame Bruins for thinking "mental health services" is only a footnote on UCLA's priority list.
CAPS' defense has been that the service cannot sustain itself as the campus' mental health needs increase. Nicole Green, the executive director, has repeatedly told The Bruin the service's lack of space for confidential appointments and personnel shortages have forced it to prioritize certain patients over others. Most recently, Green framed CAPS as a short-term campus resource that would direct students to external, long-term psychological care services should they need it.
The problem is, CAPS' operations tell a different story.
The service does little to quell the misconception that it's the one-stop shop for counseling or psychological needs. Its recently created student advisory board and partnerships with student-run, mental well-being organizations give the impression that it's equipped to address serious mental health cases – many of which can require long-term prognoses that aren't remotely achievable at UCLA.
The reality is CAPS can only act as a short-term care facility for those in need of mental health aid. It needs to embrace that identity by becoming a quick-response center for students' mental health needs that triages and directs them to accessible, long-term care services – even if they aren't on the University of California Student Health Insurance Plan.
In other words: no more false expectations.
That rebranding is a necessary step for CAPS to regain students' trust, given its mixed messages.
In 2015, CAPS reduced the number of free counseling visits from 10 to six, arguing national statistics showed the majority of students only sought four or five sessions per year. At the time, Green said the service could help provide long-term treatments if they hired more therapists. Adding counselors would refer those who exceed six therapy sessions to the Behavioral Health Services in the Ronald Reagan UCLA Medical Center.
The Bruin reported two years later that CAPS was experiencing troubling amounts of staff turnover due to employees being given low pay for their work. During that period, CAPS used student referendum money and student fees to offer stipends to members of its student advisory board, who helped the service form partnerships with student wellness groups to better manage its load.
Now, in 2018, CAPS remains unable to handle the campus' increasing demand for its services, without an indication of whether its growing load is being directed to affiliated long-term care centers. Instead, the service has steadfastly stuck to the message that it only offers short-term care, while making no substantial structural changes to reflect such a position.
Certainly, CAPS might advise students seeking long-term care to reach out to their insurance providers for more information. But developing a compelling short-term, mental health service means developing deep connections with long-term care providers that students are readily knowledgeable about and easily able to contact. It doesn't mean just offering brochures and telling students to figure out how to navigate the complicated medical insurance landscape on their own.
CAPS needs to commit to its role as a short-term care provider, and go through the growing pains to ensure it adequately forwards students to services that can properly treat them.
Otherwise, mental health will just remain an empty talking point – one apparently too grand for UCLA to address.