New makerspace will enable students to dabble in engineering projects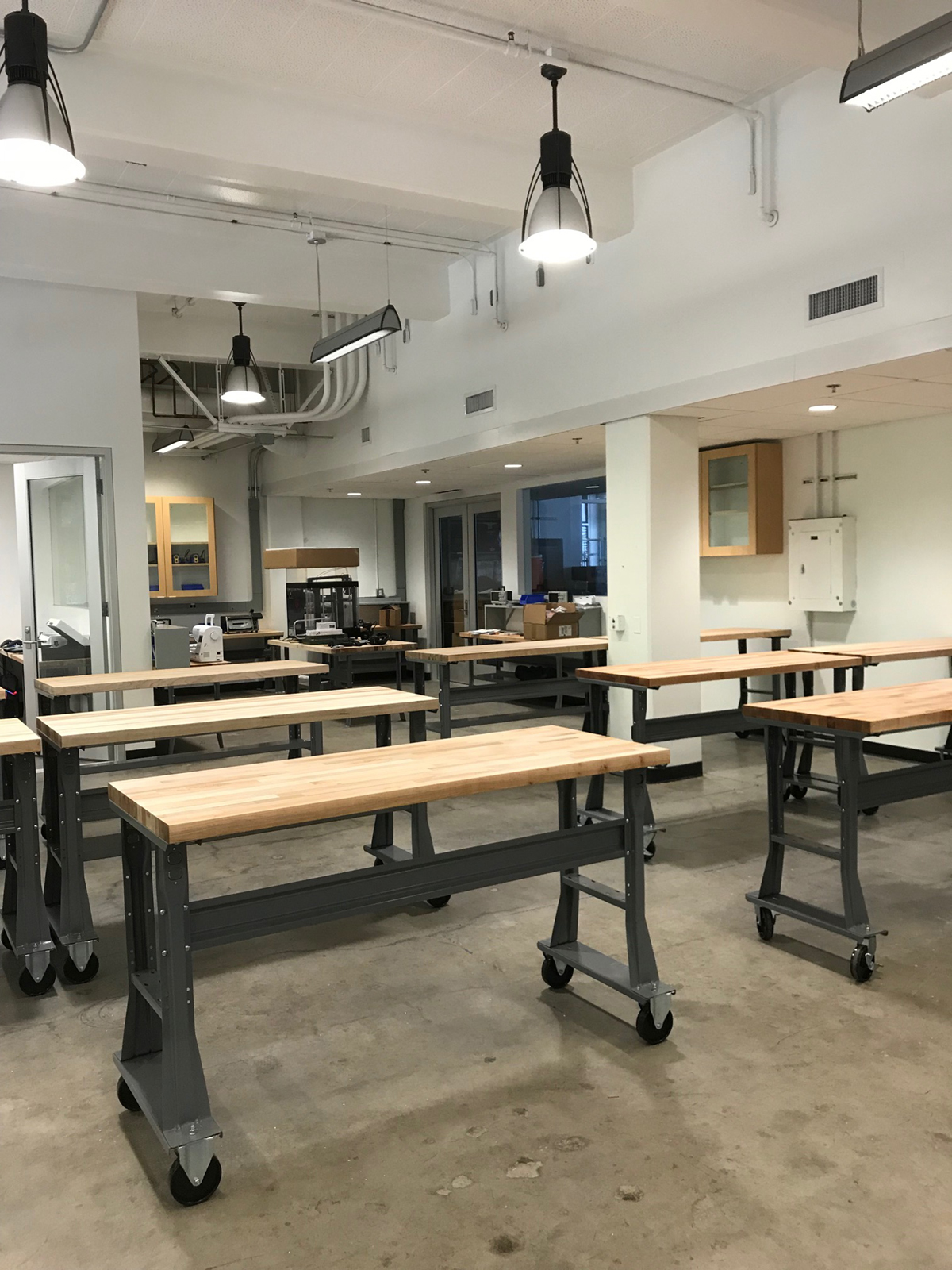 The makerspace has tables and free access to engineering tools that can be used for developing new technologies. (Courtesy of UCLA Engineering)
UCLA students can build electronic skateboards, a robot that plays the piano and other electronics at a new engineering makerspace.
The makerspace, which will open in Boelter Hall on Wednesday, will have 3D printers, laser cutters, power tools, electronic fabrication and a virtual reality station, among other equipment. These tools can be used to create LED light displays, robots, cars, 3D-printed objects, little electronics, sound systems and more.
A growing trend among universities, makerspaces provide students with tools and equipment to construct anything they want, said Jacob Schmidt, a professor and the undergraduate vice chair of the Department of Bioengineering who led the development of the makerspace.
Schmidt said he thinks engineering students, in particular, will be able to use the makerspace to hone their skills and gain practical experience while still in college.
"It's one thing to take classes and learn the theories of engineering and it's another thing to build something," Schmidt said. "With the makerspace, a student can build something, test it, have it not work exactly the way they want it to, redesign their project and try again, … which enables you to do rapid prototyping."
UCLA already has a makerspace on the Hill for students living in the dorms and another located in Powell Library. However, at 9,000 total square feet, the new makerspace will be much larger than the other two. Its location in South Campus will also benefit science and engineering students, who can use the makerspace for school projects, Schmidt said.
The makerspace will be mainly student-run, save for a few administrative faculty members from the engineering department. Experienced students can volunteer to train others on how to use the equipment and monitor how everything is being used.
"Students are going to run the whole thing," Schmidt said. "The big goal here is that it's going to empower the students."
Gabriel Alpuerto, a third-year mechanical engineering student, will be volunteering at the new makerspace.
One of the projects Alpuerto will be running at the makerspace is a hockey bot league.
"I'm going to help students create robots and 3D print them. … The goal is to play a miniaturized hockey match," Alpuerto said. "It's a good starter exercise."
The makerspace is built for all UCLA students and for all experience levels. Alpuerto said less-experienced students can use preprogrammed controllers and coding experience is not required. More seasoned engineers can use the higher-level equipment and their own programming skills to build more complicated designs.
Jayathi Murthy, the dean at the Henry Samueli School of Engineering and Applied Science, said that the makerspace will introduce students to the practical applications of engineering and the tools to use their creativity to design and build what they want.
"I believe that it is very important to blend real-world and hands-on engineering experiences with a solid foundation in engineering basics," Murthy said. "The new makerspace will allow our students to explore, create and invent both inside and outside the classroom."
Schmidt said that the makerspace has been in development since 2016. The school of engineering formed a committee to examine the need for a new makerspace, and a committee to decide what equipment should be provided. They each met for nine months starting at the end of 2017 and approved the project in June.
While the space is still in progress, the project is predicted to come in under budget, which Schmidt attributes to the low prices of the equipment.
Alpuerto said that the makerspace is open to all students and that for the most part, it will be free. If anything, he said, students will have to buy parts to construct their projects, but they will not be charged for their use of the equipment.
"Anyone can use the makerspace, not just engineering students. … Newer engineers are going to be trained," Alpuerto said. "(The makerspace) is open to everyone of different walks of life. The point … is to get students active in their learning."
Ostergaard was the 2018-2019 assistant News editor of Features and Student Life. She was previously a News contributor. Ostergaard is a second-year Cognitive Science student at UCLA.
Ostergaard was the 2018-2019 assistant News editor of Features and Student Life. She was previously a News contributor. Ostergaard is a second-year Cognitive Science student at UCLA.