Lyft partners with UCLA to charge a flat rate for ride-shares within 5 miles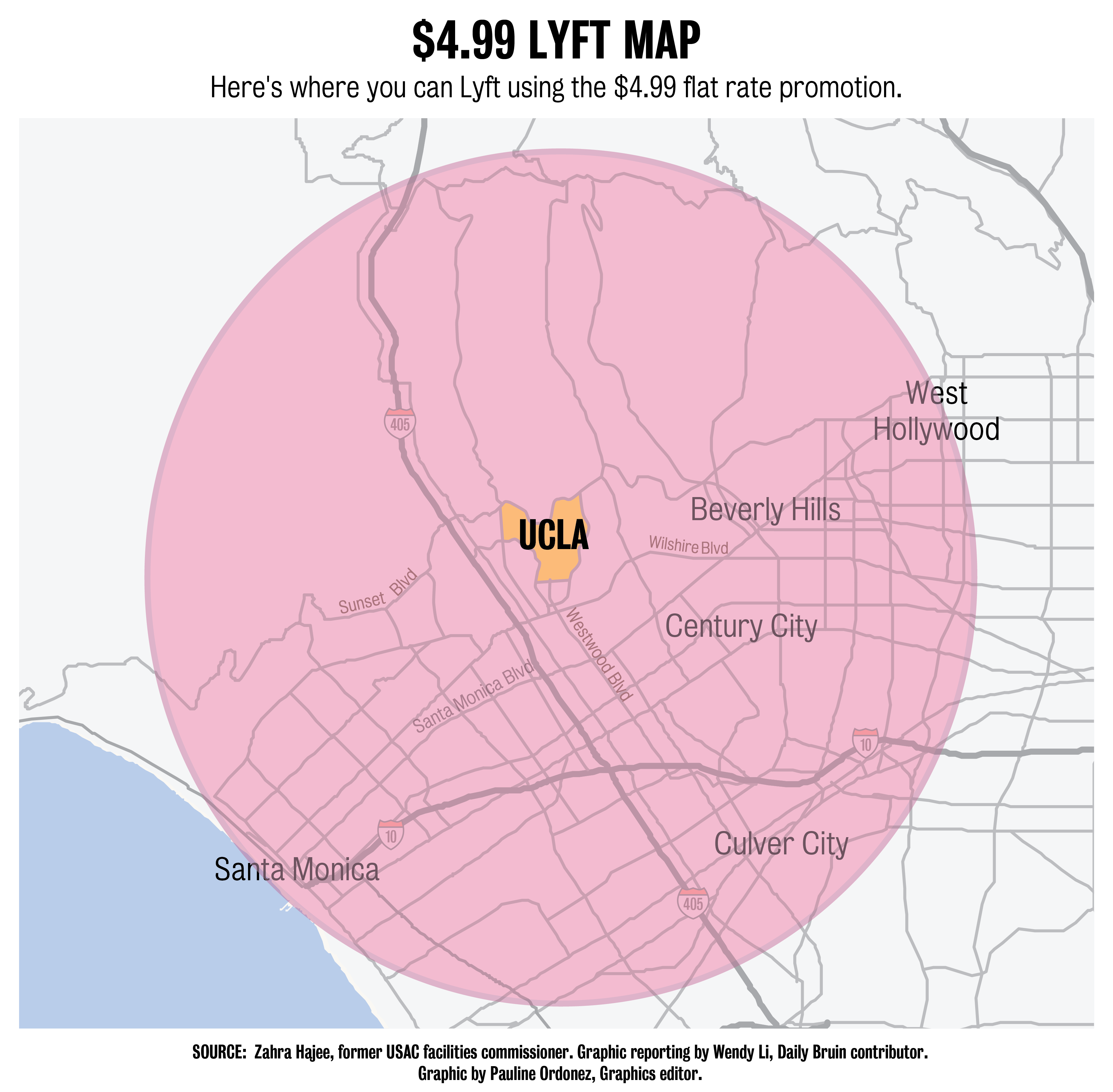 September 21, 2018 2:37 am
Students can now pay a flat rate for Lyft rides to places within a few miles of UCLA.
UCLA has partnered with ride-share service Lyft to offer a $4.99 flat rate for rides within 5 miles of UCLA properties. The promotion took effect Monday, and will last one year. David Karwaski, a senior associate director of UCLA Transportation, said the Lyft promotion will cost riders $1 less than a similar pilot program Uber launched at the beginning of this year.
"Uber was successful last year, but Lyft came along with the better deal. We went with that," Karwaski said. "The Lyft deal is nonexclusive, so Uber is now in the position of deciding how to compete."
The $4.99 flat rate applies to rides up to $15 and within a 5-mile radius from the edge of campus, Karwaski said. For rides above $15, the difference in price will be charged on top of the flat rate. For example, a ride that costs $16, will now cost $5.99. For rides below $4.99, the rider will be charged the lower price.
Allen Narcisse, the general manager of Lyft Southern California, said riders may sign up in the Lyft app by using the promotional code, UCLA499.
The promotion can be applied to any ride departing from or arriving to a UCLA property and will not be restricted to UCLA students, said Abdallah Daboussi, the senior administrative planning and policy analyst of UCLA Transportation. Lyft will not require riders to have UCLA emails, unlike Uber's promotion last year.
"People who are visiting UCLA or our properties such as Santa Monica hospital or the University Apartment South can technically take advantage of the code as well," Daboussi said.
Karwaski said he thinks the promotion's inclusivity toward non-UCLA affiliates is a positive change.
"That's a nice change in that it isn't just for UCLA. Patients using our medical facilities can also use the Lyft deal," Karwaski said.
UCLA Transportation also negotiated with Lyft to expand the 5-mile radius to include Santa Monica beach, Karwaski said.
"The beach is about 5.2 miles away," Karwaski said. "So we asked Lyft, 'Could you please extend it a little bit on the west side,' so that the students and anyone who wants to get to the beach can get there."
Karwaski added UCLA Transportation considered Lyft's pledge to offset its carbon emissions when it chose Lyft Line over uberPOOL.
"Lyft is now carbon-neutral, so another benefit from going with Lyft, for now, is that they are finding more sustainable ways of riding," Karwaski said. Lyft funds efforts to reduce its net carbon output, including tree-planting and solar panel installation.
Michael Skiles, the president of the Graduate Students Association, said he thinks promotional flat-rate programs are effective in increasing ride-sharing. He added he thinks the Uber promotion allowed pool rides to pick up multiple passengers more frequently.
Skiles also said he thinks ride-sharing programs disincentivize students to drive to campus.
"Instead of having to drive to campus and deal with parking spaces, students love being able to jump into the car and be able to get some work done when there are not as many buses in the area," he said.
Narcisse said one of the goals of the partnership is to reduce congestion and alleviate the shortage of parking spaces on campus.
"The real goal is to reduce single-mobile rides, so there is less congestion and traffic," he said.