Q&A: Jordin Canada talks transition from NCAA notable to rookie WNBA champion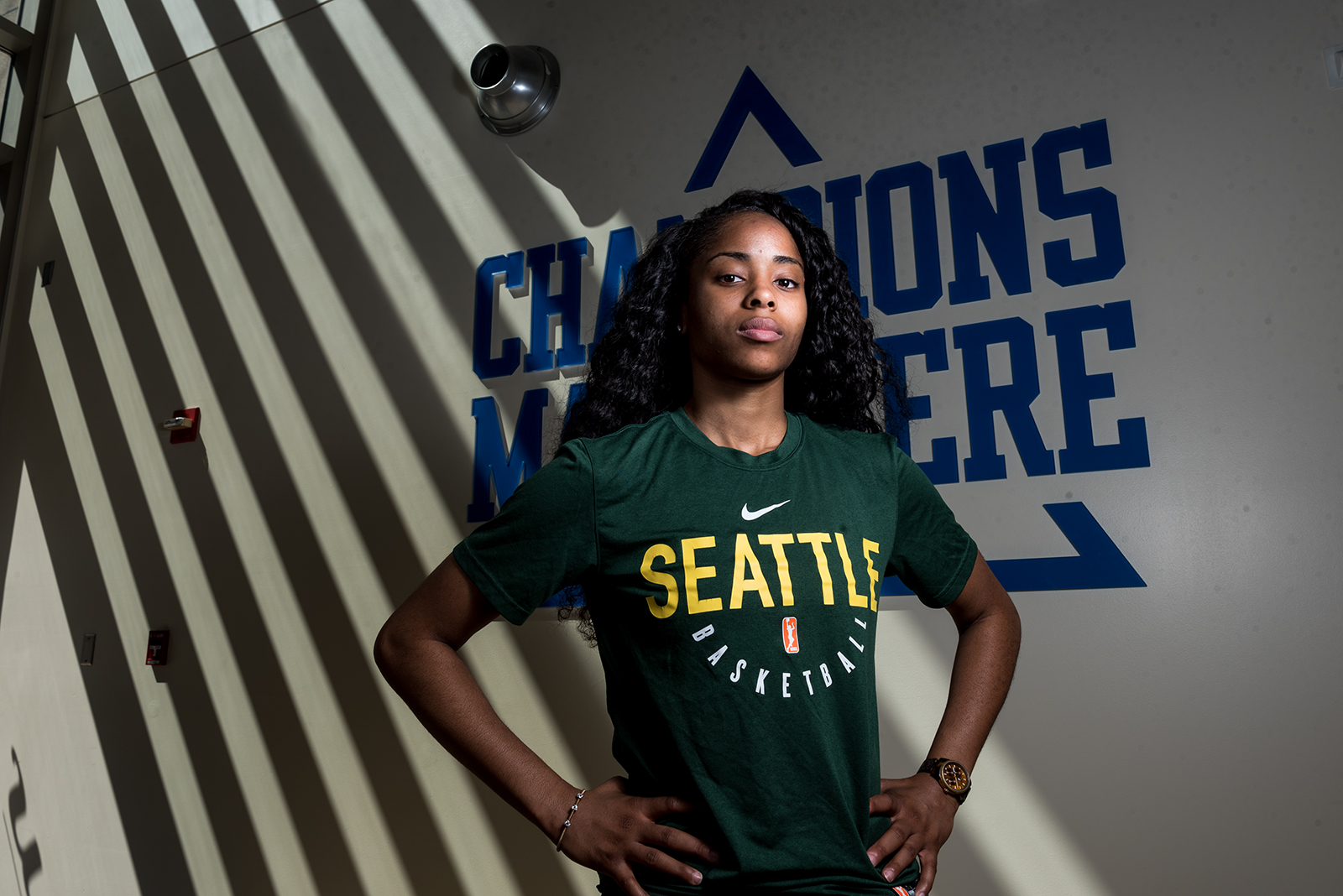 Seattle Storm point guard and former Bruin Jordin Canada averaged 6.1 points in 13.6 minutes during the playoffs en route to a WNBA championship during her rookie season. (Kristie Valerie-Hoang/Senior staff)
Daily Bruin's assistant Sports editor Joy Hong caught up with Seattle Storm rookie and former Bruin point guard Jordin Canada on Wednesday about everything from getting drafted into the WNBA, to becoming a WNBA champion.
Daily Bruin: So we're going to start from Draft Day. A lot of people were paired to room with players they weren't necessarily close with in New York. But for you, what was it like rooming with your former teammate Monique Billings?
Jordin Canada: It was like being in college and traveling with your teammate and getting to room with them. It wasn't very different except for the fact that it was Draft Day. There was a lot of excitement. Just being able to have somebody with you to experience that, and all the hard work we put in, to share this moment together, it was pretty cool to see that.
DB: What was initially going through your mind when you heard your name drafted to the Seattle Storm as the fifth pick?
JC: A lot of things. Just the fact that my dream had come true – wanting to play professionally and to play in Seattle. I'm very familiar with it because we played Washington a lot (when I was at UCLA). That was pretty much it, knowing that all the hard work I put in finally came to reality. Being there with my family and having my coaches come and some of my relatives, having them share that moment with me was just a lot of fun. I obviously knew some of (the Seattle Storm players) already because I've played against some of them, so I just knew them by association.
DB: Once you got there, what was the biggest challenge that you faced in terms of adjusting from college to the pros?
JC: The biggest challenge probably was not having the ball all the time. When I was at UCLA, pretty much everything was ran through me and Mo (Billings). So it was just a little difficult going to Seattle playing with the MVP (Breanna Stewart), a (future) Hall of Famer (Sue Bird), and All-Stars, and not touching the ball all the time. Moving without the ball and spacing was something that was very different for me. It was a big adjustment, but obviously I was playing with players who are smarter, quicker, stronger, so just being able to adjust to that as well as the speed of the game.
DB: Did you like living in Seattle? Did it take time getting used to?
JC: I liked Seattle, I mean like I've said, we've been their before because of playing Washington. I felt like it was a second home. The area that I lived in was pretty cool and the weather was really nice. When I would go to Seattle, it would always rain, (but) being in Seattle during the summer time, it was nice and beautiful.
DB: Can you talk about what training camp was like and practicing with your teammates for the first time and getting used to the coach's style?
JC: I was pretty nervous at first (since) I was a rookie, so just trying to learn everything again – learning the coaches and my teammates. But my teammates and my coaches were very trusting in me from the start and they actually let me do a lot in practice and let me get a lot of reps in to figure things out and get adjusted. It was pretty hard trying to adjust to the speed of the game and learning new terminology, but after a while, it became much easier. My teammates were always there giving me advice and helping me out.
DB: What was it like playing a 42-game season in four months compared to a typical five-month collegiate season?
JC: It wasn't that much of a transition for me just because I was coming right out of college. So it was easier because I was so used to playing back-to-back games. And then when you get to the NCAA tournament, you're playing every other day. So to come in to the WNBA and have that same schedule, it wasn't really much of a difference. For me, I think it actually helped me a little bit. Since I wasn't playing a lot of minutes, I was able to recover quicker than when I was playing at UCLA – playing almost entire games.
DB: What was it like only playing basketball and not having to worry about school?
JC: It's amazing. I love it. Just coming into the league and really being on your own, even when you're traveling, there's no curfew. You get to be an adult and be responsible, but at the same time you have all this freedom to do whatever you want. Coming out of college, it's been school almost my whole life, so now that I just get to enjoying doing what I love to do and nothing else, it was just a great feeling.
DB: During the WNBA season, was there anything that you missed about playing in college?
JC: I missed my team. I'd been at UCLA for four years, so just being around my teammates and building those relationships. And obviously I miss my family and friends as well, it's just hard when I was moving away for the first time and being in Seattle by myself.
DB: You talk about how having more free time was one of the biggest differences when transitioning to the WNBA. What was that like?
JC: I spent most of my time sleeping. That's what I did, catching up on all my sleep. I think since I was really just enjoying doing nothing so much, that I didn't really do stuff. Next year, I'll probably venture out and do more things. But for this first season, I just enjoyed being able to relax and be at home and do nothing.
DB: How has Sue Bird impacted your game so far?
JC: She's helped me a lot. She's always been one of my role models when it comes to basketball. I really look up to her and how she handles herself as a professional on and off the court. During the whole season, she was talking to me constantly, whether it was during practice, a shootaround or a game. She's given me advice on what to do and how I can be successful at this level. So I feel like without her being there and being that mentor for me, I don't think I would have been able to adjust as quickly coming into the league, so that was quite humbling. I was just happy to have her all season, and hopefully I'll get to have her for a few more years (before she retires).
DB: You went from shooting 35 percent from the field and 18 percent from 3 in the regular season, to shooting 47 percent from the field and 36 percent from 3. Can you talk about how you developed overall as a player and why you think you were more successful in the playoffs?
JC: In the beginning, I was just trying to adjust to the league playing against players that I've never played against. It's a big adjustment, and being the point guard is the hardest position to come into, because I want to make an impact as much as possible. So I think it was just being nervous. It was my first year and playing against some of the greatest players to ever play was the greatest feeling, but it's also nerve-wracking at the same time. So I think by the end of the season, I just adjusted. I know my teammates have always had my back. They've given me confidence because they're always encouraging me to play my game and stick to my strengths. In the beginning I was trying to force things, so I think that's why things weren't really going my way. But then afterwards, when I came back from the All-Star break, I realized that I'm here for these reasons.
DB: After losing in Game 4 of the series against Phoenix, when Sue Bird went down with a broken nose and you had to step in, what did you learn?
JC: There've been a couple of games where (Bird) has sat out and I've had to step in. And so I think during that time, when I had adjusted a little more, I had a lot more confidence and my teammates and coaches trusted me going in there and trying to make an impact. I think that game obviously helped my confidence more, just being in a big game and getting a lot of minutes. Even though we lost, I still felt like we did a really good job of going out there and trying to win. But overall, I think it just helped me develop my game.
DB: After you guys took a 2-0 lead in that series, Phoenix tied it up at 2-2. Going into Game 3 of the finals against Washington, what was it like when you guys knew that you couldn't let that happen again?
JC: It was a little different because we knew that one more game would win us the championship. We just had a different mindset going in there (because) obviously we learned from the Phoenix series. So we knew that with one more win, we were going to be champions.
DB: Did you feel like winning the championship allowed you to bond with your teammates more?
JC: So it takes me a while to warm up to people. During the season, it's not like I didn't talk, I just wouldn't talk as much. But after we won and we were celebrating, I started to get out of my shell a little bit more. We would go out and celebrate as a team, so everybody was talking about, "Oh, now you want to talk just because we've won," and I was making a joke (when I said) that "All I needed was a season." I meant all I needed was a season to warm up to the team.
DB: What was it like playing in front of so many sold-out crowds at the KeyArena in Seattle and how did that atmosphere compare to what you've experienced in college?
JC: I don't think I've ever experienced anything like it. I had heard a lot of things about the fans in Seattle, but obviously I'd never experienced it. But then going into the playoffs, and even towards the end of the season when we were ranked No. 1, it was just crazy to see the amount of support and fans that we had. For us to sell out 15 games in a row, that was unbelievable. Even just getting to interact with the fans outside the games, we would be there signing autographs and taking pictures. It was just so much support in Seattle and I think that's why I love the city so much. Even at the championship parade, there were tons of people there and it was just crazy to see how many people really enjoy women's basketball and how we've progressed as a sport.
DB: To hear the buzzer go off in that last game, did it take a while for it to settle in that you were a WNBA champion?
JC: In the beginning, it hit me because we were celebrating. We were in the locker room, popping champagne and taking pictures, so it hit me right there. But then a couple days later, it didn't hit me again. I was just sitting there like it was just any other day. And then during the parade which was (Sept. 16), I was like, "Wow, I'm really a WNBA champion." And now it's hitting me. Just because it was only my first year in the league and that I already have a ring, I feel like I contributed to that and made an impact. It probably won't go away for a really long time.
DB: What are your plans now that the WNBA season is over? Do you have any plans of playing overseas?
JC: I'm actually going to Poland on (Sept. 22). I thought I was supposed to leave (Sept. 19), but turns out I get a few extra days, so I'm happy about that. I'm going to Krakow, Poland, and I'll be playing with Mercedes Russell, my teammate (in Seattle), so we'll be there together. I'll be there for eight months, trying to build my confidence back up and obviously work on my shot. That's pretty much my main goal and plan moving forward.
Hong joined the Bruin as a freshman in 2017 and contributed until 2020. She was the Managing editor for the 2019-2020 academic year and an assistant Sports editor for the 2018-2019 academic year. Hong spent time on the women's basketball, men's water polo, women's water polo, women's tennis and beach volleyball beats.
Hong joined the Bruin as a freshman in 2017 and contributed until 2020. She was the Managing editor for the 2019-2020 academic year and an assistant Sports editor for the 2018-2019 academic year. Hong spent time on the women's basketball, men's water polo, women's water polo, women's tennis and beach volleyball beats.