Mohammed Kamara dribbles around the world before scoring a home with UCLA soccer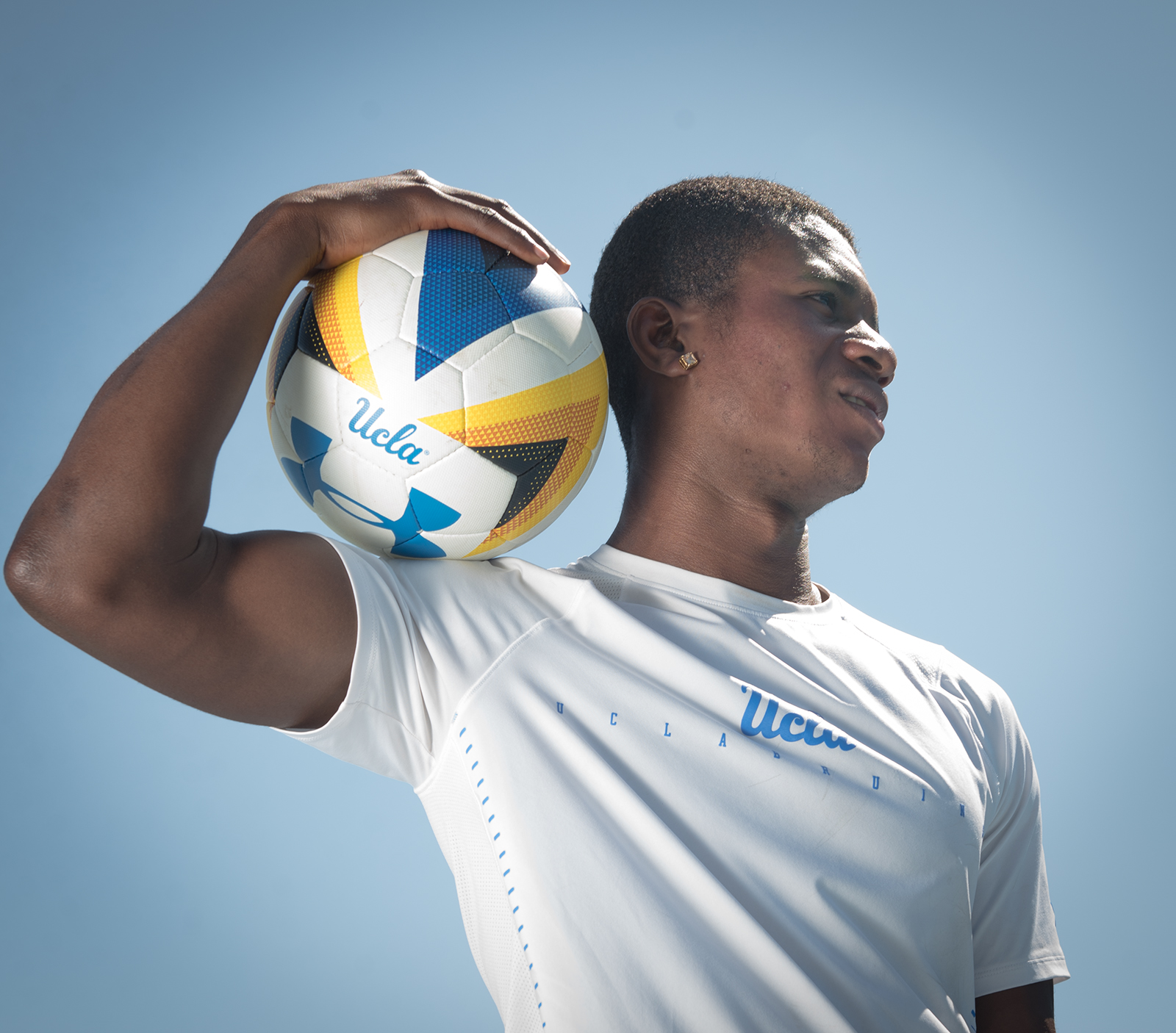 Junior forward Mohammed Kamara led the Bruins in scoring this season with four goals in his first six games played. He led the Bruins with 24 shots on a 0.625 shot-on-goal percentage. (MacKenzie Coffman/Assistant Photo editor)
Keka stretches on the side of the field and slips off his cleats after morning practice in the California sun. It's been a long way here.
Keka is the moniker of junior forward Mohammed Kamara, a junior college transfer who has burst onto the soccer scene in Westwood for UCLA, tying opposing defenders into knots like the Brazilian soccer icon he was nicknamed after.
"When I was a kid coming up, people said I played like the Brazilian player Kaká and my friends called me that," Kamara said. "But as I grew up, I found that my middle name starts with a 'Ke' and my last name starts with 'Ka.' I didn't want to use other people's names, like how Kaká came up and made a name for himself so now everybody knows who he is."
In the Bruins' inaugural match at Wallis Annenberg Stadium, Kamara recorded a brace. The 6-foot forward pounced onto a clearance before halftime and charged into the box, cutting inside and back out again before burying the ball in the bottom right corner.
Highlights of the Liberian taking on defenders until they collapse into heaps made rounds on Twitter as Kamara added to his goal tally early in the season.
But Kamara was far from professional or collegiate soccer four years ago, as the Ebola virus spread through his home country in 2014.
Monrovia, Liberia
Kamara was forced to stay indoors, far away from competitive soccer for almost a year while the government quarantined his neighborhood in Monrovia, Liberia's capital.
Once his family allowed him to get back on the pitch, he had to relearn the skills he had lost while trapped away from the ball.
"It was tough when the quarantine got lifted," Kamara said. "I was trying to get back to playing soccer again and getting my touches back."
Without a professional contract in Liberia, Kamara was offered a roster place at a junior college in East Texas.
Coach Steve Clements of Tyler Junior College and his former assistant coach Kyle Timm – who was from South Africa and had a connection in West Africa – contacted Kamara via email. Kamara said his family encouraged him to take the chance, despite it being so soon after the Ebola crisis.
"The hardest part was leaving my family behind, especially after what happened," Kamara said. "It was hard to get away from Ebola and then right after I had to leave my family, especially my older and younger siblings. But my parents knew it was a great opportunity, especially to get my education and to play soccer."
Tyler, Texas
Like with any recruit he couldn't see live, Clements said he and his staff had been watching Kamara's play-through videos. However, he said it's a roll of the dice as to whether these potential players can deliver at the collegiate level. The freshman arrived in Tyler, Texas, after being delayed by embassy issues and joined the team to play the next day.
"He literally got off the bus and had never played with the team and scored goals," Clements said. "He is just a guy that has something you really can't teach. You either have got it or you don't."
Kamara was an instant contributor at Tyler Junior College, winning back-to-back NJCAA championships.
During his two-year junior college tenure, he recorded 70 goals, 10 assists and 150 points in 44 games. He finished the 2017 season named the NJCAA player of the year after scoring a school record-breaking and NJCAA-leading 48 goals, which included 14 game-winners.
Kamara said the players and staff at Tyler Junior College gave him an instant family that helped him make his transition abroad, with Clements who served as his mentor and lessened the strain.
"After what had happened with Ebola, it was good to get together with a group again," Kamara said. "Obviously, it was strange at first, but as time went on we formed a bond and that team collectiveness in a group. It was just fun."
Los Angeles
With word of the forward spreading across the country and the Tyler Junior College player receiving offers from agents and college teams, UCLA coach Jorge Salcedo said his recruiting staff sought to convince Kamara to come to Westwood.
"(Kamara) was a recruit that probably everyone all over the country wanted to have to come to their school and play for their program," Salcedo said. "It was a process that took a lot of planning and time to make sure that he knew this would be the best place for him."
Kamara's game combines blistering pace with strength to out-muscle defenders and a finishing ability to execute and set up created chances. He contributed eight points in the first six games of this season. Out of those six games, he started five and contributed four goals.
UCLA only scored 24 total goals in 18 games last season, with a shot percentage of .108. This season, the Bruins recorded 10 goals in their first six games, logging a shot percentage of .119 and 14 shots per game.
UCLA men's soccer finished the 2017 season with a winning percentage of .417, its worst since 1948. Salcedo said that, at this point in the season, he wants the forward to continue to improve the attack and lead the offensive line for the Bruins this fall.
"He could probably be on seven or eight goals on the year and we want him to continue to be goal dangerous and be a team player and connected to the rest of the team," Salcedo said.
Clements said that not only does the forward have a chance to get picked in the 2019 Major League Soccer SuperDraft, but he also rivals former professional forwards he has coached before.
"We coached Damani Ralph when I was in Meridian (Community College), the MLS Rookie of the Year and then played in Russia," Clements said. "I've coached Davide Somma, who played for Leeds United, and Dom Dwyer, who is now at Orlando City (Soccer Club). I rate him up there with those guys at that level. In fact, he's scored more goals than all those guys. We had agents trying to meet with him last year and he's already on everybody's radar, so I'd say there's a chance he gets drafted at Christmas."
All NCAA players – as well as Generation Adidas and noncollegiate international players – are eligible to be selected in the MLS SuperDraft.
Kamara said that, although most players neglect remaining years of NCAA eligibility, he would have to think about leaving his education behind if he were drafted.
"I appreciate that and obviously I want to be a pro, but I also don't take lightly the chance to get a college degree," Kamara said. "The fact that I'm here, at one of the best universities in the world, is something I want to take advantage of."
Kamara has already had a taste of the pro scene – he's trained with the Atlanta Silverbacks Football Club of the National Premier Soccer League over the past few summers.
"It has been a good, two-year experience," Kamara said. "I usually go there during the summer to keep my fitness level up. I think it really made me a better player because the competition there is was a level above junior college and was like (Division I). You have really good players, especially players that played pro before."
But the SuperDraft and the prospect of playing soccer professionally are not at the front of his mind, as he said he is comfortable in Los Angeles and hopes to have another strong season in a new home.
"I'm just grateful to be a part of the process," Kamara said. "There are so many positive things we can take away from the games we have played so far. We just have to work on mistakes and, hopefully, don't repeat them. But I am comfortable this is going to be a really good season."
As for the forward's former coach, Clements said the Bruins are lucky to have Kamara.
"We miss him," Clements said. "I tell every coach I go up against this year when they ask how my team looks, 'Well, it's good news for you because Keka moved to California.'"
McCarthy is currently a Sports senior staff writer. He was an assistant Sports editor in 2018-2019 for the men's tennis, women's soccer, track and field and men's volleyball beats. McCarthy was previously a reporter on the men's volleyball and men's water polo beats. He is a third-year English and history student from Atlanta, Georgia. McCarthy is an avid Tottenham Hotspur and Conor McGregor fan.
McCarthy is currently a Sports senior staff writer. He was an assistant Sports editor in 2018-2019 for the men's tennis, women's soccer, track and field and men's volleyball beats. McCarthy was previously a reporter on the men's volleyball and men's water polo beats. He is a third-year English and history student from Atlanta, Georgia. McCarthy is an avid Tottenham Hotspur and Conor McGregor fan.