Editorial: UCLA is swapping public transportation for unsustainable ride-hailing services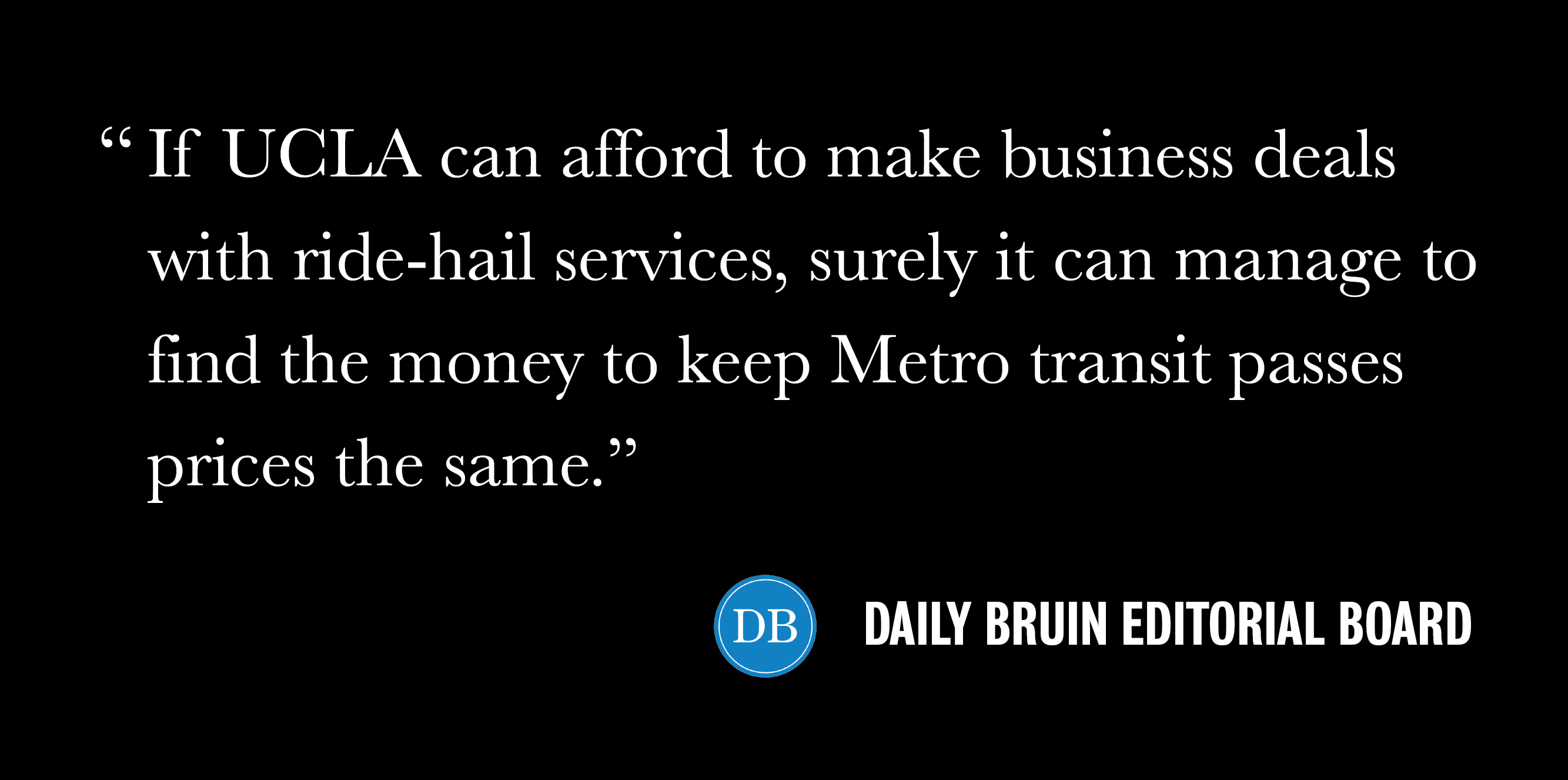 UCLA had a message for public transit this summer: not here you don't.
Public transportation users haven't had it easy in Westwood. The sparse number of bus stops in the North Village and the limited reach of lines running from Westwood into the city make for an unflattering game of transit hopscotch for commuter Bruins.
The silver lining, however, was UCLA Transportation's reduced-fare transit passes, which are meant to encourage Bruins to tap into Los Angeles' expanding public transportation system.
Lately, however, the university has found a different transit interest: cutting deals with Uber and Lyft.
UCLA partnered with Uber to allow pool riders to travel anywhere within a 5-mile radius of UCLA for a flat rate of $5.99. Following that program's expiration in June, it announced a new partnership with Lyft that will allow any Lyft Line user in the area to travel within a 5-mile radius of campus for a $4.99 flat rate.
Meanwhile, Metro transit memberships were hiked up by about $12 per quarter for the upcoming year. While an admittedly small increase, the move indicates a monumental change of heart: UCLA's public transportation users are on their own.
That's a shame, since public transportation is the most accessible way for Bruins to explore the Los Angeles area – a must for any member of the campus community looking to experience UCLA to its fullest.
The university's Go Metro transit passes, for example, allow students to pay a subsidized price for a quarterly pass that can be used an unlimited number of times on Metro bus and rail lines. And the BruinGO! transit program allows the campus community to board any bus operated by the Santa Monica Big Blue Bus or the Culver CityBus.
These passes become all the more important given the recent extension of the Expo Line to Santa Monica – a favorite destination for Bruins – that passes through the outskirts of Westwood, and the upcoming extension of the Metro Purple Line subway into the neighborhood. And it goes without saying these passes are an inexpensive way to explore the city, compared to the bills students can rack up after successive Uber and Lyft rides.
UCLA seems to be ignoring these realities, though, pinning its strategy change on increases in Metro ridership fares – a lousy excuse, given Metro tickets are already quite cheap. Alison Hewitt, a UCLA spokesperson, said transit agencies have raised their prices to a level where the university can no longer absorb the cost and keep fares at their current level.
But if UCLA can afford to make business deals with ride-hail services, surely it can manage to find the money to keep the costs Metro transit pass prices the same. In the face of the university's increasing commitment to sustainability, it needs to be driving students to use public transit, not sidelining it at the cost of appeasing ride-hailers.
While granting access to cheaper Lyfts or Ubers can seem an example of UCLA fulfilling its obligation to help them get around, the truth is the university is operating without a cogent strategy: Ride-hailing services can increase traffic in surrounding areas, and are not always Americans with Disabilities Act-compliant. Public transportation, however, is.
UCLA Transportation's priority should be to provide programs with consistent pricing that best enable members of the campus community to explore the city space.
By that measure, UCLA's transit passes win by a long shot. After all, the university's ride-hailing deals haven't even left the neighborhood yet.