Gameday predictions: UCLA vs. Oklahoma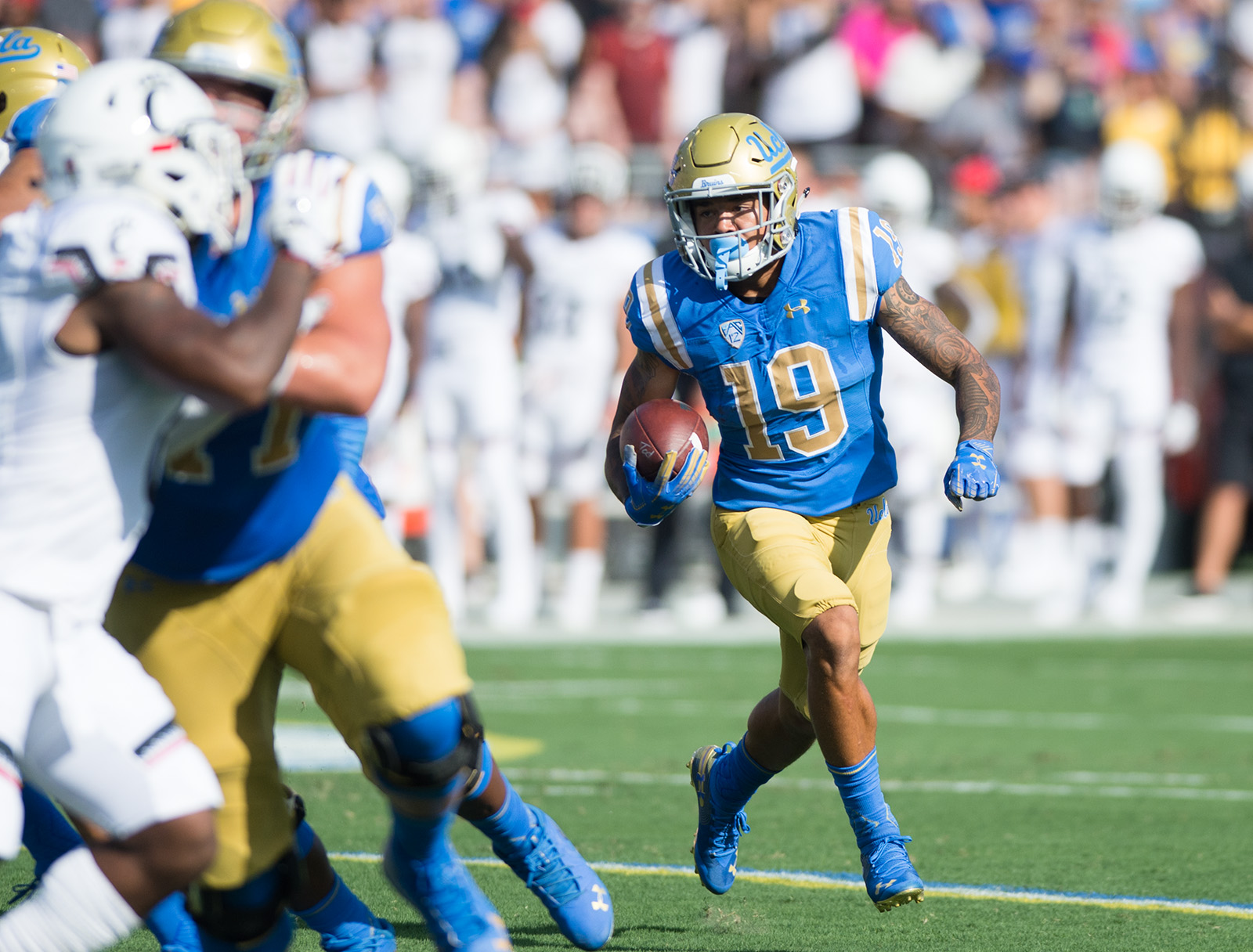 Freshman running back Kazmeir Allen scored a 74-yard touchdown in his collegiate debut against Cincinnati last Saturday. Allen will be playing his first career road game this weekend in Oklahoma. (Amy Dixon/Photo editor)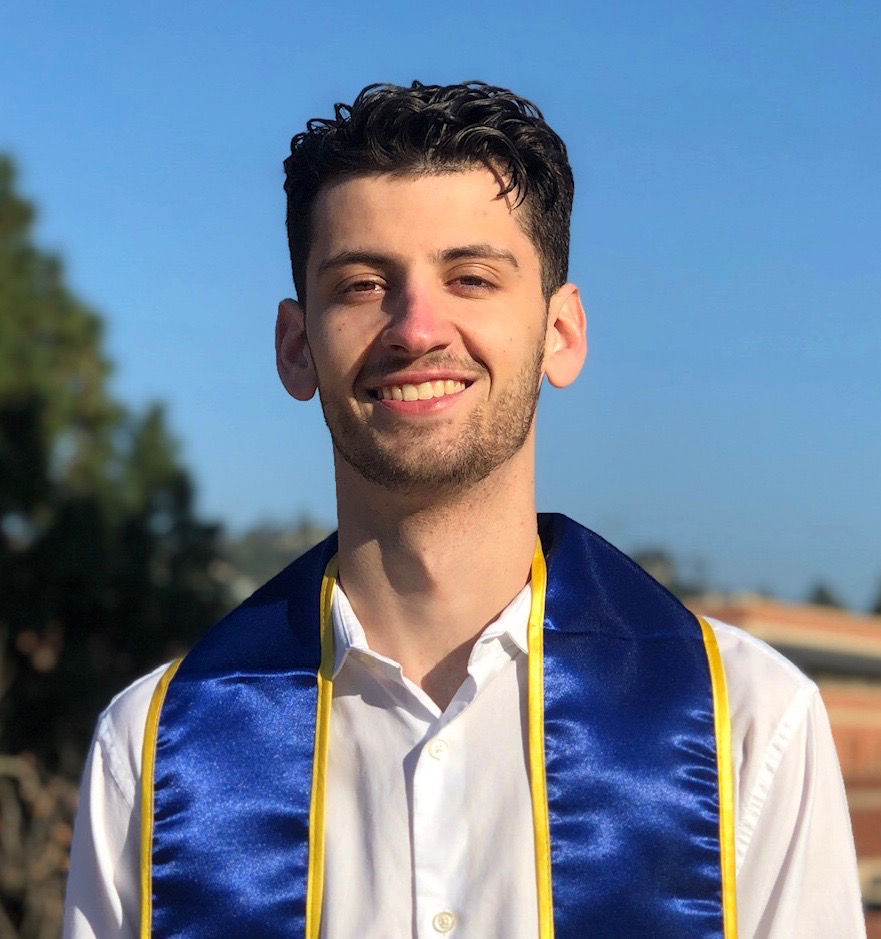 September 7, 2018 5:53 pm
Ryan Smith
Sports editor
Prediction: Oklahoma 55, UCLA 10
As much as I would love to be optimistic about Saturday's game, there is no scenario in which I can see UCLA beating Oklahoma – not to mention on the road.
Sooners quarterback Kyler Murray has already taken the nation by storm after helping Oklahoma drop 63 points on a good Florida Atlantic team in week one. Murray is also an outstanding runner, which is the last thing any Bruins fan should want to hear.
Do I need to remind anyone what happened when UCLA faced Arizona's Khalil Tate last season?
I do not think it will be all bad on Saturday, though.
I think we will see the official breakout of freshman running back Kazmeir Allen. Allen was electric in the season opener last week, but I am expecting him to get the ball a lot more against the Sooners, especially since the passing game will likely remain a bit stagnant with the steep learning curve.
The Bruins are a team constructed for the future and that was made apparent by the 11 true freshman that played in the season opener against Cincinnati. It is time to start accepting that reality.
Hanson Wang
Football beat writer
Prediction: Oklahoma 56, UCLA 14
My prediction of the game's outcome is predicated on who starts at quarterback for UCLA.
Well, let me qualify that a little bit – the only difference in my opinion between starting freshman Dorian Thompson-Robinson, redshirt sophomore Devon Modster or a hobbled graduate transfer Wilton Speight is whether the Bruins will lose by 30, 40 or 50 points, and I'm not sure which quarterback lends himself to which result. For my money, Thompson-Robinson starts, takes a majority of the snaps and struggles, and afterward coach Chip Kelly spins the experience as another baptism by fire.
Defensively, I doubt Oklahoma will face extensive resistance. I can see both quarterback Kyler Murray and running back Rodney Anderson surpassing the number of rushing yards the Bruins achieve as a team, while the road environment goads UCLA's offense into more turnovers than touchdowns.
As prudent as Kelly is, I think he is realistic about his team's talent and mastery of the offense, and the fact that his team is probably two years away from battling toe-to-toe with a team of the Sooners' caliber.
So on Saturday, I'll expect UCLA to seem overmatched early and often. Oklahoma is a top-10 team for a reason.
Sam Connon
Assistant Sports editor
Prediction: Oklahoma 48, UCLA 21
If you had asked me a week ago, I would have actually made a case for UCLA to win this game. I probably would have still gone with Oklahoma, but I would have actually had to think about it.
What a difference a week makes.
With Baker Mayfield and his top target Mark Andrews both gone, and the Sooners another year removed from the Bob Stoops era, I was expecting a bit of a drop-off for them offensively.
They hung 63 points on Florida Atlantic last week.
Meanwhile, UCLA played 11 true freshman, and Chip Kelly got out-coached by Cincinnati's Luke Fickell, leading to a gut-busting loss for the Bruins. Freshman quarterback Dorian Thompson-Robinson showed flashes of athleticism and finesse, but he also took a lot of sacks and made several high-stakes errors.
Against a top program in Oklahoma, UCLA really doesn't stand a chance, especially on the defensive end. The Sooners will light up a thin Bruin defense, and the young bunch on the offensive end will probably score a touchdown or two in garbage time to make the final score look a little nicer for the Westwood faithful.
Amy Baumgartner
Managing editor
Prediction: UCLA 25, Oklahoma 18
I can confidently predict that the Bruins will win with an overwhelming lead. After all, we need only to look to "The Revenant" to see how early settlers, or in this case the Sooners, would fare against a Bruin attack. Ask Leonardo DiCaprio. I'm sure that he would sooner win another Oscar than the Oklahomans winning against UCLA.
Some may point out that Oklahoma's mascot is actually a horse, negating the de facto "bear wins" argument. However, Yahoo! Answers says that theoretically, a bear would beat out a horse, and this only promises to carry out Saturday.
You may have gathered that I know nothing about football, and you would be absolutely correct. But I also have unwavering faith in my fellow Bruins, even against incredible odds.